Sustainability
What a day!

It started with a great discussion of Mike Daisey's outstanding "How Theatre Failed America." Daisey has raised important issues, and I was glad to hear him willing to stand up for actors. I became angry about a comment one attendee made that implied -- no, that actually stated -- that it reflected a sense of entitlement to insist that theatre artists be allowed to lead a reasonably stable life. In my opinion, the idea that "nobody asked you to go into the theatre, and so don't expect anything but the most marginal existence" is destructive, and resembles the same words used against coal miners and auto workers when they would go on strike for better pay or working conditions. To commit your life to theatre does not involve a vow of poverty, to my knowledge, and to regard it as entitlement to expect a living wage devalues artists.

Caucus today was fascinating, especially considering I was the only theatre person at the table. It was interesting to hear members of other art forms talk about the way things work there. We decided our number one priority was health insurance and a living wage for artists -- no doubt reflecting our sense of entitlement.

Collins' keynote was dynamic and thought provoking, if a wee bit emotionally manipulative. I will get a copy of the book, however.

The session on increasing arts participation in rural areas was fantastic: passionate, creative, and committed. I came way feeling a deepened sense of commitment to geographic diversity and respect for members of small communities. I think the point that was made that large metropolises are really not a massive whole but a series of small, disconnected neighborhoods just like small towns on the plains of Montana was astute.

Today, I am certain this is the best conference I've attended. Now it's midnight -- I must sleep!

posted by Scott Walters.

About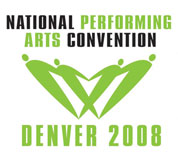 About this blog
From April 1 through June 9, 2008, weekly entries were posted here by some of the performing arts community's top bloggers. This 10-week intensive series served as a unique forum for digital debate and brainstorming, and both the entries and comments were archived for use at the live NPAC sessions in June. Participants:
Jaime Green - Surplus
Nico Muhly
Kristin Sloan - The Winger
Jason Grote
Jeffrey Kahane
Eva Yaa Asantewaa - InfiniteBody
Greg Sandow
Hilary Hahn
Tim Mangan, Paul Hodgins, Richard Chang - The Arts Blog
Andrew Taylor -
The Artful Manager
During the convention, June 10 through June 14, 2008, attendees from across art forms and job functions reported on their conference experiences. Participants:
Amanda Ameer
- web manager, NPAC
Sarah Baird
- media and public relations executive, Boosey & Hawkes
Joseph Clifford
- outreach and education manager, Dartmouth College Hopkins Center for the Arts
Lawrence Edelson
- producing artistic director, American Lyric Theater
James Egelhofer
- artist manager, IMG Artists
Jaime Green
- literary associate, MCC Theatre
James Holt -
composer; membership and marketing associate, League of American Orchestras
Michelle Mierz
- executive director, LA Contemporary Dance Company
Mark Pemberton
- director, Association of British Orchestras
Mister MOJO
- star, MOJO & The Bayou Gypsies
Sydney Skybetter
- artistic director, Skybetter and Associates
Mark Valdez
- national coordinator, The Network of Ensemble Theaters
Amy Vashaw
- audience & program development director, Center for the Performing Arts at Penn State
Scott Walters
- professor, University of North Carolina at Asheville
Zack Winokur
- student, The Juilliard School
Megan Young
- artistic services manager, OPERA America
Please note: the views expressed in this blog are those of the independent contributors and participants, not the National Performing Arts Convention or the organizations they represent.
NPAC
- the
National Performing Arts Convention
- took place in Denver, Colorado on June 10-14, 2008. "Taking Action Together," NPAC sought to lay the foundation for future cross-disciplinary collaborations, cooperative programs and effective advocacy. Formed by 30 distinct performing arts service organizations demonstrating a new maturity and uniting as one a sector, the convention was dedicated to enriching national life and strengthening performing arts communities across the country.
Contact us
Blogroll