Got Arts?
The following strategies were presented and voted on during the final Town Hall meeting of the National Performing Arts Convention. Many strategies were put forward, and we hope they all find champions and serve the field. Those with the majority of votes will emerge in the national strategies and agendas of the host service organizations, and will be encouraged as local and organizational priorities throughout the country. If you have specific examples, ideas, or ''best practices'' that relate to these top strategies, please post them in the comments section of this entry.
The Challenge/Opportunity:
Our communities do not sufficiently perceive the value, benefits and relevance of the arts, which makes advocacy and building public support for the arts a challenge at every level.


What should we do about arts advocacy and communicating our value at the NATIONAL level?Organize a national media campaign with celebrity spokespersons, catchy slogans (e.g. "Got Milk"), unified message, and compelling stories - 27%
Create a Department of Culture/Cabinet-level position which is responsible for implementing a national arts policy - 23%
Lobby elected political officials for pro-arts policy and funding; demand arts policy platform from candidates - 14%
Create a coordinated national performing arts policy campaign involving artists and organizations - 12%
Collect, analyze and disseminate data demonstrating the value of the arts (e.g. economic, intrinsic, developmental/educational values) - 12%
Establish a National Arts Day/Festival with free performances, open houses, and art-making opportunities - 8%
Explore interactive new media initiatives to increase access and relevance (e.g. create a "Google Arts"-type resource, blogs,YouTube) - 5%


What should we do about arts advocacy and communicating our value at the LOCAL level?
Create an arts coalition to get involved in local decision-making, take leadership positions, and strengthen relationships with elected officials - 21%

Forge partnerships with other sectors to identify how the arts can serve community needs - 21%
Foster cross-disciplinary conversations to share data and best practices, develop common goals, and create joint activities/ performances - 14%
Mobilize audiences to be advocates for the arts - 13%
Utilize existing advocacy and data to influence local funding, policy and public support for the arts - 9%
Create collaborative local marketing campaigns in mass media and public venues - 8%
Develop and promote recognizable champions for the arts - 7%
Create new cross disciplinary events and festivals to promote the local arts community - 6%
What should we do about arts advocacy and communicating our value at the ORGANIZATIONAL/INDIVIDUAL level?
Build relationships with non-arts groups, including governments, corporations, community development organizations, etc. - 26%
Create opportunities for active participation in the arts for all ages (including interactive websites, open rehearsals, etc.) - 24%
Expand relationships across the community to find and develop new leaders (e.g. through Board development) and local champions for the arts - 12%
Participate in the local political process by lobbying city council, school board, etc. - 10%
Create multi-media marketing strategies (including YouTube, Facebook) to communicate and demonstrate value and relevance - 9%
Connect the stories and experiences of local community members to new and existing artwork - 9%
Create arts supporters out of our audiences - 7%
Build relationships with local media to widen their coverage and exposure of the arts - 4%
THIS IS NOT THE END OF THE DISCUSSION. What do you think? Do you see strategies that are missing from these lists? What has and has not worked for your organization in the past? Do we need more specific action plans to really change things? Click here to share you ideas and experiences from NPAC and beyond.
About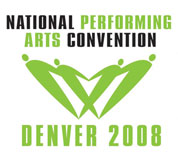 About this blog
From April 1 through June 9, 2008, weekly entries were posted here by some of the performing arts community's top bloggers. This 10-week intensive series served as a unique forum for digital debate and brainstorming, and both the entries and comments were archived for use at the live NPAC sessions in June. Participants:
Jaime Green - Surplus
Nico Muhly
Kristin Sloan - The Winger
Jason Grote
Jeffrey Kahane
Eva Yaa Asantewaa - InfiniteBody
Greg Sandow
Hilary Hahn
Tim Mangan, Paul Hodgins, Richard Chang - The Arts Blog
Andrew Taylor -
The Artful Manager
During the convention, June 10 through June 14, 2008, attendees from across art forms and job functions reported on their conference experiences. Participants:
Amanda Ameer
- web manager, NPAC
Sarah Baird
- media and public relations executive, Boosey & Hawkes
Joseph Clifford
- outreach and education manager, Dartmouth College Hopkins Center for the Arts
Lawrence Edelson
- producing artistic director, American Lyric Theater
James Egelhofer
- artist manager, IMG Artists
Jaime Green
- literary associate, MCC Theatre
James Holt -
composer; membership and marketing associate, League of American Orchestras
Michelle Mierz
- executive director, LA Contemporary Dance Company
Mark Pemberton
- director, Association of British Orchestras
Mister MOJO
- star, MOJO & The Bayou Gypsies
Sydney Skybetter
- artistic director, Skybetter and Associates
Mark Valdez
- national coordinator, The Network of Ensemble Theaters
Amy Vashaw
- audience & program development director, Center for the Performing Arts at Penn State
Scott Walters
- professor, University of North Carolina at Asheville
Zack Winokur
- student, The Juilliard School
Megan Young
- artistic services manager, OPERA America
Please note: the views expressed in this blog are those of the independent contributors and participants, not the National Performing Arts Convention or the organizations they represent.
NPAC
- the
National Performing Arts Convention
- took place in Denver, Colorado on June 10-14, 2008. "Taking Action Together," NPAC sought to lay the foundation for future cross-disciplinary collaborations, cooperative programs and effective advocacy. Formed by 30 distinct performing arts service organizations demonstrating a new maturity and uniting as one a sector, the convention was dedicated to enriching national life and strengthening performing arts communities across the country.
Contact us
Blogroll