The Human Essence
Hey, Y'all!
Here I sit, preparing my first blog. In fair warning, you will be reading a stream of consciousness.

I come to NPAC with no pre-set expectations. Unmet expectations can be the biggest disappointments in life, and I am hoping to be enriched and thrilled by the NPAC experience... not expecting, but hoping.
I'm an artist, a professional musician and entertainer for 44 of my 55 years. I run my own companies (management, booking, production, recording, etc.) to provide the business infrastructure that supports my artistic expression. I'm in the music business; it's 99% business and 1% music.
I must succeed in all these aspects of my career to feed my family. I must understand, collaborate with, and mutually serve my family, my colleagues, my clients, my ideals. The entire supply chain is in my creative world. We all work together to enrich lives and make the world a better place by making people happy.
I am participating on a scholarship provided by APAP. I'm honored, pleased and ready to rock and roll in the community building process known as NPAC. So, here we go....
My first day, Wednesday, was a mix of new and old. I saw many of my friends and colleagues (I am lucky that they are one and the same). I met many new friends. The day was well spent.
My first experience was the market/village. Here I was able to take care of some business (a team effort to do some spot tours in Canada), and attempt to connect with some organizations I've never been able to gain access to. We'll see if I can break into their communities by Saturday.
Our opening session was inspiring. There were some wonderful messages expressed that, hopefully, will be realized.
Rather than speak of people, I will speak of ideas. There were many great ideas expressed in the opening session.
Public Art in the community, as an institution of its own, is a powerful notion. I was impressed by a call for us all to rethink the "Perception" of what an Arts Institution is.
The pursuit of Grace and Kindness, successfully implemented through an interactive building of art through community and community through art was demonstrated. Multiple generations of a single family, among many families, to create art as a community impressed me. I had not previously thought of things this way, but this is a foundation of my own culture and experience, and I see the power of the artistic process building family, community, and these groups creating art for today and for tomorrow.
I heard the call to integrate cross-cultural art works, and can steal that idea to include opening acts from other cultural expressions, and thereby enrich the audiences that we get to share with.
Art is world altering, and I embraced the concept that communities to nations can come together through art. I've lived this in personal experience, performing across cultures, and in other countries. I will now embrace and act consciously upon this paradigm.
From our speakers ideas, I see new opportunities to enrich and expand our outreach. I loved the concept of musicians and artists as Ambassadors to our young people... the musician or artist Ambassador in the lunchroom is a phenomenal idea, and I plan to implement it as part of our arts outreach to children.
Shared resources, such as medical care or legal services, is a great idea that I have seen implemented in many different organizations. Rarely have I seen true partnerships, but I would welcome such resources.
Our first Caucus gave me mixed emotions. I met some very interesting new friends/colleagues. I encourage everyone to to let go of their agendas, their personal business objectives, and their need to "get their stuff out". Strategic thinking is going to be extremely important for the NPAC caucus process; tactical, personal objectives can follow later.
The first Caucus process kinda felt like playing "Telephone" when we were kids. I am concerned about the end result being a reflection of our expressions. That's my major impression from my first caucus experience.
Regardless of the end result, some powerful concepts emerged in our discussions. We truly need to understand and communicate each others' "success measurement" systems. Presenters, Artists, Agents, Producers, Audiences, Suppliers, all have different measurement systems for success. If we learn about each others' needs we can be more sensitive and successful ourselves as a group. We've always worked with the "Everybody must Win!" concept in our project. Understanding each other is the key.
And now a word about "stealing". I openly encourage people to steal anything I do if they see value in it. Steal ideas, steal techniques, steal tricks of the trade. Anything you steal and use will make my Art live forever. Let's all steal from each other, and build an Art legacy that will outlive us all.
Throughout the opening session I kept hearing the voice of my late friend, Dr. Isaac Asimov (author of hundreds of sci-fi books, including "I Robot"). We once shared a cocktail discussion of robots in the arts (robot composers, painters, etc.). Dr. Asimov said something profound; he said, "Robots will never capture the human essence. Art is the human essence."
Dr. Asimov was right. Let us capture the human essence, and together share it with the world.
posted by MOJO.
About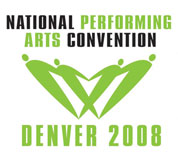 Be sure to check in all week for continuous blogging from NPAC. Attendees from across art forms and job functions report on their conference experiences. Comments from the convention and beyond are welcome!

Reporting from NPAC:
Amanda Ameer
- web manager, NPAC
Sarah Baird
- media and public relations executive, Boosey & Hawkes
Joseph Clifford
- outreach and education manager, Dartmouth College Hopkins Center for the Arts
Lawrence Edelson
- producing artistic director, American Lyric Theater
James Egelhofer
- artist manager, IMG Artists
Jaime Green
- literary associate, MCC Theatre
James Holt -
composer; membership and marketing associate, League of American Orchestras
Michelle Mierz
- executive director, LA Contemporary Dance Company
Mark Pemberton
- director, Association of British Orchestras
Mister MOJO
- star, MOJO & The Bayou Gypsies
Sydney Skybetter
- artistic director, Skybetter and Associates
Mark Valdez
- national coordinator, The Network of Ensemble Theaters
Amy Vashaw
- audience & program development director, Center for the Performing Arts at Penn State
Scott Walters
- professor, University of North Carolina at Asheville
Zack Winokur
- student, The Juilliard School
Megan Young
- artistic services manager, OPERA America
Please note: the entries posted by the attendees above represent their personal impressions, not the viewpoints of the organizations they work for.
About this blog
From April 1 through June 9, 2008, weekly entries will be posted here by some of the performing arts community's top bloggers. This 10-week intensive blog will serve as a unique forum for digital debate and brainstorming, and both the entries and comments will be archived for use at the live NPAC sessions in June. New entries will be posted every Monday morning.
Please note: the views expressed in this blog represent those of the independent contributors and participants, not the National Performing Arts Convention.
NPAC
- the
National Performing Arts Convention
- will take place in Denver, Colorado on June 10-14, 2008. "Taking Action Together," NPAC will lay the foundation for future cross-disciplinary collaborations, cooperative programs and effective advocacy. Formed by 30 distinct performing arts service organizations demonstrating a new maturity and uniting as one a sector, NPAC is dedicated to enriching national life and strengthening performing arts communities across the country. Click
here
to register, and we'll see you in Denver!
The Authors
Jaime Green, Nico Muhly, Kristin Sloan, Jason Grote, Jeffrey Kahane, Eva
Yaa Asantewaa, Greg Sandow, Hilary Hahn, Tim Mangan, Paul Hodgins, Richard Chang and Andrew Taylor!
Contact us
Blogroll