Post-mortem, pun intended
I'm NPAC-biased, so I'll let others report on today's caucus in detail. I enjoyed it immensely, and will post the results on this blog as soon as I can get my hands on them.
Throughout the convention (most especially at the caucuses), I found myself thinking about something my mother always says: who owns this problem? She would say it in the problem-solving context of everyday life - if you don't own the problem, it's not your job to solve it or stress out about it - but I think it's especially applicable to the convention on two distinct levels:
First, who owns the problem of, say, community building? Is it the artist managers' responsibility to put together interesting cross-genre collaboration projects or is it the artists'? Why isn't it the presenters'? The funders'? The publicists'? Similarly, whose job is it to spark inter-organization collaboration? Who picks up the phone, the local choral society or the local art museum? One thing we discussed at my caucus table today was the problem of educating the educators in the arts; not the music/fine art/drama teachers, but the math/science/history/english teachers. If arts programs are going to be cut, we must incorporate the arts into every academic program we can. So who calls whom? Does someone from the Metropolitan Opera call the New York City Department of Education and offer to teach future teachers about opera? Does the DOE call the Met? Who owns this problem. My mom would say that technically the students own the problem, which is the tragedy of it all.
Second, who owns the problem of what to do with all this AmericaSpeaks caucus information. Will NPAC simply disseminate the results and let organizations and conference attendees do with it what they will? Then they effectively do not own the problem anymore. My humble, completely biased opinion is that NPAC should seek out a corporate sponsorship to create an interactive, informational website for the performing arts. American Express' PerForum, or something suitably cute. The site would have resources for performing arts organizations and artists - step-by-step instructions on how to create a Facebook page, for example - in addition to a digital bulletin board. For example, someone posts "We're producing Hamlet in Berkeley and worry that our usual audiences won't enjoy its contemporary nature. Suggestions on how to reach out to a new audience without losing our existing one?" Then, other marketing directors (or marketing interns, or actors, or whomever) can post responses based on their experiences. The threads can be archived into Theatre, Marketing, Shakespeare, Hamlet categories, so a library of ideas can be created. The site could also connect people with some of the terrific informational/professional networking sites that are already out there -
The Winger
,
Sequenza21
,
Great Dance
and
Violinist.com
to name a few - perhaps exposing current readers of these sites to those in different genres, and possibly leading folks to realize similar challenges and successes across art forms?
Organizations could join and create profiles: Name, location, venue size (if applicable), number of employees, operating budget, usual audience, recent projects etc.. This way, a database of organizations could be created, and e mails could be sent out when needs/interests line up; match.com for performing arts collaboration.
So much to do.
posted by Amanda Ameer.
About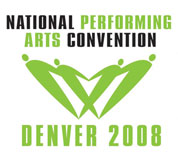 About this blog
From April 1 through June 9, 2008, weekly entries were posted here by some of the performing arts community's top bloggers. This 10-week intensive series served as a unique forum for digital debate and brainstorming, and both the entries and comments were archived for use at the live NPAC sessions in June. Participants:
Jaime Green - Surplus
Nico Muhly
Kristin Sloan - The Winger
Jason Grote
Jeffrey Kahane
Eva Yaa Asantewaa - InfiniteBody
Greg Sandow
Hilary Hahn
Tim Mangan, Paul Hodgins, Richard Chang - The Arts Blog
Andrew Taylor -
The Artful Manager
During the convention, June 10 through June 14, 2008, attendees from across art forms and job functions reported on their conference experiences. Participants:
Amanda Ameer
- web manager, NPAC
Sarah Baird
- media and public relations executive, Boosey & Hawkes
Joseph Clifford
- outreach and education manager, Dartmouth College Hopkins Center for the Arts
Lawrence Edelson
- producing artistic director, American Lyric Theater
James Egelhofer
- artist manager, IMG Artists
Jaime Green
- literary associate, MCC Theatre
James Holt -
composer; membership and marketing associate, League of American Orchestras
Michelle Mierz
- executive director, LA Contemporary Dance Company
Mark Pemberton
- director, Association of British Orchestras
Mister MOJO
- star, MOJO & The Bayou Gypsies
Sydney Skybetter
- artistic director, Skybetter and Associates
Mark Valdez
- national coordinator, The Network of Ensemble Theaters
Amy Vashaw
- audience & program development director, Center for the Performing Arts at Penn State
Scott Walters
- professor, University of North Carolina at Asheville
Zack Winokur
- student, The Juilliard School
Megan Young
- artistic services manager, OPERA America
Please note: the views expressed in this blog are those of the independent contributors and participants, not the National Performing Arts Convention or the organizations they represent.
NPAC
- the
National Performing Arts Convention
- took place in Denver, Colorado on June 10-14, 2008. "Taking Action Together," NPAC sought to lay the foundation for future cross-disciplinary collaborations, cooperative programs and effective advocacy. Formed by 30 distinct performing arts service organizations demonstrating a new maturity and uniting as one a sector, the convention was dedicated to enriching national life and strengthening performing arts communities across the country.
Contact us
Blogroll