Notes from the general session
"Radical Ideas from Beyond the Border"

Marin Aslop
Artists who have aligned art and social benefit
for them, art and activism are the same thing
video on Germaine Acogny - new technology!
working on a duet about love - research what love is, all the possible manifestations of love
transitions from African dance to African contemporary dance
training school for all African dancers
"Mama Germaine"
lots of discussion of "planting seeds" in Africa.
the company/school is 61 years old or she is 61 years old?
standing ovation for Germaine Acogny.

Marin, Germaine, interpretor are on the stage
I think Germaine and I are wearing the same red flats. I think she looks better in them.
the phrase "stylistic styles" was part of the question (really?)
to get into her school, you have to have a really solid grounding in traditional dances so you can be yourself while interacting with people from other places.
"the key expression for me is tradition/innovation"
exchange their traditional techniques so they have a database of work
learning from other cultures while being yourself
traditional African dancing comes from the ground - it's a grounding thing - keep that grounding feeling so they know who they are and can learn from others
I'm very interested in rituals - lay and religious - tradition in Senegal - incense in the fire that releases a wonderful odor that releases into your clothes and everything.
learned the "before dinner drink" ritual from her German husband.
Marin - "we'll be experiencing that tradition later."
when a subject affects me deeply, i want to do something with my art - i want to cry out with my instrument which is my body - i think of my body as my pen
my work evolves over time - the environment changes
"What did you learn from your grandmother?" -Marin
[the woman in front of me is knitting.]
her name means "the mother has returned" (Germaine's, not the knitter's)
"what are your goals for your students as artists and citizens"
my husband and i established this school primarily for African dancers - "sacred forest" where students learned out to be human beings, so this is a modern sacred forest, a school for life and learning
i look at dance as education and communication - we don't just teach dance
making a living from art - pull-out theme from the convention
help artists gain self-confidence and make a difference in the world
"how do these collaborations"..."reflect your view on globalization" (yikes, I hope she had these questions before)
response - i like working with other cultures - "I think of the body as a multi-cultural thing."
you have to be well rooted in your own culture to work with someone from another culture
[i like this interpreter. she's lovely and articulate. what kind of memory must it take to be a translator.]
[who's video-taping this and why can't i have the footage for the NPAC site or the blog?]
i look for differences and similarities - no matter what i did, i remained who i am
i think each of us needs to keep our specific approach - i'm not in favor for globalization for the arts. you end up with a mismatch with no spice to it.
Marin - "what do you hope your legacy will be"
i would like to leave a sense of pride for being African
translator is explaining the two different words for poverty - in Africa, we have the first kind, in Europe, they have the other = "if you're poor in Europe, you're miserable"
i sometimes have feelings of inner violence - the idea is to get rid of those inner feelings of violence, and then it would be a group thing, not depending on a political movement to do it
the role of art is to change people.
no standing at the end, where I think standing was much-deserved.

José Antonio Abreu
video
the person who plays in an orchestra - understands playing as a team - where everyone is responsible for others - working together to create beauty.
language of the invisible transmitted through music
music as an agent of social development
solidarity,mutual compassion
proud to witness the transformation of social history in our country
turn the masses into a nation
this is not an artistic development plan with the intention of producing a few concerts
we are beginning a new era where art is an enterprise for the majority by the majority
one must paddle always to the future, that way, the future is already past
rhythm is the internal pulse of the soul
transmitted without words to other human beings
to generate a message and to generate values
what do people feel?
a revelation.
only penetrated by intuition
[this has got to be the most articulate man on the planet.]
art is the only world where we can bring revelation into being.
a country where every town has a choir and orchestra.

[...and down goes the computer to stand up.]


Marin - the Venezuelan musical miracle - how did the idea start, and how have you kept with the same idea for so many years
thanks to the League - that's night - salute Mark Churchill, dean of the New England Conservatory.
answer the question first as a Venezuelan and then as a musician.
i was always worried that artistic education in Venezuela during the 19th and 20th century was not part of the mainstream education of the county
music education was not taken into account because there was not sufficient funds to acquire instruments
the few people that could acquire instruments belonged to an elite
music education itself was a product of the elite
my first objective was to make music education recognized as a main aim of education
the second aim was to direct this musical education to the centers of the population with the fewest resources
in synthesis to bring a strong system of education for social inclusion
central ideal = social inclusion - after 33 years, we still have a lot to do
265,000 youths are part of the system, but we'd like to take this number to one million.
the miracle is the result of our music teachers - most are from humble origin - apostles of music education
music education can produce dignification of a person. is dignification a word. i like it if it is.
material poverty can be overcome by spiritual richness.
once the child is spiritually rich, he's prepared to overcome material poverty.
the system breaks through the system of poverty
more children doing music now in Venezuela than doing sports - and the crowd goes wild!!! all the artsy people who weren't picked for dodgeball.
next year there's going to be an alliance between sports and arts in Venezuela - also incorporate other arts - dance, theater - into the project.
create a network of the arts in the project
[marin's only asked one question and he's still going!]
second question - "Do we need to clone you to achieve this in America? What can we do to move forward?"
The US has enormous potential to develop a program like this
The US has excellent music schools, teachers, availability of instruments - has everything to produce a real musical explosion.
intersect the orchestras' individual initiatives
interconnection in the united states, and then interconnection with the rest of the continent
[why didn't some exhibitor give out NPAC Blistex tubes? my lips are falling off my face.]
diversity is not an obstacle to obtain integration - we must find the mechanism to achieve it.
insistance on musical excellence - a social program that led to musical excellence
everybody speaks Spanish except for me.
"Culture directed toward the poor cannot be poor culture"
Marin - how has this happen - a product of El Sistema is about to become the music director of the LA Philharmonic
brief history of Dudamel - i'm sure this is in his bio
from the LA Phil position, he hopes to do social work
Venezuelan/NEC encounter recently
Denver Youth Orchestra to Venezuela?
talking about the director of the choral program in Denver
Marin - you've embodied the idea of maximizing opportunities. "sempre sempre"

Marin - no excuse not to make this a success.we are obligated to do this.

Oh boy. Children's choir in purple shirts and white pants singing about Colorado and Chevies. That's my cue.

posted by Amanda Ameer.

About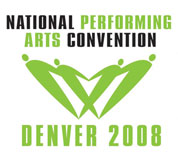 Be sure to check in all week for continuous blogging from NPAC. Attendees from across art forms and job functions report on their conference experiences. Comments from the convention and beyond are welcome!

Reporting from NPAC:
Amanda Ameer
- web manager, NPAC
Sarah Baird
- media and public relations executive, Boosey & Hawkes
Joseph Clifford
- outreach and education manager, Dartmouth College Hopkins Center for the Arts
Lawrence Edelson
- producing artistic director, American Lyric Theater
James Egelhofer
- artist manager, IMG Artists
Jaime Green
- literary associate, MCC Theatre
James Holt -
composer; membership and marketing associate, League of American Orchestras
Michelle Mierz
- executive director, LA Contemporary Dance Company
Mark Pemberton
- director, Association of British Orchestras
Mister MOJO
- star, MOJO & The Bayou Gypsies
Sydney Skybetter
- artistic director, Skybetter and Associates
Mark Valdez
- national coordinator, The Network of Ensemble Theaters
Amy Vashaw
- audience & program development director, Center for the Performing Arts at Penn State
Scott Walters
- professor, University of North Carolina at Asheville
Zack Winokur
- student, The Juilliard School
Megan Young
- artistic services manager, OPERA America
Please note: the entries posted by the attendees above represent their personal impressions, not the viewpoints of the organizations they work for.
About this blog
From April 1 through June 9, 2008, weekly entries will be posted here by some of the performing arts community's top bloggers. This 10-week intensive blog will serve as a unique forum for digital debate and brainstorming, and both the entries and comments will be archived for use at the live NPAC sessions in June. New entries will be posted every Monday morning.
Please note: the views expressed in this blog represent those of the independent contributors and participants, not the National Performing Arts Convention.
NPAC
- the
National Performing Arts Convention
- will take place in Denver, Colorado on June 10-14, 2008. "Taking Action Together," NPAC will lay the foundation for future cross-disciplinary collaborations, cooperative programs and effective advocacy. Formed by 30 distinct performing arts service organizations demonstrating a new maturity and uniting as one a sector, NPAC is dedicated to enriching national life and strengthening performing arts communities across the country. Click
here
to register, and we'll see you in Denver!
The Authors
Jaime Green, Nico Muhly, Kristin Sloan, Jason Grote, Jeffrey Kahane, Eva
Yaa Asantewaa, Greg Sandow, Hilary Hahn, Tim Mangan, Paul Hodgins, Richard Chang and Andrew Taylor!
Contact us
Blogroll