We hate new music
I've been hearing a lot, in my meetings with concert presenters, about what projects and artists would and wouldn't work for them based on what they know about their audiences. This is obviously very important, as I certainly want my projects and artists to succeed wherever they go, and I have no prayer of actually understanding all of the wildly different markets across the country at the same time, like some kind of Patrick Stewart X-Man of audience response. But I do sometimes wonder if, through no direct fault of the various decision-making components that choose concert programming (artistic administrators in conjunction with music directors, executive directors, marketing departments, etc), this sense of what an audience will respond to becomes a self-fulfilling prophecy based on conception rather than actual content. Believe me, I know orchestra marketing departments have a seriously tough job that many of them do fantastically-- but it worries me to hear that sometimes orchestra administrations are having to basically negotiate the Treaty of Versailles to program even rep that's vaguely on the fringe of the core, let alone new music. Much has been said and will continue to be said about this, but as it is very late at night, I will paraphrase for now just one thing that came in part out of the Adventurous Programming panel this afternoon and relates specifically to new music: the admittedly important we-know-our-audience power is only effective when it is wielded as a response to actual music, rather than to the idea of a piece of music. To say "our audiences hate new music" is patently ridiculous, since there is no actual musical notion that could remotely cover the humongous range of music that's being written or has been written in the last, say, even 30 years-- what they may hate is some aspect of the concept of new music. If an audience legitimately hated a piece of new music that was programmed and the music director was flooded with hate mail, fine-- certainly no one likes everything, and no one wants to spend lots of money on a ticket for something they hate. But I think the response to that should be not to say that we tried and failed on the new music front, but instead to address the actual musical response and program another piece of new music that is completely different, and certainly there are limitless choices, no matter what the starting point might be. "New Music" is not a style or a format in itself; it's a realm of programming that happens to be exciting and essential. To insist that whole swaths of people in a certain market hate new music seems to me like insisting that everyone in Kansas City hates paperback books or that everyone in Chicago hates food served on white plates. I know it's not simple, but I would hope that framing the discussion around programming content rather than programming concept would allow non-core programming to become a valued and unquestioned part of every market's season (and several of the panel participants today have successfully done so), which will make the discussion of what each market's audience is looking for much more valuable and relevant to everyone involved in providing that content.

posted by James Egelhofer.

About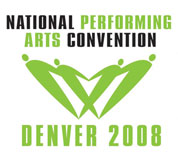 Be sure to check in all week for continuous blogging from NPAC. Attendees from across art forms and job functions report on their conference experiences. Comments from the convention and beyond are welcome!

Reporting from NPAC:
Amanda Ameer
- web manager, NPAC
Sarah Baird
- media and public relations executive, Boosey & Hawkes
Joseph Clifford
- outreach and education manager, Dartmouth College Hopkins Center for the Arts
Lawrence Edelson
- producing artistic director, American Lyric Theater
James Egelhofer
- artist manager, IMG Artists
Jaime Green
- literary associate, MCC Theatre
James Holt -
composer; membership and marketing associate, League of American Orchestras
Michelle Mierz
- executive director, LA Contemporary Dance Company
Mark Pemberton
- director, Association of British Orchestras
Mister MOJO
- star, MOJO & The Bayou Gypsies
Sydney Skybetter
- artistic director, Skybetter and Associates
Mark Valdez
- national coordinator, The Network of Ensemble Theaters
Amy Vashaw
- audience & program development director, Center for the Performing Arts at Penn State
Scott Walters
- professor, University of North Carolina at Asheville
Zack Winokur
- student, The Juilliard School
Megan Young
- artistic services manager, OPERA America
Please note: the entries posted by the attendees above represent their personal impressions, not the viewpoints of the organizations they work for.
About this blog
From April 1 through June 9, 2008, weekly entries will be posted here by some of the performing arts community's top bloggers. This 10-week intensive blog will serve as a unique forum for digital debate and brainstorming, and both the entries and comments will be archived for use at the live NPAC sessions in June. New entries will be posted every Monday morning.
Please note: the views expressed in this blog represent those of the independent contributors and participants, not the National Performing Arts Convention.
NPAC
- the
National Performing Arts Convention
- will take place in Denver, Colorado on June 10-14, 2008. "Taking Action Together," NPAC will lay the foundation for future cross-disciplinary collaborations, cooperative programs and effective advocacy. Formed by 30 distinct performing arts service organizations demonstrating a new maturity and uniting as one a sector, NPAC is dedicated to enriching national life and strengthening performing arts communities across the country. Click
here
to register, and we'll see you in Denver!
The Authors
Jaime Green, Nico Muhly, Kristin Sloan, Jason Grote, Jeffrey Kahane, Eva
Yaa Asantewaa, Greg Sandow, Hilary Hahn, Tim Mangan, Paul Hodgins, Richard Chang and Andrew Taylor!
Contact us
Blogroll