Football (?)...and more on NPAC
It's day 2 of the conference, and my jet-lag is (hurrah) beginning to wear
off.

But first, a comment on last night's festivities. What an extraordinary,
and slightly bizarre, pre-concert party that was. A real melee of arts
folk. Actually, what is the word for a collection of arts managers?
Suggestions on a postcard, please.

The concert proved the quality of the Colorado Symphony Orchestra. It also
led me to think about the position of composers in the UK. The Corigliano
piano concerto may not be to everyone's taste, but at least American
orchestras are prepared to programme difficult, and lengthy, contemporary
works. In the UK we are trapped in what I would call 'premiere syndrome'.
Our Arts Councils want our orchestras to justify their public funding
through the commissioning of new works. This has led to a succession of
new short works (usually no more than 10 minutes length) smuggled into
more traditional repertoire so as not to frighten off the audience. The
problem is, these works are rarely played again. Composers earn a meagre
living by lurching from commission to commission. And by only daring to
commission short works, we are failing to develop the symphonic
repertoire. A fact I was bemoaning with Sarah Osborne of Schotts at the
fabulous IAMA lunch party in the ArtTown. Do make sure you visit their
stand - they have comfy chairs!

So what of today's sessions? Well, another punishing 8am start, but the
presentation of the research into first-timer ticket sales by Oliver Wyman
was fascinating. I think the findings are very relevant to British
orchestras and will follow developments of trials by American orchestras
closely.

I was unable to attend yesterday's Caucus, so made sure I joined in this
morning. I think my international perspective proved useful to the others
on my table, and was delighted to meet Margaret Martin of the Harmony
Project, who is a bit of a star in the UK following her ill-fated West End
production of Gone With the Wind. Her passion for and advocacy of arts in
education shone through and is an inspiration for all. I made one gaffe -
an example of Churchill's comment that we are two nations divided by a
common language. In response to a question from someone on my table from
the Dance community as to what he should see when he is London next month,
I recommended the Royal Ballet but stressed that quite a few dancers are
injured as it's the "fag-end of the season". A look of horror and
bafflement crossed the faces of everyone on the table - at which point it
dawned on me that they would not know that in England a "fag" is a
cigarette!

Which reminds me of one of the more embarrassing moments in my life. Back
in 1987, when I was young, frivolous, and a smoker, I went to visit a
friend of mine who had moved to New York. One night we went to a literary
party in honour of E.L. Doctorow, where I helped myself to too much free
booze. We then went on to see the incomparable Bobby Short at the Carlyle
Hotel, and after more drinks, by which time I was frankly pretty tipsy, I
ran out of cigarettes. At which point I lurched out into the hotel, went
up to two young men on reception and asked in a loud voice, "Excuse me,
can you tell me where I can find some fags?" Thankfully, they had had
enough experience of drunk young Brits to steer me towards the nearest
cigarette machine.

Anyway, back to the conference. I'd been looking forward to the Jim
Collins speech. And my reaction? One of slight disappointment, actually.
Yes, he is undoubtedly a charismatic speaker. But it had been billed as
"why business thinking is not the answer". But, er, he appeared to say the
exact opposite. That the "culture of discipline" (which could be
misinterpreted by S&M fetishists) is applicable to the social and arts
sector as much as business. By the end, I'm afraid, as he began his homily
on great moments in his appreciation of the arts, he'd lost me, and lunch
became an enticing prospect.

After lunch I thought the Futurist session looked interesting. Well, I'm
not sure it told me anything I didn't know already, but it helped clarify
contemporary trends. Still not quite sure how this brave new world will
impact on performing arts organisations. Will the reaction to IT overload
be a craving for the live, collective experience? Let's hope so;
otherwise, we're in trouble. I have seen the future, and it hurts.

And now it's back to the hotel and I'm delighted to find I can get the
football (or soccer, as you call it) on the hotel TV and am able to catch
up with the European Championship. What a shock - Germany beaten 2-1 by
Croatia. How wonderful to see the triumph of the underdog.

By the way, why do you call American Football "football", when it involves
throwing the ball? Where do the feet come into it? I'm prepared to be
enlightened!

by Mark Pemberton.

About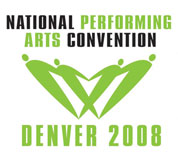 Be sure to check in all week for continuous blogging from NPAC. Attendees from across art forms and job functions report on their conference experiences. Comments from the convention and beyond are welcome!

Reporting from NPAC:
Amanda Ameer
- web manager, NPAC
Sarah Baird
- media and public relations executive, Boosey & Hawkes
Joseph Clifford
- outreach and education manager, Dartmouth College Hopkins Center for the Arts
Lawrence Edelson
- producing artistic director, American Lyric Theater
James Egelhofer
- artist manager, IMG Artists
Jaime Green
- literary associate, MCC Theatre
James Holt -
composer; membership and marketing associate, League of American Orchestras
Michelle Mierz
- executive director, LA Contemporary Dance Company
Mark Pemberton
- director, Association of British Orchestras
Mister MOJO
- star, MOJO & The Bayou Gypsies
Sydney Skybetter
- artistic director, Skybetter and Associates
Mark Valdez
- national coordinator, The Network of Ensemble Theaters
Amy Vashaw
- audience & program development director, Center for the Performing Arts at Penn State
Scott Walters
- professor, University of North Carolina at Asheville
Zack Winokur
- student, The Juilliard School
Megan Young
- artistic services manager, OPERA America
Please note: the entries posted by the attendees above represent their personal impressions, not the viewpoints of the organizations they work for.
About this blog
From April 1 through June 9, 2008, weekly entries will be posted here by some of the performing arts community's top bloggers. This 10-week intensive blog will serve as a unique forum for digital debate and brainstorming, and both the entries and comments will be archived for use at the live NPAC sessions in June. New entries will be posted every Monday morning.
Please note: the views expressed in this blog represent those of the independent contributors and participants, not the National Performing Arts Convention.
NPAC
- the
National Performing Arts Convention
- will take place in Denver, Colorado on June 10-14, 2008. "Taking Action Together," NPAC will lay the foundation for future cross-disciplinary collaborations, cooperative programs and effective advocacy. Formed by 30 distinct performing arts service organizations demonstrating a new maturity and uniting as one a sector, NPAC is dedicated to enriching national life and strengthening performing arts communities across the country. Click
here
to register, and we'll see you in Denver!
The Authors
Jaime Green, Nico Muhly, Kristin Sloan, Jason Grote, Jeffrey Kahane, Eva
Yaa Asantewaa, Greg Sandow, Hilary Hahn, Tim Mangan, Paul Hodgins, Richard Chang and Andrew Taylor!
Contact us
Blogroll