Is the performing arts industry designed to learn?
By Andrew Taylor
Discuss! To comment on this entry, click here.
One of the elements I'm eager to observe during the National Performing Arts Convention (and, in fact, will be working with a team of colleagues and students to watch with me), is whether the thousands of performing artists and arts professionals assembled in Denver constitute a ''learning system.'' That is, does the opportunity to gather in such large numbers under a common convention make us smarter as an industry, or just better connected as individuals?
A large part of the goal of NPAC, after all, is to foster a collective agenda for the performing arts, and advance strategic collective action. Says the web site:
NPAC will lay the foundation for future cross-disciplinary collaborations, cooperative programs and effective advocacy. Demonstrating a new maturity as a united sector, NPAC is dedicated to enriching national life and strengthening communities across the country.
Such a goal requires the individual players to be smart and engaged, of course. But it also requires the system -- the relationships, connections, incentives, motives, and aggregate activities of all of us together -- to learn, as well.
It may sound a bit squishy and social-science-y to some, but a wealth of thinking and research on ''organizational learning'' has sprouted since the 1970s. As corporations evolved from ''do the job as defined'' widget-making to ''evolve the job as needed'' knowledge-making, corporate leaders and affiliated academics began to discover that the very structures of organizations seemed designed to block learning, both by individuals and by the system itself. A company would vocally encourage its teams to take risks, for example, but every incentive, feedback, and social system would scream ''be cautious, don't fail, don't look dumb.''
The performing arts world has never made widgets, of course. But we've professionalized enough to adopt many of the structures, cultures, and norms of corporate America. We've divided our labor by artistic discipline, by job function, by revenue potential, and all to wonderful effect. But have we built a system that is resistant to learning, to risk-taking, to honest self assessment, and to radical innovation?
In Denver, we'll be exploring this theme in several places. In a workshop session on Thursday afternoon, a group of us will dive into ''Higher Education and the Real World of Practice: Creating a New Alignment'' -- an obvious and essential part of any learning system. And throughout the convention, the I-DOC Project (interview, document, observe, clarify) will be observing and analyzing our capacity for collective insight and collective action. Some of the elements we might be watching for are described in this overview of organizational learning (summarized below). And we'll be eager to share our discoveries after the convention.
But in the meanwhile, keep an eye and an ear open while you're attending in Denver to decide for yourself which of the following qualities we hold in abundance, and which are still under construction:
At the individual level:

Self mastery
The ability to honestly and openly see reality as it exists; to clarify one's personal vision.
Mental models
The ability to compare reality or personal vision with perceptions; reconciling both into a coherent understanding.

At the group level:

Shared vision
The ability of a group of individuals to hold a shared picture of a mutually desirable future.
Team learning
The ability of a group of individuals to suspend personal assumptions about each other and engage in "dialogue" rather than "discussion".
Systems thinking
The ability to see interrelationships rather than linear cause-effect; the ability to think in context and appreciate the consequences of actions on other parts of the system.

To hear more from Andrew Taylor, read his blog.


To learn more about NPAC sessions such as "The Not-So Distant Horizon: The Near Future and the Performing Arts", visit the website.
About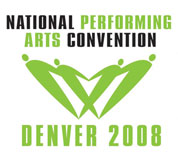 Be sure to check in all week for continuous blogging from NPAC. Attendees from across art forms and job functions report on their conference experiences. Comments from the convention and beyond are welcome!

Reporting from NPAC:
Amanda Ameer
- web manager, NPAC
Sarah Baird
- media and public relations executive, Boosey & Hawkes
Joseph Clifford
- outreach and education manager, Dartmouth College Hopkins Center for the Arts
Lawrence Edelson
- producing artistic director, American Lyric Theater
James Egelhofer
- artist manager, IMG Artists
Ruth Eglsaer
- program consultant, Free Night of Theater NYC
Jaime Green
- literary associate, MCC Theatre
James Holt -
composer; membership and marketing associate, League of American Orchestras
Michelle Mierz
- executive director, LA Contemporary Dance Company
Mark Pemberton
- director, Association of British Orchestras
Mister MOJO
- star, MOJO & The Bayou Gypsies
Sydney Skybetter
- artistic director, Skybetter and Associates
Mark Valdez
- national coordinator, The Network of Ensemble Theaters
Amy Vashaw
- audience & program development director, Center for the Performing Arts at Penn State
Scott Walters
- professor, University of North Carolina at Asheville
Zack Winokur
- student, The Juilliard School
Megan Young
- artistic services manager, OPERA America
Please note: the entries posted by the attendees above represent their personal impressions, not the viewpoints of the organizations they work for.
About this blog
From April 1 through June 9, 2008, weekly entries will be posted here by some of the performing arts community's top bloggers. This 10-week intensive blog will serve as a unique forum for digital debate and brainstorming, and both the entries and comments will be archived for use at the live NPAC sessions in June. New entries will be posted every Monday morning.
Please note: the views expressed in this blog represent those of the independent contributors and participants, not the National Performing Arts Convention.
NPAC
- the
National Performing Arts Convention
- will take place in Denver, Colorado on June 10-14, 2008. "Taking Action Together," NPAC will lay the foundation for future cross-disciplinary collaborations, cooperative programs and effective advocacy. Formed by 30 distinct performing arts service organizations demonstrating a new maturity and uniting as one a sector, NPAC is dedicated to enriching national life and strengthening performing arts communities across the country. Click
here
to register, and we'll see you in Denver!
The Authors
Jaime Green, Nico Muhly, Kristin Sloan, Jason Grote, Jeffrey Kahane, Eva
Yaa Asantewaa, Greg Sandow, Hilary Hahn, Tim Mangan, Paul Hodgins, Richard Chang and Andrew Taylor!
Contact us
Blogroll