Think globally
I'm delighted to have been invited by Amanda to contribute a conference
blog. I suppose what I can bring is an international perspective, to
comment as a Brit on this hugely ambitious gathering of the American arts
community.

The first problem with this, of course, is jet-lag. I flew in from London
last night, after a 10 hour flight and with a 7 hour time difference. That
meant I woke up at 2am, after just a few hours sleep, with my body telling
it was 9am and time to get up. Luckily that meant that I was able to join
the Orchestra Leadership Academy session on Branding, at the, to my
British way of thinking, unseasonable hour of 8am.

And it was a fascinating session, The presentation from Sametz Blackstone
was succinct, comprehensible and inspiring. Having just signed off a new
website I realised to my shock I had it all wrong. As soon as I am back in
England we have to rip it up and start again. And I need to see if I can
get Roger and Brandon over to the ABO conference, as I am sure our members
would benefit enormously from their expertise.

The second half of the session was fun and useful, and a great chance to
meet other delegates. And it was good to find I was not the only
international representative, with Megan from the New Zealand Symphony
Orchestra on my team. Which put my moaning about the 10 hour flight in
perspective.

After lunch with Megan and her colleague Rachel in the SmartBar, it was on
to the opening General Session, Now, I need to be careful what I say here,
but I did think it was overly dominated by theatre and community arts. I
couldn't quite see where professional orchestras got a look-in. And the
Mayor's presentation seemed to me to miss a crucial point. In his vision
of Denver in 2028, we had as the backdrop frequent images of cars on
freeways. Er, forgive me if I'm missing something, but have Al Gore's
valiant efforts to raise consciousness of global warming been all in vain?
The general mood of the hall seemed benignly Democratic, but there was not
a single mention by any speaker, or in the declaration flashed up at the
end, of climate change and our responsibilities as citizens towards the
planet.

I strongly urge delegates to include this subject in their caucus
discussions. Because there is a prize to be gained. The performing arts
can be an advocate for awareness and for change, and can be part of the
solution. Because research in England has shown that there are more
emissions created by audiences travelling to arts events, than the events
themselves. So the solution is simple - make sure every citizen has access
to high quality theatre, dance and music on their doorstep. The future is
local.

posted by Mark Pemberton, our British correspondent on the proceedings.

About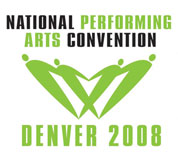 Be sure to check in all week for continuous blogging from NPAC. Attendees from across art forms and job functions report on their conference experiences. Comments from the convention and beyond are welcome!

Reporting from NPAC:
Amanda Ameer
- web manager, NPAC
Sarah Baird
- media and public relations executive, Boosey & Hawkes
Joseph Clifford
- outreach and education manager, Dartmouth College Hopkins Center for the Arts
Lawrence Edelson
- producing artistic director, American Lyric Theater
James Egelhofer
- artist manager, IMG Artists
Jaime Green
- literary associate, MCC Theatre
James Holt -
composer; membership and marketing associate, League of American Orchestras
Michelle Mierz
- executive director, LA Contemporary Dance Company
Mark Pemberton
- director, Association of British Orchestras
Mister MOJO
- star, MOJO & The Bayou Gypsies
Sydney Skybetter
- artistic director, Skybetter and Associates
Mark Valdez
- national coordinator, The Network of Ensemble Theaters
Amy Vashaw
- audience & program development director, Center for the Performing Arts at Penn State
Scott Walters
- professor, University of North Carolina at Asheville
Zack Winokur
- student, The Juilliard School
Megan Young
- artistic services manager, OPERA America
Please note: the entries posted by the attendees above represent their personal impressions, not the viewpoints of the organizations they work for.
About this blog
From April 1 through June 9, 2008, weekly entries will be posted here by some of the performing arts community's top bloggers. This 10-week intensive blog will serve as a unique forum for digital debate and brainstorming, and both the entries and comments will be archived for use at the live NPAC sessions in June. New entries will be posted every Monday morning.
Please note: the views expressed in this blog represent those of the independent contributors and participants, not the National Performing Arts Convention.
NPAC
- the
National Performing Arts Convention
- will take place in Denver, Colorado on June 10-14, 2008. "Taking Action Together," NPAC will lay the foundation for future cross-disciplinary collaborations, cooperative programs and effective advocacy. Formed by 30 distinct performing arts service organizations demonstrating a new maturity and uniting as one a sector, NPAC is dedicated to enriching national life and strengthening performing arts communities across the country. Click
here
to register, and we'll see you in Denver!
The Authors
Jaime Green, Nico Muhly, Kristin Sloan, Jason Grote, Jeffrey Kahane, Eva
Yaa Asantewaa, Greg Sandow, Hilary Hahn, Tim Mangan, Paul Hodgins, Richard Chang and Andrew Taylor!
Contact us
Blogroll