Live from Denver
by
Jeffrey Kahane
Discuss! To comment on this entry, click here.
Since my first visit to Denver more than twenty-five years ago, this wonderful and unique city, like its equally wonderful and unique symphony orchestra, has seen its share of economic ups and downs, but if the last five years are any indication of the future, Denver's long-term prospects, and those of the Colorado Symphony Orchestra, are bright indeed. The downtown area, where my wife and I have an apartment across the street from Boettcher Concert Hall with a breathtaking view of the ever-inspiring Rocky Mountains, has metamorphosed from what was not so long ago a classic example of American "urban desert" into a genuinely vibrant and immensely desirable place to live. For me, someone who grew up and and still spends a large amount of time working in Los Angeles (a city where life without an automobile is virtually unthinkable) it is a great joy to live in a central urban area where I can go for two weeks without ever getting into a car.
Within a few minutes' walk from our building are something on the order of 25 fine restaurants, several of them rivaling the best of New York or Los Angeles; one of the country's most magnificent and welcoming bookstores, the legendary "Tattered Cover"; Coors Field, the stunningly beautiful stadium that is home to the Colorado Rockies; and the second largest performing arts center in the country, the Denver Center for the Performing Arts. Just down the street is the Convention Center, which will host not one but two important conventions this summer, one of which, the Democratic National Convention, will change the history of American political life forever, no matter what the outcome of the current contest between Senators Obama and Clinton.
The arts scene here, which grows richer and more vital each year, is only one of the things that make Denver so attractive. Life here, perhaps more than any other American city, is centered around the outdoors, and it probably goes without saying that some of the most beautiful and dramatic scenery in America is easily accessible from downtown Denver. This does, naturally (pun intended), present challenges for a symphony orchestra, which of necessity plays primarily on weekends, when a great many residents of the city and its suburbs head for the mountains.
Nonetheless, the line of cars on most weekends coming into the performing arts complex is impressively long: there are nearly always at least two if not three major productions underway in the complex which houses a concert hall, an opera house and multiple theatres under one big roof and where the Colorado Symphony, Opera Colorado, the Colorado Ballet, and the Denver Center Theatre Company all reside and perform throughout the year.
Just a few minutes further away from my apartment is the Denver Art Museum, which recently proudly opened the spectacular new Frederic C. Hamilton Wing, designed by internationally renowned architect Daniel Libeskind. In the very near future, the international art world will witness the opening of the new Clyfford Still Museum, thanks to the extraordinary, historic bequest to Denver by Still's widow of the late painter's entire estate, which comprises virtually the entire body of work of one of the last century's greatest artists: a body of work that has for the last few decades been inaccessible to the public. This, along with the recently announced first "Biennial of the Americas" in 2010, will unquestionably make Denver one of the country's most important magnets for lovers of the fine arts.
The Colorado Symphony, while it does not yet have the international cachet of the current and future art museums, is, in the view of many, unquestionably one of the finest jewels in the city's cultural crown. I have on more than one occasion referred to it as the "sleeper" of America's orchestras: the greatest American orchestra that isn't yet known as one. This June, I believe that will change dramatically as thousands of arts professionals arrive in Denver for the National Performing Arts Convention.
Having worked with major orchestras around the world for more than a quarter of a century, I can say that it is one of the most versatile, committed and responsive orchestras in America. Not a single one of the many distinguished colleagues who have come to work with the orchestra and me during my first few seasons here has failed to comment in astonishment on the quality of the orchestra's playing, and their determination to make music at the highest level. As new players arrive, which they do almost every year, we are blessed with a steadily influx of exceptionally high level of technical and artistic achievement, thanks to the substantial number of extraordinarily fine young players coming out of conservatories and training orchestras around the country and the world. Many of them are especially drawn to Denver, not only because the opportunity to work in this orchestra, but because the combination of the cultural richness of the city with the joy of living so close to the magic of the mountains. The Colorado Symphony, which in addition to its 21 week classical subscription season plays for the opera and does dizzying numbers of pops, children's, family and other special programs, is one of the hardest-working orchestras in America, but their professionalism and positive attitude are nearly as impressive as the sheer beauty, virtuosity and musical integrity that comes off the stage on the best nights at Boettcher Concert Hall.
In just a few short years, Boettcher Concert Hall will undergo a major transformation as a result of a $90 million renovation project made possible by the citizens of Denver, who, in a display of civic-mindedness all to rare in this day and age, voted to pass a $60 million bond issue to help finance a new concert hall. This is an historic moment for the orchestra, and I think will serve not only to launch the orchestra into a new era of national and international recognition, but bring to Denver at long last what every great city deserves, that is, not merely a great orchestra, but a great symphony hall. We are all counting the days! And, needless to say, it is with the greatest pride that we will be the host orchestra at this year's NPAC!
To hear more from Jeffrey Kahane, go to a Colorado Symphony Orchestra concert!
To learn more about NPAC sessions such as "The Denver Model: Building Local Support for the Arts", visit the website.
About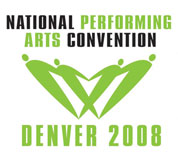 Be sure to check in all week for continuous blogging from NPAC. Attendees from across art forms and job functions report on their conference experiences. Comments from the convention and beyond are welcome!

Reporting from NPAC:
Amanda Ameer
- web manager, NPAC
Sarah Baird
- media and public relations executive, Boosey & Hawkes
Joseph Clifford
- outreach and education manager, Dartmouth College Hopkins Center for the Arts
Lawrence Edelson
- producing artistic director, American Lyric Theater
James Egelhofer
- artist manager, IMG Artists
Ruth Eglsaer
- program consultant, Free Night of Theater NYC
Jaime Green
- literary associate, MCC Theatre
James Holt -
membership and marketing associate, League of American Orchestras
Michelle Mierz
- executive director, LA Contemporary Dance Company
Mark Pemberton
- director, Association of British Orchestras
Mister MOJO
- star, MOJO & The Bayou Gypsies
Sydney Skybetter
- artistic director, Skybetter and Associates
Mark Valdez
- national coordinator, The Network of Ensemble Theaters
Amy Vashaw
- audience & program development director, Center for the Performing Arts at Penn State
Scott Walters
- professor, University of North Carolina at Asheville
Zack Winokur
- student, The Juilliard School
Megan Young
- artistic services manager, OPERA America
Please note: the entries posted by the attendees above represent their personal impressions, not the viewpoints of the organizations they work for.
About this blog
From April 1 through June 9, 2008, weekly entries will be posted here by some of the performing arts community's top bloggers. This 10-week intensive blog will serve as a unique forum for digital debate and brainstorming, and both the entries and comments will be archived for use at the live NPAC sessions in June. New entries will be posted every Monday morning.
Please note: the views expressed in this blog represent those of the independent contributors and participants, not the National Performing Arts Convention.
NPAC
- the
National Performing Arts Convention
- will take place in Denver, Colorado on June 10-14, 2008. "Taking Action Together," NPAC will lay the foundation for future cross-disciplinary collaborations, cooperative programs and effective advocacy. Formed by 30 distinct performing arts service organizations demonstrating a new maturity and uniting as one a sector, NPAC is dedicated to enriching national life and strengthening performing arts communities across the country. Click
here
to register, and we'll see you in Denver!
The Authors
Jaime Green, Nico Muhly, Kristin Sloan, Jason Grote, Jeffrey Kahane, Eva
Yaa Asantewaa, Greg Sandow, Hilary Hahn, Tim Mangan, Paul Hodgins, Richard Chang and Andrew Taylor!
Contact us
Blogroll