The Value of a Cheap Ticket
by
Jaime Green
Discuss! To comment on this entry, click here.
Earlier this week I took a lunch break from work (lunch breaks not being a common thing, for some reason, in nonprofit theatre offices) and walked a few blocks west to another theatre's box office. At the box office I handed over $40 (well, that's what the debit card I handed over was charged) for two tickets to an off-Broadway show, which usually cost at least $60 each.
Why was I spending money on theatre when I'm tight enough with cash to walk almost to the Hudson River to save $2 in service fees? When I brown-bag my lunch every day? When I work in nonprofit theatre?

It's not just that I love a deal. I'm using my few dollars, while also buying tickets to a show I want to see, to send a message to this theatre company, with my $40 of advance sales. And I hope that when I show up all 25-years-old at the box office, a second small message is sent, too.

I am 25 years old. I make very little money. By selling tickets for $20, they have made it possible for me to see theatre. And I am buying tickets.

When a theatre does something, something out of the usual routine of selling tickets for high prices, to make it possible for me, underfunded and hungry for art, to see what they're doing, I notice. (I also appreciate it, because hey! $20 tickets!) I can rattle a list off the top of my head of reduced ticket prices available at theatres across the city. I can tell you who has rush tickets, who has $20 (or 99 cent) Sundays, who sells discounted subscriptions to students or under-30s or artists. I know where to see ballet for $15, opera for $25, and whether you need to wake up early to stand in line, flash a student ID, or just sit in the back of the house. And I can tell you who doesn't have these programs. And as an audience member, a theatergoer, a person with an interest in this art and this community, don't doubt for a second that an organization's efforts to make theatre affordable don't affect how I see that institution.
It's not that I think they've got an incredibly benevolent marketing director sacrificing profit so some poor twentysomethings can see their plays. As an audience member and theatre-maker, I know there are lots of dirty reasons to sell cheap tickets. Dirtiest of all is probably that selling cheap tickets is better than selling none. (But even then they bemoan the choice: "We're undervaluing ourselves!" As if anyone thinks $75 for off-Broadway theatre is reasonable.) Not quite as dirty is that theatres get financial support, usually from corporations (and yes, I can tell you which ones underwrite the ticket programs - funders take note!), to make these reduced prices possible. Sometimes new cheap-ticket programs get press. But at the heart of these ticket initiatives is the recognition that art-for-the-rich is not the best art we can make.

As much as we can say theatre is a dying art, there is plenty of theatre that has no problem selling tickets. Full-price tickets. The question (to which we all know the answer), though, is if you want your organization making the sort of theatre that appeals to people who can afford to blow $75 or more on two hours of entertainment.

I don't know a single theatre producer (in the nonprofit world, where we're supposed to be subsidized to make art, not commerce!) who hasn't lamented the pressures of catering to subscriber taste, who hasn't ruefully programmed a mediocre play, maybe with some star casting or big name writer or just otherwise safe, so that those sure-thing ticket sales could allow for other, more artistically interesting, programming.

How sad that the artistically interesting programming is taken for granted as a financial flop. How incredibly, powerfully sad.

But what if there's another way? What if there were people who wanted to see the new, daring work, who are excited to support theatre that aims for something besides just selling lots of tickets?

So I spend the $20 that should really go towards paying off my college loans. I buy the under-30 subscription to a theatre whose adventurous programming I support. I tell my friends about pay-what-you-can performances.

We lament the demise of American theatre. American theatre is demising, if it is, because theatres are making safe, staid choices. It's not that exciting, brilliant plays aren't being written. It's that they aren't being produced. Because producers (again, I'm talking nonprofit here) are terrified of not making enough money through ticket sales to be able to continue to operate.

(Their fear, sadly, is justified. The reliance on ticket sales for income cripples artistic risk-taking, but that's another thing entirely. Or maybe just a reason to move to London.)

The fact is, there are people who will buy tickets to daring, weird, new work. But usually, those people are young, and usually, those people do not have a lot of money. The math is alarmingly simple.

Here's what we know:
Current audiences are old and rich.
Current audiences like safe programming.
Younger audiences are more likely to support adventurous work.
Younger audiences don't tend to have a lot of money.

What happens when the old audiences die off? Will there be anyone stepping up to the bat to replace them? Not if the people who are young (and poor) now don't get into the habit of seeing theatre. Now. While we're still young and poor. There are people who've never seen a play before, and might be curious, but aren't going to spend $70 to try it out. Movies are cheaper and more exciting.

Of course, without massive financial support, a theatre cannot survive on $20 tickets. But there are ways. Corporate grants and underwriting. One performance a week for $20. A handful of rush tickets every night. And a million other, more creative ideas.

These programs are not just discounts to sell more tickets - they are the first and most important step towards breaking the tyranny that older, moneyed, hidebound audiences have over theatres' programming, and the first step towards ensuring that when those audiences die off, there are excited, interested, committed audiences replacing them. Don't wait until we're 50 years old and rich (if ever) to draw us in.


To hear more from Jaime Green, visit her blog.
To learn more about NPAC sessions such as "The Value of a Seat", visit the website.

About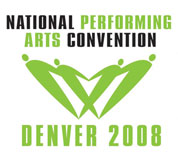 Be sure to check in all week for continuous blogging from NPAC. Attendees from across art forms and job functions report on their conference experiences. Comments from the convention and beyond are welcome!

Reporting from NPAC:
Amanda Ameer
- web manager, NPAC
Sarah Baird
- media and public relations executive, Boosey & Hawkes
Joseph Clifford
- outreach and education manager, Dartmouth College Hopkins Center for the Arts
Lawrence Edelson
- producing artistic director, American Lyric Theater
James Egelhofer
- artist manager, IMG Artists
Ruth Eglsaer
- program consultant, Free Night of Theater NYC
Jaime Green
- literary associate, MCC Theatre
James Holt -
membership and marketing associate, League of American Orchestras
Michelle Mierz
- executive director, LA Contemporary Dance Company
Mark Pemberton
- director, Association of British Orchestras
Mister MOJO
- star, MOJO & The Bayou Gypsies
Sydney Skybetter
- artistic director, Skybetter and Associates
Mark Valdez
- national coordinator, The Network of Ensemble Theaters
Amy Vashaw
- audience & program development director, Center for the Performing Arts at Penn State
Scott Walters
- professor, University of North Carolina at Asheville
Zack Winokur
- student, The Juilliard School
Megan Young
- artistic services manager, OPERA America
Please note: the entries posted by the attendees above represent their personal impressions, not the viewpoints of the organizations they work for.
About this blog
From April 1 through June 9, 2008, weekly entries will be posted here by some of the performing arts community's top bloggers. This 10-week intensive blog will serve as a unique forum for digital debate and brainstorming, and both the entries and comments will be archived for use at the live NPAC sessions in June. New entries will be posted every Monday morning.
Please note: the views expressed in this blog represent those of the independent contributors and participants, not the National Performing Arts Convention.
NPAC
- the
National Performing Arts Convention
- will take place in Denver, Colorado on June 10-14, 2008. "Taking Action Together," NPAC will lay the foundation for future cross-disciplinary collaborations, cooperative programs and effective advocacy. Formed by 30 distinct performing arts service organizations demonstrating a new maturity and uniting as one a sector, NPAC is dedicated to enriching national life and strengthening performing arts communities across the country. Click
here
to register, and we'll see you in Denver!
The Authors
Jaime Green, Nico Muhly, Kristin Sloan, Jason Grote, Jeffrey Kahane, Eva
Yaa Asantewaa, Greg Sandow, Hilary Hahn, Tim Mangan, Paul Hodgins, Richard Chang and Andrew Taylor!
Contact us
Blogroll