On Monday nights, I watch The Bachelor/-ette in Brooklyn. This started about three years ago, when a friend tried to set me up with a guy who "just dropped off the face of the earth." Turns out, he had been taping the show, so of course I had to watch my once and future husband…make-out in a hot tub on national television.
I wouldn't pride myself on my taste in TV, hi, Vampire Diaries, but The Bachelor is just terrible. Really. But we sit around and shout at the screen like it's a game day…drinking like it's…well, like it's not a Monday night, and email about the show all week. (This season features an opera singer and a "music composer," and the Bachelor himself is from Gustavo Dudamel's hometown, so I guess I can write-off the wine and pizza slices.) I have never had any desire to watch an episode by myself, and yet I look forward to watching every week.
It's silly, of course, to write a blog post with the thesis statement "people like being around other people!," but I do wonder where the digital concert halls and web streams are taking us. Are they The Future, or will there always be physical performances with physical audiences? TV and movies that do not involve living beings in front of an audience–as evidenced by my Bachelor Mondays and everyone who has ever seen a movie with somebody else–draw group gatherings rather that solo viewers. Even reading–if the reader is over the age of 7, a nearly exclusively solo pursuit–warrants company in the form of book clubs. Why, when we could set up cameras and mics in a concert hall and webcast/broadcast a performance to more people who could fit in that theater, do we still have people in the hall? The Met's Live in HD series is broadcast at matinees with people in the Met, to people, together, in movie theaters; would it not make for a better product if the hall was empty and the director could set up as many cameras and additional lights as they wanted to? Sure, but togetherness, to some extent, is the point – being part of something happening live together, bearing witness to a thing and to other people experiencing that same thing. People line up for tapings of The Late Show with David Letterman, The Colbert Report, The Daily Show, and Saturday Night Live; how do the studio audiences, once canned laughter and applause, affect the art-making at hand?
I went to the movies on 84th and Broadway about a month ago, and to my extreme delight, found an entire theater of La-Z-Boy recliners! My sister and I saw Gravity, and when the movie ended and we slowly descended from our beautiful sprawl, she noted, "Wow – I feel like I just experienced GRAVITY for the first time myself." Just like Sandra Bullock, waiting for Clooney to tap on our window. Suffice it to say, we are ruined for life; why would I ever sit through a movie again when I can l-o-u-n-g-e. Over Christmas, my dad got an even bigger TV and tried to give me his older, huge, one – a TV with a screen that would take up the better part of a New York City apartment wall. It occurred to me that here we have movie theaters trying to recreate living rooms and living rooms trying to recreate movie theaters.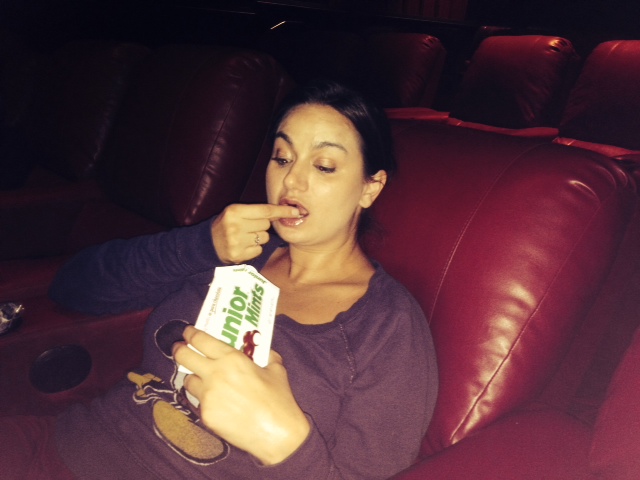 Jonathan Biss, for whom I work, and the Curtis Institute of Music, to whom I send a lot of annoying emails, recently collaborated with the MOOC (massive open online course) provider Coursera. The 5-week course, which will be re-offered this March, featured one-hour videos once a week that students could watch at any time they liked, as many times, and at any pace. Many people commented in the discussion threads that they enjoyed being able to watch the lectures in their own time: after the kids had gone to bed, during their lunch break…in my case, all of them the Sunday before the course closed – those college habits die hard. But that is the benefit of the stream or the archived concerts, or concert DVDs for that matter: they're not at 8pm, they don't require you to get dressed, you can pause them, you can rewind them, you can turn them off. That said, the Coursera course featured nearly 1000 discussion threads: so you watch the videos alone and that's great, but performative ("look what I know") or inquisitive ("what else can I learn"), it's human nature to want to discuss the material with others.
I've always thought a great story would be to have every a set of classical music critics review the same concert webcast or Berlin Philharmonic Digital Concert Hall–the accepted leader in the field–performance from their homes and apartments. What were they wearing? Was their dog barking in the background? What are their speakers like? How did their internet work? Did they invite people over to watch the concert with them, or did they enjoy, for once, watching a concert alone? No one went for the pitch, but I remain interested. Similarly, how many Grammy viewing parties will there be this weekend, and how many Super Bowl parties the following weekend? Or, in my case, how many Bachelor wedding viewing parties? I think I'm going to wear my bridesmaid dress.