Classical music on TV alert!!
Matthew Guerrieri joins a prestigious group of classical music luminaries (only one of whom took off his shirt) when he appears as the guest on The Colbert Report tonight! He will be promoting his book, "The First Four Notes: Beethoven's Fifth and the Human Imagination". Buy it here.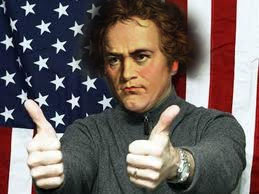 The Colbert Report is on Comedy Central at 11:30pm ET. Tune in so they put more classical music folks on TV, and because Matthew is great.