Cellist Nick Canellakis hosts a series of  "Conversations" with classical musicians along with the guest who gets invited every time, pianist Michael Brown. Each episode comes complete with that nice, bookended Curb Your Enthusiasm traveling music.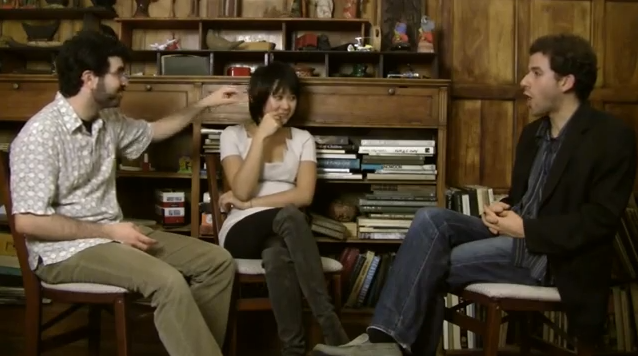 Here is Season 1.
Pilot: Michael Brown, pianist

Episode 2: Michael Brown, pianist

Episode 3, Michael Brown, pianist/first-and-only-guest

Episode 4, Rachel Lee, violinist

Episode 5, Orion Weiss, pianist

Episode 6: Robert McDonald, pianist

Episode 7: Jonathan Biss, pianist

Episode 8: Paul Neubauer, viola soloist

Episode 9: Yuja Wang, pianist/young artist
Episode 10: Alisa Weilerstein, cellist/genius

Bonus episode: anonymous child

I asked my assistant Declan if we should pitch Hilary Hahn for a "Conversation". He said "No, no: we are above having artists on fake variety TV news shows." Then–let's just assume sarcastically–"Yeah I'll clear my schedule."
As if "GChat" is a "schedule", Declan.