Pitches, I have neglected you. I have no excuses except my Real Job and the 7 weddings I have to go to this year. I Tweet a lot: the lazy woman's blogging.
But the Interweb continues to entertain, with or without my presence. First, via Alex Ross, we have Dan Deacon's Twitter exchange with Amtrak about his Carnegie Hall performance.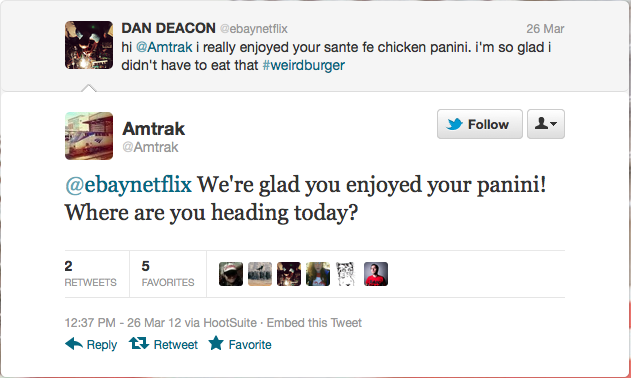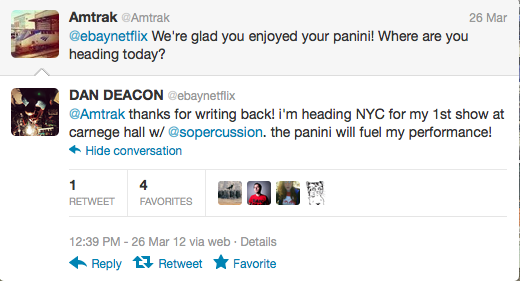 The best part, believe it or not, is actually yet to come. That would be when Amtrak Tweets back, "@ebaynetflix Wow, that's awesome! We bet the performance will be amazing." And then some random goes, "@ebaynetflix wait a god damn minuet your coming to ny?? tickets available?"
Turns out, Amtrak just Tweets constantly, which is actually an excellent customer service strategy, considering most of their customers are messing with their phones when they're bored on the train.
Yesterday, I fell down the Internet rabbithole (just in time for Easter!) and found this at the bottom. Nicolas Cage does John Cage's 4'33". I don't think that needs more explanation.

And then this morning, I found out via Fake Norman Lebrecht via real Norman Lebrecht that New York Philharmonic Music Director Alan Gilbert will be in an Absolut Vodka commercial?
I'll tell you this: it does make me want to drink!
Back in the Physical World, I'm dismayed to report that the Mrs. Gilbert banners on my block have been taken down. They've been replaced by banners of Gilbert sans Mrs. crossing the street and drinking iced coffee. New Yorkers do like iced coffee!