When I interviewed for my first job out of college, I wore these big, silver, clip-on earrings that my glam Iranian grandmother gave me. I thought sporting them would help me stand out, which I would need because I obviously considered the marketing internship at McCarter Theatre–like I do most things–as a Chorus Line howmanypeopledoesheneedhowmanyboyshowmanygirlshowmanypeopledoeshe—I really need, this job, please God I need, this job–situation.
I got the job, and my boss later asked, "What was up with those earrings you wore to your interview? I was like, 'this girl is either really trashy or really mean. Hopefully both.'"
The last two reviews that I've seen of 24-year-old pianist Yuja Wang's performances mention her concert dresses. Or lack thereof, more accurately. The most recent, from the Los Angeles Times' Mark Swed, spends two-ish paragraphs on the outfit:
But it was Yuja Wang's orange dress for which Tuesday night is likely to remembered. The Chinese pianist, who opened the concert with Rachmaninoff's Third Piano Concerto, is also 24 and already a star. Her most recent recital CD is called "Transformation." On the back, she is quoted as saying that her album "reflects the endless transformations in life and music."

Endless transformations, indeed. Her latest life transformation is in the direction of startling glamour. Her dress Tuesday was so short and tight that had there been any less of it, the Bowl might have been forced to restrict admission to any music lover under 18 not accompanied by an adult. Had her heels been any higher, walking, to say nothing of her sensitive pedaling, would have been unfeasible. The infernal helicopters that brazenly buzz the Bowl seemed, on this night, like long-necked paparazzi wanting a good look.

Yes, she's beautiful. Yes, that's some makeover. And, yes, she's still the same tasteful, technically impeccable, confident and extraordinary pianist she was when she first appeared, somewhat more modestly, with the L.A. Philharmonic in 2009.
He goes on to give her performance a glowing review, as did the Mercury News in June, after also spending two paragraphs on the dress:
The only bit of upstaging that transpired was Wang's double-barreled, eye-popping fashion choices for the evening. She slipped swiftly onstage, an elfinlike gamin in a flame-colored, shirred tube dress with side vents and dramatic black V accenting on the back. It was a sexy little number that could not respectably have been any tighter or any shorter.

After the intermission, for the Brahms, it was an almost-as-brief, off-one-shoulder black affair with a single silvery epaulet, paired with impossibly high-stacked, strappy sandals that left us perplexed over how she would pull off all that tricky pedaling.
I've only seen Wang play once, when she won an Avery Fisher career grant in spring 2010. She was wearing a short, strapless dress and huge shoes. I've never been fussy about sitting keyboard side, but boy I regretted not doing so that night! My poor eyes did not need to see the things they saw.
Let's take a gander at the LA Phil dress: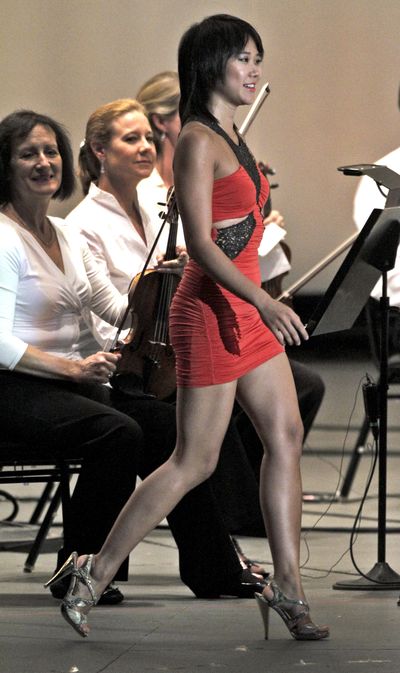 Other than my simply not liking the dresses personally, why do I find them "inappropriate"? Why are the critics spending review-time on them? Shouldn't she be able to wear whatever she wants, as long as she can play the piano to the best of her (considerable) abilities for the people who are paying to see her? We've revered Lady Gaga and Madonna before her for their bold fashion choices: is a classical musician prohibited from that club? Somehow denied that outlet for personal expression?
The difference, I think, is that Lady Gaga's music is about getting attention, so her fashion is the best kind of projection. Do Wang's dresses contribute to the music-making going on on stage in any way? Do they enhance the experience of any given concert? Is there any benefit other than attention? Stepping back: why are soloists allowed/encouraged to wear different clothes than an orchestra at all? What are the factors that go into clothing choice for soloists? Functionality, for one thing. This is a uniform. People aren't paying to see you stand or sit on stage looking good. They're paying to hear you play, to hear you do something that is your job. We're all expected to dress "appropriately" for work.  The "hear you play"/"see you play" divide is interesting. I always say "see": I "saw" that concert on Friday night. I often think most classical musicians would prefer we say I "heard" that concert on Friday night, but the fact of the matter is, we are seeing them on stage, and hearing them, unless we're sitting at home listening to recordings, so the seeing has to be part of it.
Perhaps part of my problem is that Wang is playing Rachmaninoff in front of a group of musicians working very hard in their black and white. A concerto is a collaborative artistic effort with orchestra, conductor and soloist: is it fair to the LA Phil, or to conductor Lionel Bringuier, that so many column inches in their review were taken up by the soloist's concert dress?
I don't know Wang, so I have to wonder only if this is a calculated, attention-getting maneuver like my (apparently) trashy clip-ons at that interview. Perhaps this is neither strategy nor statement, and she simply thinks she looks hot in these clothes and wants to wear them. Let's call that argument, "it's my concert, I can wear what I want to, wear what I want to, wear what I want to."  Violinist Anne-Sophie Mutter probably still gets press questions about the strapless dresses she started wearing many years ago. For example, July 1, 2011 saw a blog post titled, "Anne Sophie Mutter, Superb Violinist in a Strapless Gown", and a Wall Street Journal profile in January of this year mentions strapless gowns as well, albeit fleetingly.  Does Mutter regret wearing them–what, 30 years ago?–or has she benefited from the attention they've gotten her? In her case, there is sound (sound, get it?) reasoning as to how having bare shoulders makes it easier to play the violin. Additionally, it's hard to imagine strapless dresses causing a stir today. Maybe 30 years from now, every female classical artist will be wearing short dresses and clunky heels. Maybe the men, too: who among us can tell the future?
I have a sound designer friend who once said to me that the best sound design is that which you don't notice. If you leave a performance commenting on the sound design, the designer hasn't done his or her job. The very point of sound design (lighting design, costume design, and so on) is to enhance the work and to contribute to an artistic whole, not distract from it. I tend to think it's the same with clothes (make-up, shoes, hair-cuts, scents): we want people to notice us, to remember us, to like us, but not to be able to put a finger on exactly why.
I remain torn, though, and I think, ultimately, I side with the young woman in question. Do I think the dresses are an odd choice? Yes. Do I think wearing them is unfair to her artistic partners on stage? Possibly. Do I think that, as long as they don't prevent her from playing the piano, she should wear them if she wants to? I do, so long as she accepts that it will be all people want to talk about, for better or worse.