Time and time again, we read that the key to social media "success" is to be more personal. Whether or not that success can be defined remains up for debate, but we do know that readers want to hear from real people on social media. Here are two recent posts on the topic:
The first is from MediaBistro, and details an experiment conducted by a professor. Will students enjoy her course more if they feel they "know" her from her Twitter account?
Kirsten A. Johnson, an assistant professor at Elizabethtown College, was curious about how her tweeting affected her credibility in the eyes of her students. Mulling this question, her academic instincts kicked in and she designed an experiment to test it.

Working with one of her students, she created three fictional "professor" Twitter accounts (creatively named Caitlin Milton, Caitlyn Milton, and Katelyn Milton). One account was filled solely with personal tweets like her morning workout routine, another stuck to academics, and the third combined both.

And guess which one the students trusted more? Caitlin number one, the personal professor.

Polling 120 students who had been following these Twitter accounts, Johnson found that the personal professor rated highest across competence, trustworthiness and caring, which she took to add up to credibility.

Johnson believes that students trusted the personal professor more because of their desire to create a bond between themselves and their professors. By tweeting about her personal life, "Caitlin" appeared more like a real person than the other professors.
A second post that caught my eye over at Asking Audiences (via the terrific You've Cott Mail) describes a cocktail party at which you're chatting with friends and strangers and then all of a sudden one of them offers you a blow dryer. The writer explains that this is the equivalent of a Twitter feed or Facebook page trying to sell you something.
By the tenth time he tries to sell you a blow dryer, you scream at him that you do not want to buy his blow dryer, you will never buy his blow dryer, you will tell your friends not to buy his blow dryer, and you finish by explaining to him, in no uncertain terms, precisely what he can do with his stupid blow dryer.

You are officially not having fun at this soiree.
If social media is supposed to be personal, how do you use these outlets to promote an organization? Everyone thinks they "should" be on social media sites, as their mouths salivate thinking about the number of people using the outlets, but how does an organization or a company keep things both official and personal?
The Metropolitan Opera does an especially good job with their Twitter account. They provide news–season announcements, cast changes, Glee is filming in the Lincoln Center Plaza (very important!)–and retweet Tweets from folks about goings-on at the Met. Oh look, here's something nice about Sondra, right up top (and un-planned!):
The Met doesn't post their reviews, and they don't post ticket discounts. I don't think I have ever seen them link to the box office section of their website, actually. When I Tweeted at them that I felt like Jennifer Connelly in Labyrinth trying to find the stage door with all the construction last season, they responded something like, "We know! We have to deal with it every day!" It was chatty–clearly a real person–not the company line about how long the construction will take.
In early April, I noticed that @NaxosUSA, told their followers that the powers-that-be were making them merge several existing Naxos Twitter accounts into one. Whoever was running the feed took it to the people, as it were.
How enlightened! I thought; Naxos lets the person who runs their Twitter feed publicly complain about management?
About a day later, the Tweets above were taken down, and this was posted:
I wonder if that Damn The Man Naxos Tweeter lost his or her job. You expect someone to build a personal relationship with followers on behalf of an organization, and they end up feeling more allegiance to their followers than they do to that organization! Naxos, of course, wanted to consolidate their Twitter feeds to stay on message. The problem is, the entire function of Twitter is to be off message.
Today whilst messing around Twitter, I noticed this Tweet:
Now, I don't know Daniel Barenboim, but I'm sure he's an intelligent man. If this truly was "his" first Tweet, would he refer to himself by his own last name? Nowhere in his Twitter bio does it say this is a news feed for Daniel Barenboim, so we're being led to believe this is actually the maestro Tweeting.
Three other feeds that speak on behalf of artists and do clarify that the feeds are not coming from the artists themselves are those for Gustavo Dudamel, Dmitri Hvorostovsky and Steve Reich.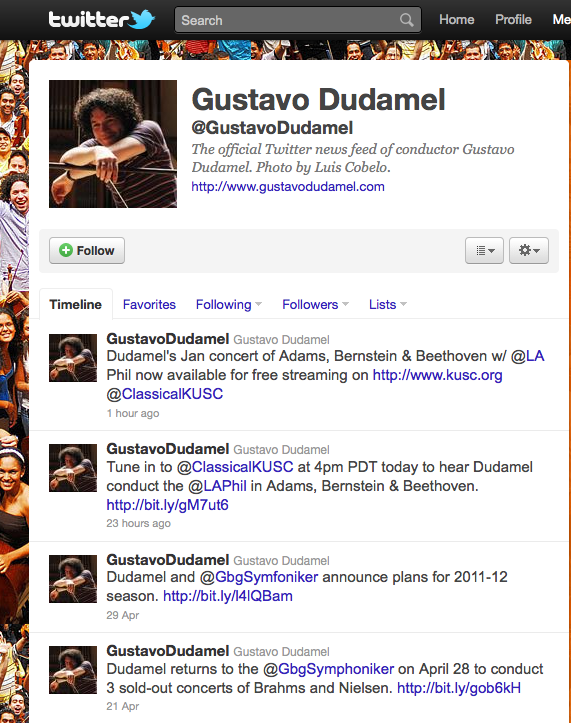 If Gustavo Dudamel were to actually Tweet, I assume he would do it in Spanish. At least this bio says "official Twitter news feed." Why it's not @DudamelNews or @DudamelUpdates I don't know. Seeing his name (@GustavoDudamel) like he's supposed to be talking and then "Dudamel" as the first word of every Tweet is confusing.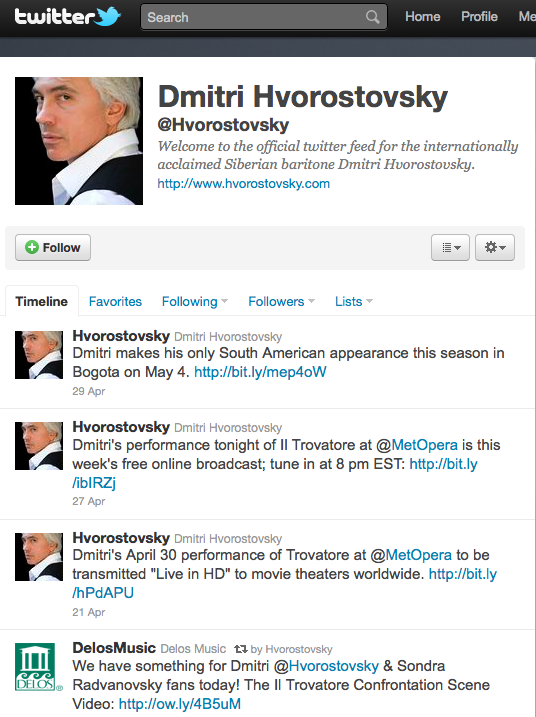 …and Dmitri would probably Tweet in Russian. Actually, his bio just says the "official twitter feed," so it's not entirely clear that it's news or a fan feed.
My favorite, though, especially in light of the joke composer Twitter feeds, is Steve Reich ("  ") on Twitter:
His bio says his page is run by his publisher, Boosey & Hawkes, but the tone is shockingly antithetical to what I, and probably a lot of people, think of when they think of our Dean of New Music.
Those of you who have met him: just try and picture Steve Reich saying this:
Does Steve Reich know, I wonder, that this is his Twitter persona?
I put this thought on Twitter myself this morning and got this response:
It's not "so bad" depending on what those in charge of it think Steve Reich's image should be in 2011. Are they trying to present him as a tech-savvy, smiling guy? Make him appeal to the younger set, one emoticon and exclamation point at a time? What's the Big Picture plan for Steve Reich, and how does the tone of his official Twitter feed fit into that? It is "clear it's NOT Steve," but when his name–and Dudamel's, and Barenboim's, and Hvorostovsky's names–comes up in one's Twitter feed, it reads like it's them. Would you put emoticons and multiple exclamation points in a press release? If his Twitter feed is essentially a series of mini press releases, then what are they doing in there?
Is a news feed, an "official" Twitter feed, better than no Twitter presence at all? Sure, a many people, myself included, get a lot of their news (industry and mainstream alike) from Twitter. I do feel that, as a publicist, we should be giving people information where they are already looking for it, be that Twitter, Facebook, blogs, RSS feeds, or regular old newspapers. Bring the water to the horses, as I've said on this blog before. Where I have a problem, though, is trying to cram every outlet into the exact same message. Would it not be better for whoever is running these official Twitter feeds to ask their artists for actual Tweets or messages every once in a while? Or to do what Janet Jackson's Twitter feed does, and clarify when it's her and when it's the team. Example via @SamNeuman, whom I hesitate to link to because he's funnier than I am:
I also don't buy this argument that artists have time or they don't.
Neil Patrick Harris Tweets (and he's a father of twins!).
It doesn't take time if it comes naturally. I–not a Hollywood actor, not a father of twins, but busy enough–have never thought, "Well shoot, I was too busy to Tweet today. I had a lot to say, but the day just got away from me." If it comes naturally, you just do it. Why I can't remember to drink more water every day like I'm supposed to, I do not know. Daniel Barenboim, Gustavo Dudamel, Dmitri Hvorostovsky, and Steve Reich are all to busy to give us a quick, 143-character message every once and a while? Even if they don't put paw to the keyboard themselves?
I'll end with a fun and festive story for you all. My client, Gabriel Kahane, has his own Twitter feed. I didn't tell him to start it, and I don't tell him what to post. He can Tweet at New York Times and New Yorker writers directly. Does it make my little publicist heart flutter that he can say whatever he wants, to whomever he wants? Sure, but if people don't like him in the most direct form of him, no pretty article I set up is going to change that. Perhaps that is another blog post for another time. At least if an artist puts something on Twitter, he/she can't be misquoted!
Back in March, Gabriel Tweeted this, and I thought nothing of it.
This is the world we live in: Nico tells the internet that the New York Philharmonic's website looks like a tampon ad, and they commission him anyway.
Gabriel's manager and I received an e mail from a representative for the 92nd Street Y informing us that their office and the Y thinks Gabriel's Tweet is, and I quote, "misguided and ill-advised." The e mail also tells us this Tweet is especially surprising since Gabriel's father will be performing at the venue.
"Ill-advised"? He wasn't advised. "Misguided"? He wasn't guided. Here was my response:
I was surprised to receive this e mail from you of all people, since I thought you valued the kind of discussions Twitter can generate in the current media climate. In fact, I see your Twitter handle right there in your auto-signature. As his publicist, I found Gabe's Tweet neither misguided nor ill-advised. Season programming in New York is the hottest topic out there; since both you, personally, and the 92nd Street Y have Twitter feeds, frankly I wonder why you didn't seize the opportunity to publicly engage in the dialogue with Gabe and defend your season!
I received no response, and my question remains: why would the 92nd Street Y bother to have a Twitter feed if they have their people officially policing Twitter comments rather than simply engaging? Once you've put yourself on Twitter, you need to be able to have the conversation in that world, and not take it offline when it becomes slightly charged.