There's a list of the top 30 things that Won't Save Classical Music over on the blog Proper Discord. While the idea of "saving" anything (from itself, basically) is of course ridiculous (hence the list), I have to disagree with the naming of specific writers and artists. That said, composer Lowell Liebermann, whose music I don't know, is at the top of the list, and I'm glad for this since I'm now totally obsessed with his homepage. The rest of the site is pretty basic, but I love that nice lemon background and cut-out photo (with shadows) right at the start. Not my point, here, though. My point is that Proper Discord posted its list one day too soon, because today we learned that the one thing that Will Save Classical Music is Readily Available:
Sex.com, often touted as one of the most valuable Internet domain names, is due to head to the auction block next week. (via Reuters)

Ah! This is The Way! If only the thousands (hundreds of thousands?) of people who type in "s-e-x-dot-c-o-m" every day were sent to the New York Philharmonic's website. "Muti, Schiff and Brahms"? MmmHm. Oh-yeah. They'd spend hours trying to figure out how that was dirty.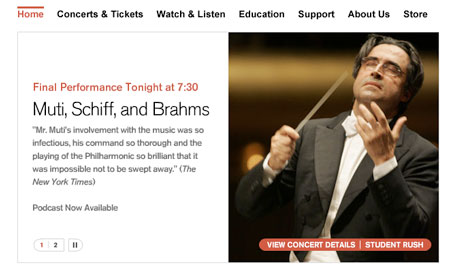 "Final Performance Tonight at 7:30"? Giggity giggity. (Unrelated: Why doesn't the NY Phil own nyphil.com? The LA Phil owns both laphil.com and laphil.org, which is as it should be.)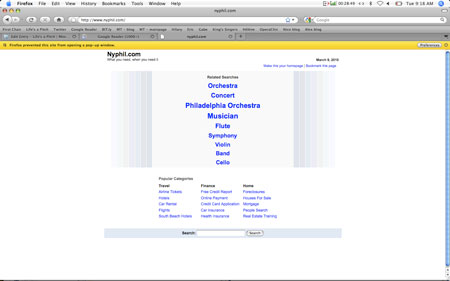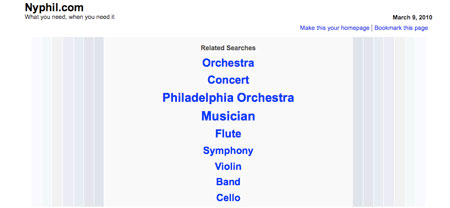 PHILADELPHIA ORCHESTRA! Amazing.
Right, so buy NYPhil.com, and then buy Sex.com and just be done with it. $15,000 in ad revenue a day plus the Google-ability? Consider classical music officially saved.