There's a Family Guy episode where Peter, Lois, Chris, Stewie
and Brian are drowning and, certain they
are all about to die, Peter admits to not liking The Godfather. "It insists upon itself, Lois," he explains. "It insists upon itself."
It may actually be impossible not to stand at the end of the Broadway revival of Hair. Whether you like the musical, or even like musicals at all, the
cast of and the creative team behind this production – transferred from
The Public Theater's Shakespeare in the Park last summer – simply demand you to buy into it.
I had seen Hair in the park, and my hopes were not high for the move to Broadway. The park was what sold the production. On opening night, it started pouring rain on us at the exact moment the band dropped out and the cast sang the words "Let the sun shine in". The Al Hirschfeld doesn't have the benefit of the elements, and I've always felt that even the brightest sound/costume/set/lighting designers are doomed to fail with Hair revivals. My mom has described how she and my dad could barely breathe because there was so much pot in the theater when they saw original production; how the cast basically ran around naked for 2+ hours while the audience was encouraged to strip down, too. If I'm not getting illegal substances and full frontal with the price of admission and I wasn't alive during the 60s, any production of Hair I see is bound to be a caricature of itself.
Unless, as I learned last night, the production insists upon itself.
Audience participation is expected in Hair. Actually, it's written into the script, so I was not at all surprised that within 10 minutes of the show starting a cast member was standing on two arm rests and straddling the aisle in front of my friend and me. I knew I was going to be sung at, I anticipated my friend's hair being messed with (she's press so was on the aisle), I was waiting for various people's laps to be sat on. Then I was handed a flyer for a "be-in" that instructed me to "Bring something to suck."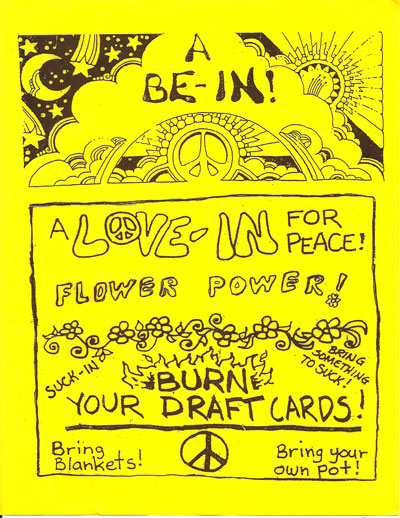 Real flowers were passed around.
The cast came half off the stage to hold hands in a circle with the front row.
Tribe members climbed into the balcony.
Berger sat at the edge of stage left and started waving at someone in the front row. She didn't wave back, so he waved again. She didn't wave back. "Wave back to me," he said. She waved back.
When The Tribe blows a fuse and the theater goes dark, I was actually nervous a cast member was going to feel me up. And if fear of molestation isn't an indication that the fourth wall is in shambles, I just don't know what is.
More cast/audience interaction followed intermission. And that Tribe just got angrier! Angry about "Vietnam" in 2009. They were playing not happy people of a not happy generation, something that, to me at least, ironically doesn't come through on the original Broadway cast recording.
After the curtain call [I joke about spoiler alerts, but this is an actual spoiler alert, although you probably saw it coming] guardrails flew up out of nowhere and cast members began directing rows of people up the stairs and onto the stage to dance. "Can we go??" I blurted, terrified that the row in front of us would be the last to be invited.
I've never been accused of being shy, but leaving my computer, purse, wallet, two portable hard drives and an iPod at seat E4 and bounding onto a Broadway stage to bounce around with total strangers, sweating with my gross, still-wet-from-the-morning hair in my face in front of hundreds of people was not precisely my plan for the evening. The show was supposed to be predictable and filled with missed opportunities! I was supposed to go to dinner and grumble about cultural irrelevance like I always do! Instead I left the theater high as a kite, albeit not in the same way my mother and father probably did 30 years ago.
This production of Hair takes the silver and bronze for best theater experiences of my life: getting soaking wet while the cast adamantly belted for sun this summer, and dancing on stage last night. (Gold goes to seeing Rent in previews. No getting around that.)
I tell you all this because frankly, I hate audience participation. Nothing annoys me more than cast members making fun of people for coming in late, than being the girl some character serenades, than reluctantly clapping and/or singing along. I can't stand getting splashed, but getting rained on becomes one of my most memorable theater moments? Where's the line? When does audience participation hinder and when does it enhance a theater piece? Is there a point, like with the Hair revival, that the line is so far crossed you can't help but go along for the…yep, gonna say it…trip?