Yikes – it has been a long time since I posted an interview. We have some really good ones coming up, though, I promise. For those of you just joining us now, every week I get my act together, I'll post an interview with someone far
more knowledgeable than myself on specific marketing and publicity
subjects. This week, Naxos of America Press and Media Manager Paula Mlyn on selling records without actually selling records, that famous Naxos album art, and networking, networking, networking.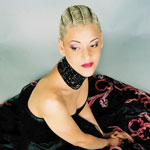 Paula Mlyn is the Manager of Press and Media for Naxos of America and a composer-performer.

You're one of the last remaining Directors of PR at a classical record label! How does it feel? Is Naxos weathering the storm, so to speak?

Not quite … but I am lucky to work for Naxos. And while I may be Manager of Press and Media for Naxos of America, I'm part of an 11-member marketing team.

Naxos is a multi-faceted label, which is why it is so successful. First off, it's global, with offices around the world. Also, we've been poised for the changes in the music business for years … for example, we began digitizing our catalog in 1996.

Our business model is diverse enough to help cushion the company in bad economic times and to keep us focused on the future of the music business. Naxos isn't just a "label"–it is the largest distributor of premiere performing arts labels in the U.S.. We have been at the forefront of the digital explosion, with Naxos imprint and our distributed label titles available on all the major DSPs and e-retailers. We also have our own download site, COL (ClassicsOnline.com), which offers more than 22,000 DRM-free albums at 320 kbps. We also are going to be adding select lossless downloads in the coming months.

Naxos Music Library, available by subscription, is the world's largest streaming collection of classical, jazz, wind band, and choral music. We recently added Nettwerk Music Group titles to its offerings, expanding into independent popular music. We also have regular Podcasts (which include interviews with artists, discussions about repertoire, and samples of music), not to mention our own online e-retail outlet, Naxos Direct, and we license our recordings for movies, television, commercials, and so on. And–this is very, very important to the general health of music in the U.S.–we partner with orchestras and music organizations and sell, wherever permitted, our artists' recordings at the concert venues where they are performing.

There are so many ways to make music available to consumers and to generate revenue. The great strength of Naxos is that we have never stopped thinking of new ways to market music and to get it out there to retailers, consumers, and the press. In short, if you think the only way to make money is to sell physical CDs, you're in trouble–and we still sell thousands of discs every week, BTW.


Roughly how many albums does Naxos release per month?

It varies. January's catalog had approximately 25 Naxos CDs, one Marco Polo, and three Naxos DVDs–not to mention all of the distributed label titles we carry. The January catalog ran 52 pages. (BTW: I e-mail it out each much as a Virtual Paper document, along with an order form. We send very few physical copies nowadays).


How are you dealing with the shrinking numbers of classical critics? Do Naxos artists and your colleagues understand?

There are so many ways to get reviews, and these days, nobody relies solely on print media. While one major goal is to see a review in a big newspaper or magazine, we also work closely with bloggers and online music sites with a regular review schedule, so it isn't a matter of anyone understanding. The business has changed–the world has changed–and anyone reading a newspaper (online or not) understands that marketing concert music is a different animal than it was even a year ago.


How is pitching a record different than pitching a concert?

It can be hard to pitch both. I once worked on a project with a fabulous string quartet (they've since disbanded). They were a first-rate ensemble with a terrific program, concept, and concert planned at Merkin Hall. They should have received a review, but they didn't. There is no magic bullet. Sometimes concerts are a bitch to promote, particularly for a new artist who hasn't been on the critics' radar long enough. With recordings, it is always helpful if a new release is tied to a concert or another event, but it isn't necessary. But it has to be the right recording, and that is something of which our marketing department is very mindful. And, let's face it, not every recording is going to be reviewed or featured. I don't want to jinx anything, but we've had a great year getting our recordings–and those of our distributed labels–reviewed.

Is it just me, or are record reviews getting shorter?

No, it isn't just you. But these cuts are not news anymore. It was over five years ago, I think, that major changes in culture coverage were first announced at The New York Times. Of course, it has gotten worse all over the country with the current economic climate, job losses, and major cuts in culture coverage. However, many former newspaper critics have started their own blogs and still cover recordings and events, or they are working as freelancers. And there are still many magazines and publications that continue to cover CDs and DVDs on a monthly basis. Also, there are a number of wonderful online review sites–I'd mention them by name here but if I forgot one, I'd get an e-mail!

In your experience, how much does album art affect the commercial and critical success of an album, if at all?

Amanda, are you really going to ask me that old question about Naxos cover art? [Yes I am. I'm obsessed with cover art.] Personally, I think the way something looks does affect people in some subliminal way. But a pretty picture won't make a bad performance into a good one.

When and why did Naxos launch a blog? Do all the label employees contribute? Is it just one more thing to do, or is it fun?

The blog launched in late 2006, I believe. Blogging is a great way to get the word out, pure and simple. And, yes, the label employees contribute, and it is, indeed, fun.

How about the Naxos Twitter account? Who on staff "tweets"? Does tweeting sell albums?
Yes, we have a Twitter account, but our Facebook network is far more important than Twitter.

I'm strangely fascinated by the "Music for Movies" section of your website. Was that developed as a promotional tool? To show that classical music – Naxos recordings, specifically – are omnipresent?

Yes, it shows how many Naxos recordings appear in films (I'm not sure this link is up-to-date though). However, as I said earlier, the licensing part of our business extends to commercials and television as well–and here's one for you–musical greeting cards (you know, the ones you buy at the drugstore). Our recordings are used in very creative ways.


As you know, a lot of artists are self-releasing albums these days. What is your best advice to them for getting reviews? Is there any chance of getting a New York Times review, or should they aim smaller?

There is no one answer to that question. You need to have a decent web site, if you can afford it, or at least a website;
you need to be on Facebook, MySpace, and Twitter; and, of course, you need sound clips and upcoming events, posted on your site. As for reviews, the most important thing is for an artist to build a following, which can happen in many ways: network with other performers and composers, attend their concerts, and invite them to your performances, no matter how small. The bigger your personal network, the better. CD Baby is a great tool if you have a self-released recording. Include a link on your website to CD Baby or to an e-retailer where your music can be purchased. And, please, please, please have your recordings at your concerts. The best way to get that review is to promote your performances and/or your music. It may not happen immediately, but the more you are out there, the better your chances.

Would you recommend that artists self-releasing albums write press releases in their own voice (first person) or in the third person? Should they send out press releases under their own name, or a general account?

Hey, some of the coolest press releases come directly from artists.

Ideally, how long should a press release about an album be?

Sometimes I write long releases, because it is special project, or a release that truly requires extensive explanation. "The shorter, the better" has always been the general rule, but I don't always follow it. Also, we send our press releases in our physical press kits (along with the CD), as e-releases, and also in these unbelievable e-cards, which our marketing department creates and sends to press, consumers, and e-retailers. A writer can digest as much of a release as he/she wants. Note: if you are e-mailing a release, the subject line really does count. It is often the only thing that will get your press release read. As you know, writers get tons of e-mails from PR and marketing people pitching this or that. If you don't have a clear subject line, that delete button might be hit pronto. (I'm still working on this.)

In your opinion, what is the most important thing an artist self-releasing an album can do to get press attention?

Please network. After all what goes around comes around. Support your colleagues and they will support you. And, while I really hated that movie, this quote really does apply: "If you build it, people will come." Including the critics.
Correction, 1/30, 10am: Naxos actually has THREE blogs. They are here, here, and here.