Recently in blogroll Category
About
Jazz Beyond Jazz
What if there's more to jazz than you suppose? What if jazz demolishes suppositions and breaks all bounds? What if jazz - and the jazz beyond, behind, under and around jazz - could enrich your life?
more
(FTC) Disclosure
more
#jazzlives
tweet who/where when YOU hear **LIVE** jazz
more
Jazz Beyond Jazz

I'll be speaking:



I'm on Facebook



Follow Jazz Beyond Jazz on Twitter
more
Subscribe in a reader
more
Howard Mandel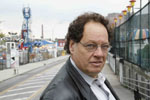 I'm a Chicago-born and New York-based writer, editor, author, arts producer for National Public Radio -- for more than 30 years, a freelance arts journalist working on newspapers, magazines and websites, appearing on tv and radio, teaching at New York University and elsewhere. I'm president of the
Jazz Journalists Association
.
more
Contact me
Click here to send me an email...
more
Blogroll