When a book begins like this, notice must be taken.
I woke up, New Year's Day 1970, in a straitjacket. I had no memory, of anything, at least not at first. I was in an asylum on Long Island after taking an overdose of some pills a shrink gave me. Slowly awareness arose. … I asked to have the jacket removed and they did. Bit by bit memories came back. I could recall details of my childhood. I remembered I'd married Cathy, my girlfriend, months ago when she turned eighteen … In a few days I felt normal. …
That is how Rich Allen ushers the reader into his remarkable personal tale of the peace-and-love generation's "fall from grace" when, as he puts it, "my own turmoil mirrored the world around." Living in New York City at the time, Allen was an obsessed aspiring filmmaker. He gets a courier job "as a bike messenger to pay the rent" and in vivid Millerian prose describes working for the Cosmic Messenger Service—which uncannily echoes the name of the Cosmodemonic Telegraph Company of Henry Miller's The Tropic of Capricorn.
I'm up early and I see it's not raining. The motto at Cosmic Courier is 'If you want good work when the sun shines, you have to work when it rains.' … With my bike lifted over my shoulder, I walk down a few flights of stairs and out onto East 3rd St,, dipping into the dank smell of the pavement's grime. I pedal off, lifting my head to breathe in the cleaner air, with a messenger bag and Pentax Spotmatic, my weapon of choice slung over my shoulder.
He shoots whatever grabs his attention—street people; drunks; neighborhood kids; tough bikers. Big Vinny of the Hell's Angels asks to have his picture taken and later breaks Allen's nose "for taking my picture." He makes deliveries throughout the city, "a lowly bike messenger" whose job gets him "legitimate access everywhere."
I'm across the cobblestones to West St. in Greenwich Village getting my first run of the day from JDF advertising up at 625 Madison. It's quickly followed by a run for The New York Review of Books on W. 57th, where I flirt with Barbara, but get nowhere. Then I'm on to Ed Sullivan Productions over on Third Ave. Marcy smiles at me as I tell her my (funny at the time) Chico Marx/Carl Reiner joke. I know all the receptionists and best bathrooms. Flora at Paris Match on Madison at 67th St. flirts with me, much to my pleasure. By noon I stop for a rare standing lunch at Papaya King. Then I'm pedaling fast on a super-rush job. The exercise is great and my heart loves it—like I love a girl who's far away and I'm pedaling toward her. I'm getting somewhere I think.
A glimpse of Allen's photographs—more than 200 of them—illustrates why the book bowled me over from the first gripping sentence through page after riveting page.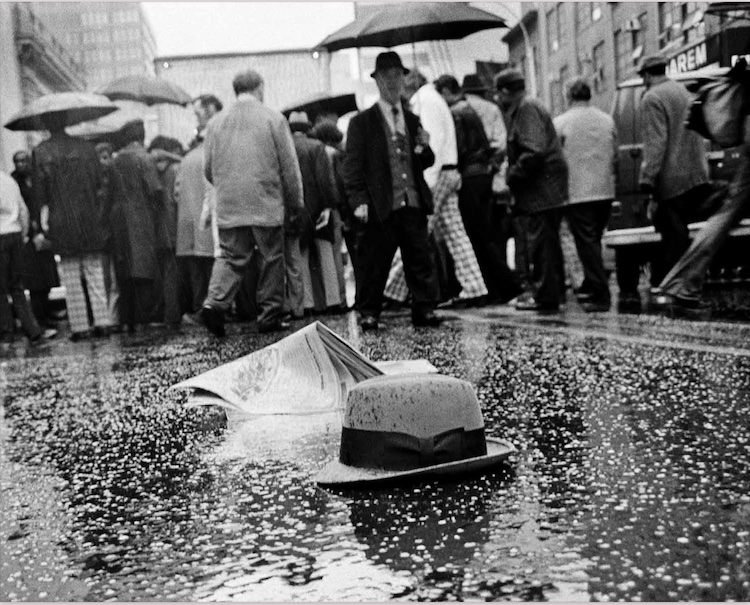 Allen's eye also ranges well beyond the streets to a stunning, wider world, including this moody landscape.
What's more, the book ends with a touching coda, "Making Hooky," an 11-minute movie tucked into the back cover on a DVD disk. Allen's story didn't end there. He became a brilliant filmmaker. Have a look at some of his selected movies.
• • •
STREET SHOTS / HOOKY may be purchased for $40 by ordering via orders@aftermathbooks.com, including delivery by USPS media mail. Overseas postage would be additional.
POSTSCRIPT: March 24 — And how about these shots?