I was walking down Third Avenue in midtown Manhattan the other day when I saw someone reading
Naked Lunch
. I know the shot looks posed, but it wasn't. This is exactly how he was sitting (below left). The guy was in front of an office building at 777 Third Ave., between E. 48 and E. 49th Streets, where you couldn't find more ordinary pedestrian traffic. It's the last place I would have expected to see anyone connecting with William Burroughs and his subversive satire. Which is why I snapped the shot (with permission).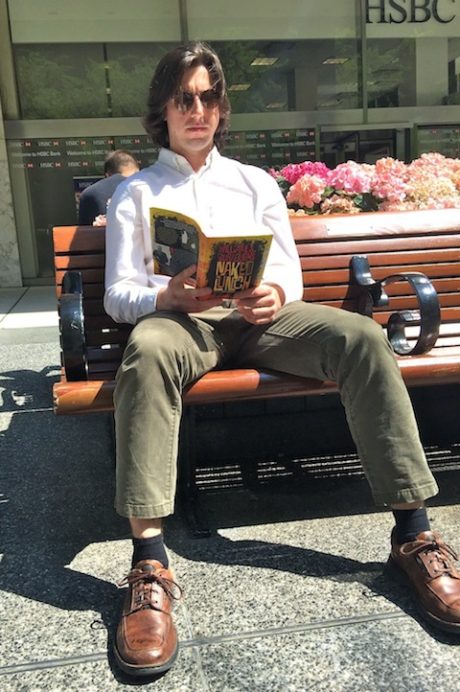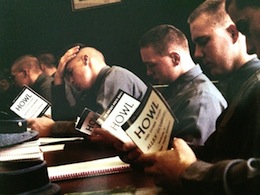 When I showed the shot to my tireless staff of thousands, one of them noticed the reader was close to finishing the book. Very cool. Also, the image is reminscent of a photo showing cadets at the Virginia Military Institute (above) reading Allen Ginsberg's "Howl" back in 1991. (Ginsberg had been invited to VMI. Here's
the back story
about that.)
Speaking of the Burroughs connection, realitystudio.org reports that "the first publications using the cut-up methods developed by William Burroughs and Brion Gysin" will be celebrated in Paris and London in September 2020 with an international conference called CUT-UPS@60.
The organizers are Oliver Harris, Andrew Hussey, Davis Schneiderman, and Alex Sharpe.
Harris says CUT-UPS@60 will be "a major multidisciplinary occasion to examine the past and explore the ongoing legacy of the connections that Burroughs's work in particular made between artistic and social radicalism." The conference is to include
a series of talks, workshops, exhibitions, and performances in film and music (remix, sampling, mashup), literature and the arts (collage, chance), politics (détournement as ideology critique), sexual identity (therapeutic deconditioning), philosophy (deconstruction of language), social movements (participatory activism), the occult (divination, exorcism), and science (virus/genetic research).

The legacy of cut-ups goes beyond the A to Z of artists famous for using its methods, from Kathy Acker to John Zorn by way of Sinclair Beiles, David Bowie, Jan Herman, Harold Norse, Claude Pélieu, Jürgen Ploog, Carl Weissner, Terry Wilson, and we hope to see the literally cutting-edge new work being done in any field inspired by cut-ups, to bring together the unlimited potentials unleashed by the Stanley knife that Gysin put into Burroughs' hands in Paris 60 years ago.
As part of the retrospective, CUT-UPS@60 will also feature, "a triple book launch: a cut-up trilogy of incendiary pamphlets with expanded 60th anniversary editions of Minutes to Go and The Exterminator, and a never-before-seen handbook of guerrilla tactics assembled from recently discovered archival sources, BATTLE INSTRUCTIONS." Harris notes that the new text is "as fresh and ferocious as when it was created, reveal[ing] Burroughs the experimental artist and political radical at his most revolutionary."
…