My staff of thousands informs me that "The Something Else Press Collection" just went on the market. Although some of the books are rarer than others, it's the collection as a whole that's notable.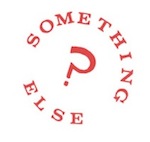 Early titles included Jefferson's Birthday / Postface, Dick Higgins' collection of performance scores and art polemics; correspondence art pioneer Ray Johnson's The Paper Snake, Al Hansen's A Primer of Happenings & Time/Space Art; and Rumanian-born Nouveau Réaliste artist Daniel Spoerri's An Anecdoted Topography of Chance (Re-Anecdoted Version). Higgins' foew&ombwhnw (a 1969 collection disguised as a prayer book) contains his important essay, "Intermedia," in which he describes artworks which "fall between media," arguing that the social conditions of the time (early to mid-1960s) no longer allowed for a "compartmentalized approach" to either art or life.
Click to see all the titles. Fantastic Architecture is a favorite of mine. The Something Else Yearbook, which I slapped together in SEP's waning days, is not — though I still agree with the jacket copy.
I assume the collection is complete. It even includes Manford L. Eaton's BIO-MUSIC, a little book the publisher hated, but which made it into print at my insistence. He never did say why he hated it. Maybe he thought the idea of an "experiential bio-music system" based on electrode stimulation and feedback was inhumanly reductive. Eaton wrote:

The discussion as to whether physiological states portray psychological states has been going on for a long time and probably will continue far into the future. For our purposes, however, it is significant that conventional music is almost totally helpless to predict and/or control either physiological or psychological states in any very sophisticated manner. If we can, through biological feedback stimulation, use biological potentials as control signals for the presentation of sensory stimuli, and by monitoring physiological parameters to determine the efficacy of our efforts, arrive at a point where we can predict, repeat, and change at will, physiological states and the accompanying psychological states, we will have a music with great power. That is exactly what we can do with Bio-Music.
Maybe it was Eaton's dry prose that upset him. Or maybe it just ran counter to the kind of music the publisher himself composed. Have a look at his "Danger Music #17". It should stand your hair on end.

Viktoria Monhor performs Dick Higgins's Danger Music #17 from viktoria monhor on Vimeo.