In today's
Wall Street Journal
, I review a webcast from Chicago of TimeLine Theatre's 2013 revival of
To Master the Art
, a play about Julia Child. Here's an excerpt.
* * *
As the pandemic continues to wreak financial havoc on America's performing-arts organizations, more theater companies (though not nearly enough) are turning to webcasts of various kinds as a desperately needed source of revenue. Some, like New York's Irish Repertory Theatre, are airing new online-only productions, while others are streaming older shows drawn from their archives. TimeLine Theatre, a much-admired Chicago troupe that specializes in "stories inspired by history," has chosen the latter course with "To Master the Art," a bioplay about Julia Child that was commissioned by the company in 2008 and revived there in 2013. Co-written and staged by William Brown, one of Chicago's leading directors, and starring Karen Janes Woditsch, a Chicago-based actor of the first rank, it's a play nicely suited to the moment, an intelligent entertainment about the comforting delights of cooking and eating….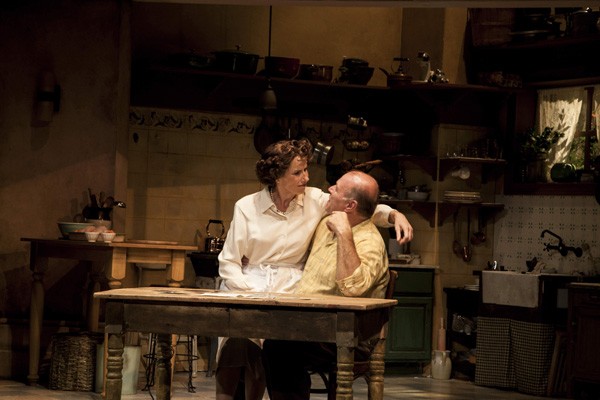 Child was a co-author of "Mastering the Art of French Cooking," among the most influential cookbooks of the 20th century, and the star of "The French Chef," the long-running PBS series that later made her a pop-culture icon (Dan Aykroyd spoofed it to wicked effect on "Saturday Night Live" in 1978). In "To Master the Art," Mr. Brown and Doug Frew tell how "Mastering the Art of French Cooking" came to be written. That may not sound particularly interesting on paper, but it proves in practice to be a complicated and absorbing tale. Child came to Paris in 1948 with her husband Paul (Craig Spidle), a United States Information Agency official whom she had met when they were both working in Ceylon for the Office of Strategic Services, the wartime intelligence agency that later became the CIA. A "strapping girl from Pasadena" (as she describes herself in the play) who was bowled over by her first taste of French cooking, she promptly enrolled in Le Cordon Bleu and struck up a friendship with Simone Beck (Jeannie Affelder), who was writing a cookbook for American readers on which Child subsequently collaborated. Thirteen years later, "Mastering the Art of French Cooking" made her a household name.
Not only is "To Master the Art" the story of how a person discovers her destiny, but it is also a dual portrait of a loving marriage, and the chemistry between Ms. Woditsch and Mr. Spidle is a big part of what makes it good….
* * *
Read the whole thing
here
.
An excerpt from the first scene of To Master the Art:
Dan Aykroyd plays Julia Child on Saturday Night Live in 1978:
Things go wrong in Julia Child's kitchen in a clip from an original episode of The French Chef: