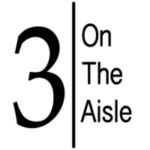 A new episode of Three on the Aisle, the twice-monthly podcast in which Peter Marks, Elisabeth Vincentelli, and I talk about theater in America, is now available on line for listening or downloading.
Here's American Theatre's "official" summary of the proceedings:
This week the critics talk to Jeremy Wein, producer and co-creator of Play-PerView, a new theatre initiative presenting livestreamed readings of plays by Tony-winning writers with all-star casts. Proceeds from Play-PerView's events are directed to arts organizations impacted by the COVID-19 virus. Jeremy talks about the impact that Play-PerView is having on the theatre community, and the responses from both those who are embracing the new digital options and those who are more reluctant to embrace the form. The critics then discuss a mailbag question regarding when they personally will feel safe returning to the theatre, and then talk about their picks for the week, which include The Present at the Geffen Playhouse, Molly Sweeney at the Irish Rep, and Bill Irwin's In-Zoom at the Old Globe.
To listen to or download this episode, read more about it, or subscribe to
Three on the Aisle
, go
here
.
In case you've missed any previous episodes, you'll find them all here.