In today's
Wall Street Journal
I review the latest American Shakespeare Center webcast, a revival of Frank Galati's stage version of
The Grapes of Wrath
. Here's an excerpt.
* * *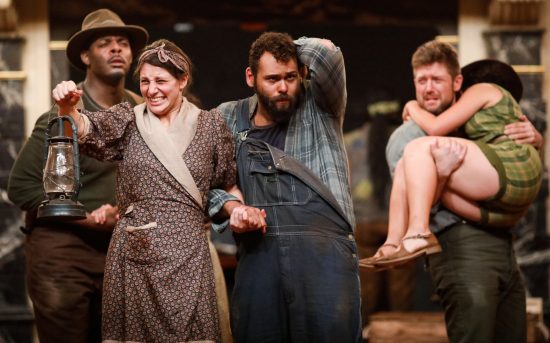 Whether on stage or screen, John Steinbeck's novels play better than they read, a fact that was proved yet again when Frank Galati turned "The Grapes of Wrath" into a stage play written for Chicago's Steppenwolf Theatre Company. First performed there in 1988, it transferred to Broadway in 1990 and won a best-play Tony, beating out Craig Lucas' "Prelude to a Kiss," Peter Shaffer's "Lettice and Lovage" and August Wilson's "The Piano Lesson." An exceptionally fine adaptation that continues to be revived, its virtues are now on display courtesy of Virginia's American Shakespeare Center, whose touring company, based in Staunton, taped a performance in March in ASC's 300-seat Blackfriars Playhouse, a modern historical recreation of a theater built in London in 1596 that has been transformed into an online soundstage for the duration of the pandemic. 
Directed by José Zayas and presented on an open Elizabethan-style stage, Mr. Galati's no-frills "Grapes of Wrath," like John Ford's classic 1940 film version, strips away much of Steinbeck's preachiness to focus on the stony-hard lives of the Joad family, who flee the smothering dust and debt of Depression-era Oklahoma and drive their rickety, overstuffed jalopy to California in search of hope. The result is a play full of contemporary echoes that are both unexpected and unforced, performed by ASC with a sober plainness of utterance that pierces the heart like a well-honed arrow….
* * *
Read the whole thing
here
.
The trailer for The Grapes of Wrath: