In today's
Wall Street Journal
I review a webcast of Shakespeare Festival St. Louis' "TourCo" production of
Cymbeline
. Here's an excerpt.
* * *
Earlier this season, Shakespeare Festival St. Louis put together a small-scale 90-minute touring production of "Cymbeline" adapted and directed by Tom Ridgely, the company's producing artistic director, that was intended for performance in schools and communities where Shakespeare's plays are not regularly seen. Acted by six young women in casual modern dress who collectively enact more than two dozen roles on an all-but-bare stage, the production gets under way with a "living study guide" that walks viewers of all ages through the proliferating complexities of "Cymbeline" in an uncondescending way. It's the sort of Shakespeare staging that rarely gets seen, much less reviewed, by big-city critics, but because of the coronavirus pandemic, SFSTL, unable to take its "Cymbeline" on the road, instead taped it with a single video camera in front of a tiny audience of staffers and crew and has made the results available for free on the company's Facebook page…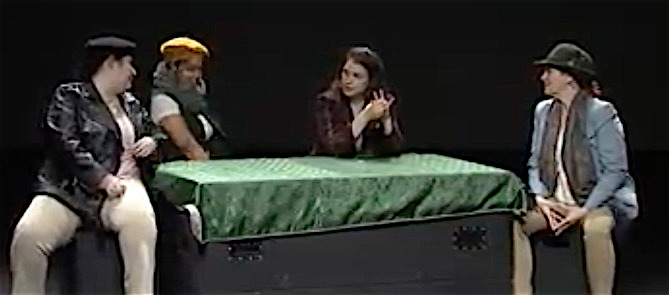 Having been repeatedly impressed by the artistic results of such on-the-fly webcasting ventures, I decided to take a look at SFSTL's "Cymbeline," and I loved what I saw. This is American-style Shakespearean acting, cheerfully colloquial rather than resonantly poetic, with Hannah Geisz and Mary Heyl especially likable as Innogen, the king's daughter, and Posthumus, the unhappy lover. Mr. Ridgely's uncomplicated staging and cut-to-the-chase adaptation of the text frame the play so lucidly that even the newest of Shakespeare novices will have no trouble orienting themselves amid its myriad complexities….
The company does its own a cappella choral singing, of which there is plenty, all of which warms the flavor of the show to fetching effect. Tre'von "Tre G" Griffith, the music director, is an R&B-pop singer-songwriter from St. Louis, and he deserves generous credit for the user-friendly tone of the proceedings….
* * *
Read the whole thing
here
.
The trailer for Shakespeare Festival St. Louis' online production of Cymbeline: