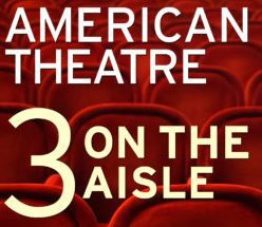 The thirtieth episode of Three on the Aisle, the twice-monthly podcast in which Peter Marks, Elisabeth Vincentelli, and I talk about theater in America, is now available on line for listening or downloading.
The inspiration for this episode was our discovery that the three of us were sharply at variance on the merits of two recently opened Broadway musicals. Here's an excerpt from American Theatre's "official" summary of the proceedings:
What is it like when you go against the critical consensus? Peter, Elisabeth, and Terry discuss this through the lens of Oklahoma! and Hadestown, both of which strongly divide our critics' opinions. Then they discuss the most perfect casting they've seen, and ponder the difference between a bad actor and a miscast actor.

Finally, they go around the table to talk about Classic Stage Company's revival of The Cradle Will Rock, Junk by Ayad Akhtar at Arena Stage, The Mother by Florian Zeller at the Atlantic, and Burn This by Lanford Wilson on Broadway.
To listen to or download this episode, read more about it, or subscribe to Three on the Aisle, go here.
In case you've missed any previous episodes, you'll find them all here.