In today's Wall Street Journal I review a new Broadway revival of David Henry Hwang's M. Butterfly and the off-Broadway premiere of John Patrick Shanley's The Portuguese Kid. Here's an excerpt.
* * *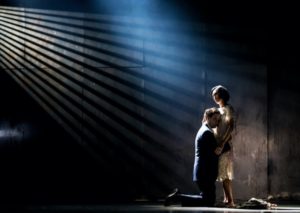 David Henry Hwang's "M. Butterfly" was one of the great water-cooler plays of the '80s, a show that everyone in New York felt obliged to see so that they could talk about it at the office the next day. The more-or-less true story of Rene Gallimard, a French diplomat who had a protracted affair with a Chinese singer-turned-spy who passed himself off as a woman, "M. Butterfly" ran on Broadway for 777 performances, but hasn't been revived there since it closed in 1990. Now it's back, courtesy of Clive Owen and Julie Taymor, and I wish I could say that it's as good as John Dexter's original production. Alas, Ms. Taymor's revival isn't remotely worthy of Mr. Hwang's subtle meditation on male desire and the inability of Westerners to understand the Asian mind…
For all her formidable gifts, Ms. Taymor has always struck me as the kind of director who sees the text of a play as little more than a pretext for creating gorgeous stage pictures. The better the play, the less convincing the production—her 2013 Theater for a New Audience version of "A Midsummer Night's Dream" might just as well have been a silent movie—and "M. Butterfly," which is at bottom a not-so-simple story told to the audience by a desperate, confused man, doesn't profit from her over-elaborate approach….
Mr. Owen, a classically trained actor with a reasonable amount of stage experience who was pretty good in the Roundabout Theatre Company's 2015 revival of Harold Pinter's "Old Times," is mostly flat and uninteresting as Gallimard. You never doubt his involvement or sincerity, but his performance feels like that of a movie star who doesn't know how to project his personality past the footlights…
Jin Ha, by contrast, is astonishing as Song Liling, speaking his lines in a haughty bass-flute voice and carrying himself so convincingly that you have no trouble seeing how Gallimard could have persuaded himself that he was in love with a woman….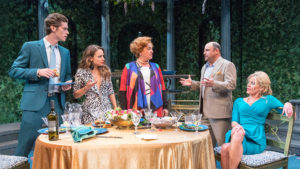 "The Portuguese Kid," John Patrick Shanley's latest play, is the funniest new comedy I've reviewed since…well, maybe ever. An extravagantly romantic comedy of horrifically bad ethnic manners, it's a cross between "Private Lives" and Mr. Shanley's own "Moonstruck" in which two incorrectly matched couples spend an hour and 40 minutes trying to sort themselves out. Jason Alexander and Aimee Carrero are in one corner, Sherie Rene Scott and Pico Alexander in the other, with Mary Testa egging them all on in the role of a gorgon-like mother. I don't know when I last saw another stage comedy that was funny right from the top—it usually takes at least a couple of minutes to get the cards dealt—or one whose last scene was so unmanipulatively touching….
* * *
To read my review of M. Butterfly, go here
To read my review of The Portuguese Kid, go here.
Clive Owen, Julie Taymor, and David Henry Hwang talk about M. Butterfly:
A scene from The Portuguese Kid: