In this week's Wall Street Journal "Sightings" column, I report on plans for the first revival of Jerome Robbins' Broadway since it closed a quarter-century ago. Here's an excerpt.
* * *
Most people who go to the theater regularly keep a little list of unforgettable shows. Mine is topped by "Jerome Robbins' Broadway," the 1989 revue in which Broadway's greatest choreographer restaged an evening's worth of his production numbers from "Billion Dollar Baby," "Fiddler on the Roof," "A Funny Thing Happened on the Way to the Forum," "Gypsy," "High Button Shoes," "The King and I," "Peter Pan," "On the Town" and "West Side Story." I'm not old enough to have seen the original productions of any of the 15 musicals that Robbins choreographed between 1944 and 1964, when he left Broadway to concentrate on ballet. I figured I'd never get another chance to see their dances staged by the master himself, so I bought a ticket to the first preview. I went back five more times—all on my own dollar….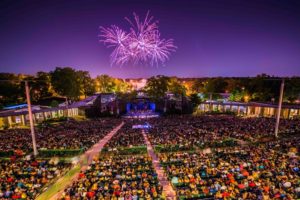 One of the reasons why I kept going back was that I took for granted that the show was too complicated and expensive an undertaking to be more than a one-shot event. I was right. After a 633-performance Broadway run, it toured 12 cities, closing in Los Angeles in February of 1991. It has never been performed since then. So I was flabbergasted—no gentler word will suffice—when St. Louis' Muny, America's largest and oldest outdoor musical theater, announced last week that it would revive "Jerome Robbins' Broadway" in the summer of 2018 as part of its 100th-anniversary season….
Why does the revival of a quarter-century-old musical-comedy revue matter so much? The answer lies in the evanescent nature of choreography. Unlike music, it isn't written down (though dance steps can be notated after the fact). Unless a concerted attempt is made to preserve a dance, it vanishes into thin air after its last performance—and surprisingly few attempts have been made to document the great Broadway dance numbers….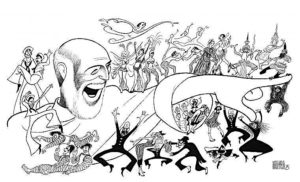 "Jerome Robbins' Broadway" actually began life in 1987 as an attempt by Robbins to resurrect some of the dances from his other shows. "I hated the idea that they were just disappearing," he said. So he invited a group of aging Broadway gypsies to help him reconstruct the "Bathing Beauty Ballet" dance, an homage to silent-movie slapstick comedy, from "High Button Shoes." The results were so successful that he decided to put together a full-evening retrospective that would give a new generation of theatergoers "a taste of the years I worked on Broadway." To revive it now is—quite literally—a historic event….
* * *
Read the whole thing here.
A TV commercial for the original 1989 production of Jerome Robbins' Broadway: