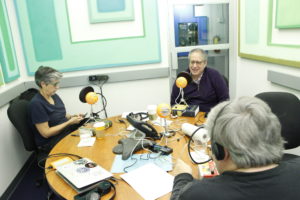 The second episode of Three on the Aisle, the new podcast in which Peter Marks, Elisabeth Vincentelli, and I talk about theater in America, is now available on line for listening or downloading.
In this month's episode, Peter, Elisabeth, and I interview Holly Twyford, one of the top actors in Washington, D.C., about the complexities and challenges of being a full-time regional-theater stage actor. Next comes a discussion of the vertiginously high cost of Broadway theater tickets, and what can be done about it. We wrap up the episode by chatting about some shows we've seen and liked in recent weeks. All three of us had great fun taping this episode, and I think you can hear how much we enjoyed ourselves.
To listen, download the second episode, or subscribe to Three on the Aisle, go here.
In case you missed the first episode, you'll find it here.