In today's Wall Street Journal drama column I review a new play, Sarah Treem's When We Were Young and Unafraid, and a revival, Barrington Stage's Kiss Me, Kate. Here's an excerpt.
* * *
Sarah Treem is the very model of a modern millennial playwright. She makes her living as a TV scriptwriter and showrunner ("House of Cards," "In Treatment") and salves her soul after hours by writing plays that, in her phrase, "put ideas on stage." Sure enough, her latest effort, "When We Were Young and Unafraid," a play about a shelter for battered women, is nothing if not idea-driven, and the familiar ideas are all straight out of the feminist playbook. That way lies predictability, which is the death of drama. On the other hand, her characters are—with one exception—fully recognizable human beings capable of saying and doing the unexpected, and the cast, led by Zoe Kazan and Cherry Jones and directed by Pam MacKinnon, performs "When We Were Young" with gratifying skill. The resulting tension makes for a show that is sometimes predictable but never dull….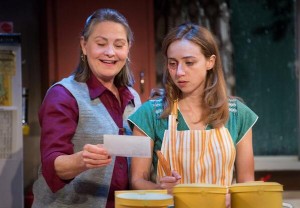 Ms. Kazan, the most gifted stage actor of her generation, gives another of the richly involving performances that we've come to take for granted from her, playing a pitifully awkward girl-woman who knows no other way to relate to men than to have sex with them…
"Kiss Me, Kate" belongs close to the top of any short list of great Broadway musicals, yet it doesn't get performed nearly as often as it should. Fortunately, it's now being done extremely well by Massachusetts' Barrington Stage Company, whose 2013 revival of "On the Town" is Broadway-bound. That fact speaks well for the company's ability to mount a full-scale musical-comedy production. So does this "Kiss Me, Kate," directed by Joe Calarco, which is as good as any revival of the show that I've seen in the past decade….
* * *
To read my review of When We Were Young and Unafraid, go here.
To read my review of Kiss Me, Kate, go here.
The trailer for Kiss Me, Kate: