In today's Wall Street Journal I review two New York shows, Holler if Ya Hear Me and Much Ado About Nothing. Here's an excerpt.
* * *
Thirty-five years after the release of "Rapper's Delight," the first full-fledged rap record, Broadway finally has its very own hip-hop jukebox musical. "Holler if Ya Hear Me," whose score consists of 21 songs by Tupac Shakur, is (says the publicist) "a non-biographical story about friendship, family, revenge, change and hope." The presumptive reason why it's "non-biographical" is because the producers don't own the rights to Mr. Shakur's life story. Whether they sought to acquire those rights isn't known, but "Holler if Ya Hear Me" would likely have been more interesting if they had.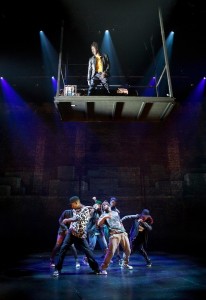 In addition to being a popular rapper, Mr. Shakur was—to put it mildly—a piece of work. Born in 1971 to a pair of Black Panthers, he made his stage debut at 12 in a Harlem production of "A Raisin in the Sun," cut his first solo album in 1991 (Dan Quayle denounced it), made his first movie in 1992, did time for "first-degree sexual assault" in 1995 and was killed in a drive-by shooting in 1996. His murderers were never found.
That's a story I'd pay to see. Not so Todd Kreidler's book for "Holler if Ya Hear Me," a thrice-told tale of ghetto life that's full of carbon-copied dialogue ("I always wanted you to be good—good in ways I wasn't") and ends with a violent denouement close enough to "West Side Story" to be actionable. This may explain why Kenny Leon's staging of the show's dialogue scenes is so slackly paced: He had nothing to work with.
The songs are another matter altogether, though it should be said up front that Daryl Waters, who is credited with "music supervision, orchestrations and arrangements," has in fact transformed many of Mr. Shakur's spoken monologues into something more like traditional theatrical songs, adding melodically fleshed-out choral parts and laying the lyrics on top of sophisticated, jazz-flavored accompaniments played by a first-class pit band. The idea, I assume, was to make the score more immediately accessible to Broadway audiences. It works, too: "Holler" is one of the best-sounding new musicals to come to Broadway in quite some time. That said, the hardest-hitting songs, like the title tune, are usually the ones that most closely resemble Mr. Shakur's plainer recorded performances….
Jack O'Brien, lately of "The Nance," has made his Shakespeare in the Park debut with an undemanding, thoroughly amiable staging of "Much Ado About Nothing" in which Lily Rabe and Hamish Linklater play Beatrice and Benedick, both of whom affect to hold marriage in contempt but succumb (after much friendly skullduggery) to its charms. Appropriately enough, Mr. O'Brien has given us an al fresco reworking of Shakespeare's play in which the action is updated to Sicily circa 1900. It's an eminently logical transposition, and John Lee Beatty, the set designer, has made it even more plausible by erecting on the stage of Central Park's Delacorte Theater a sun-kissed villa whose accoutrements include a working fountain, a climbable orange tree and a vegetable patch…
* * *
To read my review of Holler if Ya Hear Me, go here.
To read my review of Much Ado About Nothing, go here.