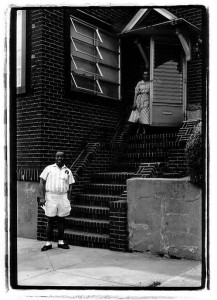 In honor of the great day when Louis Armstrong's recording of "Hello, Dolly!" knocked the Beatles off the top of the pop charts, John Marchese of the New York Times has written a nifty little piece for that paper called "Back Where He Belonged: An All-Satchmo Day":
Maybe it was the 50th anniversary of "Hello, Dolly" having knocked the Beatles off the top of the pop charts (May 9, 1964), but it occurred to me recently that with a little advance work, I could spend an entire day in New York with Louis Armstrong.

Yes, I know, that idea seems absurd at first. Even a devoted fan like me has to acknowledge that as much as his music lives on, Armstrong, the renowned jazz musician and beloved entertainer known worldwide as Satchmo, died on July 6, 1971.

But he died in his sleep in the king-size bed on the second floor of his modest brick-clad house on 107th Street in Corona, Queens. His widow, Lucille, eventually left the house to the city, and it has been preserved largely as it was in his last days—right down to a bathrobe and a pair of slippers—and is open to the public six days a week. That would be my first stop….
And his last stop? A performance of Satchmo at the Waldorf, of course.
Read the whole thing here.