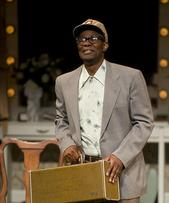 John Douglas Thompson has won the prestigious Drama Desk Award for Outstanding Solo Performance in Satchmo at the Waldorf, my first play, which is currently running off Broadway at the Westside Theatre.
Here's what it means, from the official website:
Drama Desk Awards, which are given annually in a number of categories, are the only major New York theater honors for which productions on Broadway, Off-Broadway and Off-Off Broadway compete against each other in the same category. Formed in 1949 by a group of New York theater critics, editors, reporters, and publishers, the organization was created to educate the community on vital issues concerning the theater.
I'm thrilled. He's thrilled. We're all thrilled.
To see who else won, plus a complete list of nominees, go here.
If you haven't seen Satchmo at the Waldorf yet, time is running out—don't wait. Go here to order tickets or for more information.