In today's Wall Street Journal I report on two Chicago-area musical productions, TimeLine Theatre's Juno and Writers' Theatre's Days Like Today. Here's an excerpt.
* * *
Marc Blitzstein's theatrical career was launched with the big bang of "The Cradle Will Rock," the pro-labor agitprop musical whose 1938 premiere came close to starting a riot. He never succeeded in building on his youthful triumph, though: "Regina," his operatic version of "The Little Foxes," ran for a paltry 56 performances, and "Juno," in which Blitzstein took on the even more formidable challenge of carving a Broadway musical out of Sean O'Casey's "Juno and the Paycock," was an even bigger flop that closed in just under two weeks. Nor has it ever been successfully revived, in New York or anywhere else, which makes TimeLine Theatre Company's new production of "Juno" important by definition….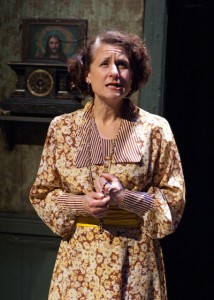 The troubles with "Juno" are twofold. If you saw the Irish Repertory Theatre's flawless 2013 revival of "Juno and the Paycock," you won't need to be reminded that O'Casey's shatteringly black comedy about a ne'er-do-well braggart (played here by Ron Rains) and his despairing wife (Marya Grandy), is one of the greatest plays to come out of Ireland. Unfortunately, Joseph Stein's book is so faithful to its source that "Juno" feels more like a play with music than a genuinely original show. In addition, Blitzstein's songs, "For Love" and "I Wish It So" excepted, lack the expressive weight that so powerful a play demands. As a result, you come away wondering why he chose to write a traditional musical (albeit one with an unhappy ending) instead of giving "Juno and the Paycock" the full-fledged operatic treatment for which it cries out.
So why see "Juno" now? Because Mr. Bowling's focused, intimate small-scale staging minimizes its palpable problems—and because Ms. Grandy's quietly determined interpretation of the title role is as moving in its own way as was J. Smith-Cameron's towering performance in the Irish Rep revival of the play….
Broadway musicals, like Hollywood movies, rarely seek to portray contemporary middle-class urban adult life in anything like a straightforward way. Stephen Sondheim showed how to do it with "Company," but that 1970 hit has had few successors. Indeed, the only Broadway shows to come along in recent years that cover remotely similar ground are "If/Then" and "Next to Normal," both of which I found to be prettified and narcissistic. So I'm happily surprised to report that Writers' Theatre, which gave us "A Minister's Wife" in 2009, has now premiered a second chamber musical, "Days Like Today," that does what "If/Then" purports to do, and does it with immensely promising originality….
* * *
Read the whole thing here.
Emily Berman sings "Where There Was Bone," a number from Days Like Today: