In today's Wall Street Journal drama column I report on two important out-of-town productions, a staging by Teller (yes, that Teller) of The Tempest and a Chicago revival of M. Butterfly. Here's an excerpt.
* * *
Teller, Penn Jillette's silent partner, has lately launched a parallel career as a theater director of considerable accomplishment and still greater promise. His 2008 "Macbeth," staged in collaboration with Aaron Posner, was one of the most memorable Shakespeare productions of the past decade. Now the two men have teamed up again for "The Tempest," to which Mr. Teller's special skills are, if anything, even better suited, and the results are no less winning. Fanciful, mysterious and full of cheerily broad comedy, this is a "Tempest" that will give equal pleasure to seasoned playgoers and novices who quake in their boots at the mention of iambic pentameter. It is—in a word—magical.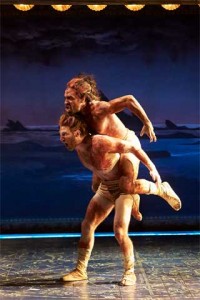 The premise is obvious enough to have been tried before: Prospero (Tom Nelis) is a sorcerer, so why not turn "The Tempest" into a magic show? What makes this version stand out is the way in which it fuses the varied talents of its makers into a conceptually coherent whole. The staging is festive, the magic tricks breathtaking, the triple-tier set (designed by Daniel Conway) spectacular. Tom Waits and Kathleen Brennan have written a musical score that is by turns rough-hewn and eerily shimmery. Matt Kent, the associate artistic director of Pilobolus Dance Theatre, has contributed all sorts of eye-catching stage movement, including the brilliant notion of having Caliban, Prospero's monstrous servant-slave, be played by two actors (Zachary Eisenstat and Manelich Minniefee) who speak in unison and move in the manner of conjoined twins….
"M. Butterfly," David Henry Hwang's 1988 Broadway hit about a French diplomat who slept with a Chinese opera star for 20 years without realizing that she was (A) a spy and (B) a man, hasn't been seen in New York since the end of its 777-performance run. It continues to be mounted by regional theaters, though, and the Court Theatre's commanding revival is more than good enough to withstand comparison to John Dexter's original production. Not only has Charles Newell staged it with a persuasive blend of theatricality and thoughtfulness, but Sean Fortunato and Nathaniel Braga both put excitingly personal stamps on the starring roles created by John Lithgow and B.D. Wong. Mr. Fortunato, one of Chicago's best actors, plays Rene Gallimard, the deceived diplomat, not as a haughty pseudo-gentleman with a transatlantic accent but as a painfully self-conscious ugly-American type (a characterization that gives his performance greater local immediacy) who wears his geekiness on his sleeve. As for the biracial Mr. Braga, he uses the fact that he doesn't look especially feminine to subtly underline the point of "M. Butterfly," which is that M. Gallimard is only too willing to believe in the racial and sexual stereotypes that inexorably bring about his final humiliation….
* * *
Read the whole thing here.
To watch a scene from M. Butterfly as performed by John Lithgow, B.D. Wang, and members of the original Broadway cast on the 1988 Tony Awards telecast, go here.
To read a New York Times article about the real-life espionage case on which M. Butterfly was freely based, go here.