I've been thinking a great deal about classical musicians and creativity recently, following my experience as a performer and composition workshop presenter for teenagers at the Perth International Arts Festival (PIAF).
It was rather shocking to me to hear from various people in the festival management that they found it very difficult to get the classical performers appearing in the festival to do creative workshops as well. A quick skim of the festival program confirmed their fears to me. Apart from a sprinkling of masterclasses aimed at already pretty well heeled classical performers plus the ubiquitous pre-concert talks, there wasn't anything actually creative going on in the education programs for classical music.
By way of comparison let's take the Arena Theatre Company directed by Chris Kohn as an example. They created something called The House of Dreaming, a kind of sculptural installation piece, a magical 'house' into which no grown ups were allowed. To go along with this piece, they also presented a wonderful workshop Build an Ear-o-polis, described in the festival program thus;
The Ear-o-polis workshop is an innovative interactive theatre and sculptural experience for primary students. With the help of new wireless technology participants create their own strange and surprising worlds where everyday objects emit bizarre and unearthly sounds. Shoes growl, hats sing and balls squeal with laughter!
This makes me want to be eight years old again. Isn't it wonderful?
On the other hand, the classical music education events were described in this manner "World renowned musicians X&Y demonstrate the magic of Z in a masterclass". Yawn. I didn't have the chance to attend any of my colleagues' workshops, but I'm sincerely hoping they weren't as dull as their blurbs!
But I digress. The point here is not about the quality of the classical music workshop blurbs, which were pretty uniformly dull and uninspiring (there's a whole other blog post in that, lemme tell ya!). No, it's about the fact that creativity and classical music seem to be viewed as separate things. Why is this? Is it because classical musicians just aren't creative? I'm pretty sure that's not the case. Is it because we fear that we haven't the skills to show others how to be creative? Quite possibly. Is all this the result of a gap in traditional classical music education? In short, yes.
I agree wholeheartedly with everything Mr. Sandow has said here about incorporating creativity into the music schools of the world. I'm going to take this a step further by saying this kind of work should start much earlier in a music education, at a Primary School level (translation: "Primary School" is Australian for "Elementary School"). In an effort to fill this educational gap, I have started presenting composition workshops for children. It was a genuine surprise to me that I discovered I had the ability to do this. I don't have any official training as an educator, nor as a composer. What I do have however is a stack of on-the-ground experience with kids, plus good aural skills and a very decent grounding in harmony and counterpoint.
In mid 2012, I was invited to workshop a new song with junior/intermediate choristers from Woden Valley Youth Choir (WVYC). These kids come from my hometown, Canberra, Australia's national capital, a city that is much maligned by many Australians because it represents to them nothing but despicable lying politicians. Any local resident will tell you this is far from the truth, but sadly the myth endures. Anyway, WVYC's powerhouse of a director Alpha Gregory wanted a new song that would be for and by and about the kids themselves and the lives that they live in their really very beautiful city.
My memories of my hometown childhood largely revolve around Lake Burley Griffin, named after the American architect who designed our city.
I thought it would be a great subject for a song, and something that all the kids could identify with. They spoke excitedly about the beautiful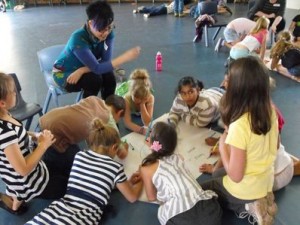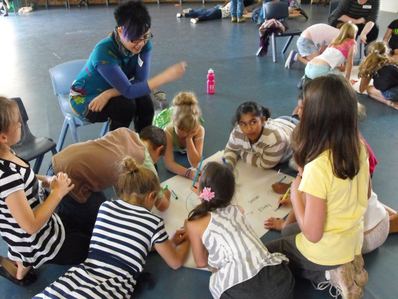 parklands around the lake, the birdlife, riding their bikes (Canberra has a great network of bicycle paths) and watching fireworks displays etc. We workshopped text for the song by making lists of nouns, verbs and adjectives and then fitting them together into sentences. We workshopped melodies by my giving them a 'menu' of notes they could fit together into melodic material. We made some of the resultant melodies into canonic material, we deconstructed them to make cells that could act as ostinati, we made a little whispered soundscape of anticipation using some of the texts we'd written.
The result was something we're all very proud of! Of course, most of the kids were simply too young to have anywhere near the skills to write down their musical ideas, but that's what the staff were there for (I even drafted in a local composer Sally Greenaway  and a couple of composition students from the local music school). After the workshop, I took all the kids' ideas away with me and put them together into a song they could perform themselves. Have a listen:
Alpha, the choir's director, sent me a happy little email after the first rehearsal of the new song. She described to me the kids' excited exclamations of "That's my line!" and "I wrote that bit!" when they saw the song in print and sang it with their friends. I don't really like speak for the kids because it's always much better to hear it coming out of their own mouths, but I imagine it's a very powerful experience for them to see something of their own creation come to life like this, not just sanctioned but encouraged by adult professional musicians and eventually enjoyed by a concert hall full of appreciative listeners.
In my perfect world, all kids would have this opportunity to be creative with music. Kids in school are always writing stories and poems and painting pictures and taking these things proudly home to show their parents and music should be the same. I think the problem might be that there are not enough musicians who have the confidence in their own skill set to facilitate creativity. Perhaps more of us need to take the risk and try leaping into the unknown. Recently there was an article  in Huffington Post by one of my favourite creatives, Tina Fey. In it she encourages the reader to "Say yes, and you'll figure it out afterward". I know it sounds hopelessly hippy and cheesy, but this is how I came to presenting these composition workshops, I said yes to the opportunity and trusted in my solid knowledge of music theory and my own tendency to push against the sides of the proverbial box to get me through them.
If I'd had the opportunity to experiment with these kinds of creative skills during my own music education, I'm sure I would have started to do these workshops much earlier on. How can we give today's young musicians that opportunity?