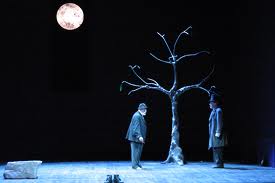 As I replied to blog comments on my last post (about a coming tipping point), I found myself explaining why it's hard for many classical music institutions to change, even if they want to.
Often I'm reminded of the very end of Waiting for Godot:
Well, shall we go?
Yes, let's go.
They do not move.  
Of course, some institutions do make changes, and some don't want to, because they're in denial — they don't think there's a crisis, or they imagine things will turn around if they just keep doing what they always did.
Or else they're stuck. They know that change is needed, but can't imagine turning from their long-established mission, which of course is to play the same masterworks they've always played, in the same way they've always played them. So they're caught in a trap. They need to change, but won't change the biggest thing they do.
But the biggest problem is, you might say, structural. It's built into how these institutions function. I'm thinking especially of orchestras, but the same problems can afflict opera companies, presenters, and even chamber groups. Someone I know who once ran a major chamber music organization (a household name in classical music) resigned, she told me, because, for the reasons I'm about to set forth, she couldn't make the changes that she wanted to make.
Here's the problem. Or, rather, three linked problems. First, these institutions are maxed out, in money and staff time, just doing what they've always done. Doesn't give them much margin (to put it mildly) for conceiving, planning, and putting into motion something new.
Second, change is risky. You're using resources (again, staff time and money) that you don't really have. So what happens if your new initiative should fail? As well it might, because new initiatives so often do, precisely because they're new. Commercial companies accept that. They launch a new product. It tanks in the market. So they move on to their next new product.
Classical music institutions aren't set up to do that. Failure seems devastating. And they're not good at coming up with new ideas. As Deborah Borda, the CEO of the Los Angeles Philharmonic (and maybe the most skillful, most powerful manager of any US orchestra), told me years ago, orchestras don't have R&D departments. They aren't set up to look for new things to do.
Then there's a third problem, which truly is a killer. These institutions in fact have to keep doing what they've always done, at least for now. Their audience may be shrinking, and their donor base is shrinking, too. But still they make the bulk of their ticket income from their old audience, and get the bulk of their donations from established donors. To keep this going — as they need to, just to survive month by month, year by year — they have to keep doing the performances their donors and their audience have always loved.
But at the same time, if they're going to have a future, they also have to do something new! So they have to go down two paths at once, the old one and the new one. When they're already maxed out, in money and in staff time! So how can they do something new?
What happens, all too often, is half-baked. These institutions do new things, but without strategizing them. They'll launch a concert series aimed at a new audience, without answering some basic questions:
Is this meant to bring people to our main concerts? Or is it a new product line that should stand on its own?
How do we measure its success? Is it supposed to break even, to support itself through ticket sales? Or is it just as important as our main concerts, which means we have to get donations for it? How large an audience do we expect — or need — it to have?
How many years do we let it run, before we decide if it's a success or a failure?
I've been involved in a project like this, launched by a major orchestra, without any strategizing. At the first sign of financial trouble, the plug got pulled. Which is no way to plan a future! The Met, by contrast, when it started streaming its productions to movie theaters, seemed to have a plan. It accepted financial losses for a while, funding the project with endowment money, expecting it eventually to at least break even, which after a while it did.
I'm sympathetic to all these problems. I understand why classical music institutions find it hard to change.
And yet — they have to. As they themselves (well, most of them) well know. But for many of them, change may happen only when the risk of not changing starts looming larger than the risk of change.