First, an apology: I have four fantastic people lined up for Friday "Talk to Me About" interviews, and just haven't gotten my act together to write the questions. This is one of the many hazards of having a day-job.
It's also time for the second annual PITCHY (c.f. La Cieca) Awards! If I have to worry about Best-Of 2009 lists for my clients, I get to have a Best-Of list of my own. Here are last year's results.
And now for some marketing things I liked this week. Alias! Prostitutes! Video blogs! Tiger Woods! Physics! I've posted these things on Twitter, which I've been told I use #toomuch. But what is "too much" public banter for a publicist? Here goes:
Today we learned from Fox News that the age-old adage "sex sells" may not be entirely true. It seems the mayor of Copenhagen sent a postcard (??) to 160 of the city's hotels instructing them to discourage guests from buying sex. "The city's prostitutes have retaliated," writes Fox News, "by offering free sex to anyone who brings one of the cards to an assignation." We in the biz–erm, that would be classical music marketing and publicity, not The World's Oldest Profession–know how well dropcards and free giveaways work, so Life's a Pitch is officially endorsing the Danish Prostitutes' marketing/protest campaign. I could make all sorts of jokes about other possible…initiatives…here, but I won't. But maybe something like…?
We also learned today that Get A Grip On Physics, an "illustrated introduction to modern physics" by Sussex University professor John Gribbin, has skyrocketed on the Amazon Bestseller Chart after being photographed on the floor of Tiger Woods's SUV. The Guardian story is here, and includes the zinger, "Perhaps Woods will see if he can find a universe in which none of this ever happened," from the book's author. From Getty Images: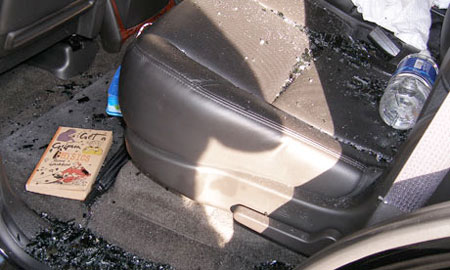 A friend suggested that perhaps this is the next marketing silver bullet for all products, and since I'm not above anything, feel free to start circulating this: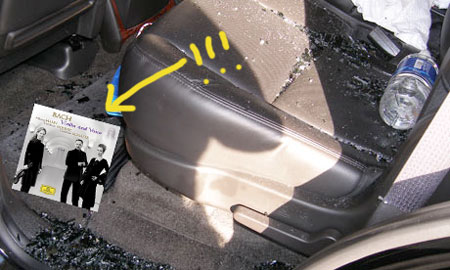 Wait – how did Tiger Woods get an advance copy of Hilary Hahn's Bach: Violin and Voice album, releasing in the US on January 12, 2010? Fascinating.
I especially enjoyed a Tweet from the Los Angeles Philharmonic (@laphil) yesterday about a very creative ticket giveaway:
From: @LAPhil
Sent: Dec 2, 2009 3:58p

Win a pair of Brian Wilson tickets for Sunday! Go to info desk at Amoeba Music in Hollywood & say "Wilson." First 3 win-good luck!

sent via TweetDeck
On Twitter: http://twitter.com/LAPhil/status/6280819564
First, it reminds me of Alias. Second, I love that they're encouraging folks to go to a local record store (the last unicorn). And third, I like that they're utilizing the urgency of Twitter; stop what you're doing and do this instead, right now.
And finally, I love these Isaac Mizrahi webisodes, which come to us via Nico Muhly's Twitter feed. They're beautifully produced, both funny and serious, and actually informative. Everything an artist vlog should be.
Have lovely weekends, all.