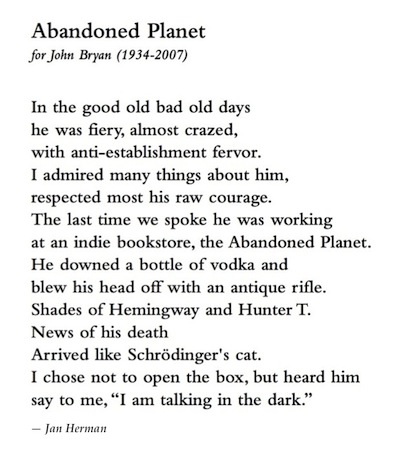 John Bryan published so many underground papers and magazines over three decades — beginning in 1962 with
renaissance,
a San Francisco literary journal inspired by Aldous Huxley's
Doors of Perception
(which John said he read "half a dozen times," and which turned him onto LSD) — that Warren Hinckle called him "the Peter Zenger of the underground press … unconquered and ungovernable by the puny laws of journalism." Paul Krassner said he was "a one-man band, and the printing press was his musical instrument." He put John "in the tradition of Tom Paine and I.F. Stone." Not incidentally, John gave Charles Bukowski his start in the underground press with a column he named for Buk: "Notes of a Dirty Old Man." It ran in John's Los Angeles broadsheet Open City, turned Buk into a cult figure, and was later published in book form as his first story collection. John was also the managing editor of the Los Angeles Free Press early on. His own papers included the Phoenix (a biweekly), the Sunday Paper, Appeal to Reason, Peace News, and the literary journal Notes From Underground. Not least, he wrote two books:
This Soldier Still at War,
about Joseph Remiro and the Symbionese Liberation Army (1975) and the unauthorized history
Whatever Happened to Timothy Leary?
(1980).
just found the only foto i have of john. i took it the last time i saw him. It was ca. 1988, in San Francisco outside his tiny ground-floor flat on Brosnan, an alley near Market Street, where he was living alone. the beautiful little girl was his daughter. (JH in a letter to the editor)