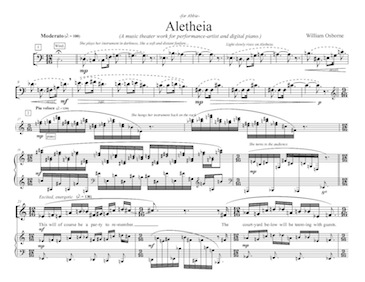 Composed by William Osborne for singer-instrumentalist, computer-controlled piano, and quadraphonic electronics, "Aletheia" is a music theater work featuring the solo performance of Abbie Conant as the title character.
Osborne writes, "Aletheia is an opera singer who is delighted that she has been asked to perform for an opera gala. She only needs to go down to the courtyard and impress the people with her performance . . . but she reconsiders . . . should she really sing? Why won't her feet move?
"Does she not know that she lives in a cage, a cage in the form of an iron maiden?
"She prepares herself, puts on her makeup, looks out the window and observes the wealthy patrons and comments on what she sees. But in the ruins of Detroit the opera house in the middle of the city has been neglected, everything has completely collapsed, a grand piano lies tipped over on its side like a dead whale. . . . Aletheia asks herself if her heart can survive. She tries to telephone Jeremy . . . a former lover? No answer. She speaks with him anyway . . . talk to me . . . She plays an instrument that stands at the side of her cage . . . She is alone . . . or? She hears a women's choir . . . Madness? Hope? Death? Transcendence? Truth? Hope that her song can revive the rusting city?"
2018 Northeastern U.S. Tour Schedule
February 16: Eastern Michigan University, 8:00 p.m., Quirk Theater
February 19: University of Michigan, 8:00 p.m., Stamps Auditorium
February 21: Wright State University, 8:00 p.m., Schuster Hall, Creative Arts Center
February 24: Indiana University of Pennsylvania, 7:00 p.m., DiCicco Hall
February 25: Duquesne University, 7:30 p.m., PNC Recital Hall
February 28: Edinboro University of Pennsylvania, 7:00 p.m., Cole Auditorium
March 4: West Chester University, 7:30 p.m., Madeleine Wing Adler Theater
March 7: SUNY Potsdam, 7:30 p.m., Snell Theater
March 9: University of Montreal, 7:30 p.m., Salle Serge Garant
March 13: Boston University, 8:00 p.m., Studio One (Black Box Theater)
March 15: Temple University, 7:30 p.m., Rock Hall
March 20: University of Connecticut, 8:00 p.m., Mehden Recital Hall
March 21: University of Massachusetts, 7:30 p.m., Bezanson Recital Hall
March 24: New York University, 8:00 p.m., Room 303
March 27: New School/Mannes, 7:00 p.m., Ernst C. Stiefel Concert Hall
March 29: Peabody Conservatory, 8:00 p.m., Cohen-Davison Family Theater
April 2: Virginia Commonwealth University, 8:00 p.m., Sonia Vlahcevic Concert Hall
April 4: Lenoir-Rhyne University, 7:30 p.m., Belk Centrum
April 6: University of Kentucky, 7:30 p.m., Wallace N. Briggs Theatre
April 10: University of Louisville, 7:00 p.m., Bird Hall
April 11: Cincinnati Conservatory of Music, 8:00 p.m., Werner Recital Hall
April 13: Southern Illinois University, 7:30 p.m., C.H. Moe Theater
April 16: Eastern Illinois University, 7:30 p.m., Recital Hall
April 18: Illinois State University, 8:00 p.m., Kemp Recital Hall