still in print
(also unlike the mimeos). The "mimeo revolution" signified something more than a cheap production technique (although that's what gave it impetus). And it occurred in cities and towns from coast to coast not just on the Lower East Side (although that's where it drew the most attention). Granary publisher Steve Clay, who is nothing if not a completist, always recognized that the published catalogue was an unfinished project. And now he's back at it, this time on the Internet. My own little zine,
The San Francisco EARTHQUAKE,
which appeared in the 1960s and was produced offset, received a mention in the catalogue (but just barely). This time it's getting the
full treatment
along with a
multitude
of others: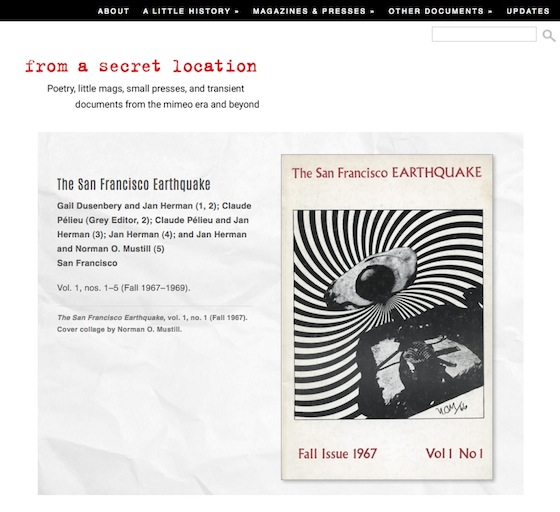 A Granary Books project
.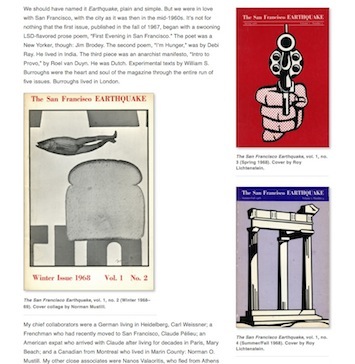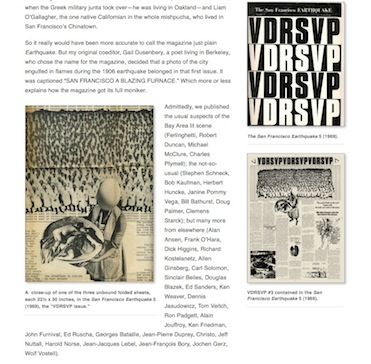 Although the earliest mimeographed literary item we have been able to identify is Yvor Winters's Gyroscope (published for his classes at Stanford in 1929 and early 1930), we'll start our story in 1943 in the conscientious objectors' camp at Waldport, Oregon. There, William Everson published poems in an unofficial newsletter, The Untide, and helped run the mimeograph machine to produce his own X War Elegies, among other small volumes. — Steve Clay

The EARTHQUAKE roster of Beat, post-Beat, Fluxus, and otherwise-inclined contributors may have had something to do with the magazine's wide recognition at the time. But it's more likely the result of being included in the City Lights catalogue, which made the magazine available nationally and internationally. (I was Ferlinghetti's assistant at the time.) Ironically, the best issue, the one that broke the most ground—the fifth and final issue, which consisted of three VDRSVP newsprint broadsheets folded within wraparound covers—never appeared in the catalogue. The broadsheets got the widest circulation, however, because they were reprinted by the New Orleans underground paper NOLA Express as literary inserts.
— Jan Herman, New York, March 2017

Once upon a time hundreds of editors, mainly poets, and all manner of bohemian riffraff took to their mimeo machines. They produced an avalanche of little magazines, lovingly collected by Granary Books as a wonder of the age. This literary avalanche was documented in "A Secret Location on the Lower East Side," a 1996 exhibition at the New York Public Library. The curators also produced a catalogue with the same title. Unlike the mimeos it describes, the catalogue was not mimeographed. It is