Gerard Bellaart
, the Dutch-born painter who conceives, edits, prints, binds, and distributes his handiwork from a farmhouse in France, "Why publish editions limited to 36 copies?" What if anything does that number mean? "Well, originally it was 28," he said. "Both are numerical misnomers, nothing cabalistic." He maintained that publishing "250 or even 500 copies" tends to have less influence "than 28 or 36." Besides, "to get rid of 500 copies usually means no space for years in one's bedroom." He told me that in the nearly half century since Cold Turkey was launched with the publication of
Dronken Mirakels en Andere Offers,
his Dutch translation of poems by Charles Bukowski, "only one book —
Certain Radio Speeches of Ezra Pound
— sold 500 copies, two editions of 250 each." Many of the now-deceased writers Bellaart chose to publish were expatriates like himself. All were cultural dissidents: Sinclair Beiles, William S. Burroughs, Harold Norse, d.a. levy, Allen Ginsberg, Carl Weissner, to name a few, as well as earlier dissenters like Artaud, Lorca, Cocteau, Blaise Cendrars, the pre-Dadaist Arthur Cravan, and Julien Torma. But from the very beginning two writers in particular were personal favorites: Beiles, a longtime friend of his from South Africa who died in 2000 — represented by posthumous chapbooks as recently as 2012 (
The Idiot's Voice
) and 2013 (
Bone Hebrew
) — and the British poet-playwright Heathcote Williams, who remains very much alive.
Bellaart published Williams for the first time in 1975 (Manifestoes/Manifesten, an anarchist's pamphlet). That year an essay by Williams also appeared in Beiles's Sacred Fix. Ever since, Williams's poems have continued to pour forth in a torrent of separately published cards, many collected in portfolios such as American Porn (2009) and Was Moby Dick Behind 9/11? (2012). At the same time Williams's chapbooks have been singularly brilliant achievements: Harold Pinter: A Portrait (2014); My Dad and My Uncle (2014); Burroughs in London (2014); and Of Dylan and His Deaths (2015).
Two of the items that came in the package, again by Williams, were "Anarchy's First Mention" (the folio shown above) and "The Copulation of Angels," a larger-than-usual card, shown here:
When Milton spoke of the "copulation of angels"
And Lear said, "Let copulation thrive!"
They were praising the way that the life-force
Overcomes death with love's sexual desire.

"There's little else that life can supply,"
Said John Wilkes, the people's tribune,
"But a few good fucks and then we die."
Whereupon our dust's in continuous motion . . .

And who can prove that we don't live beyond the grave
With spiritualized selves enjoying vibrant spasms —
Whilst other-worldly beings cluster round us to arouse usIn a transcendent land of perpetual orgasms?

"The Genitals are Beauty," proclaimed William Blake
And, when they merge in love's fiery fever,
It's hard not to think that all's right with the world;
that these sensations will go on forever.
Heathcote Williams March 2016
The package's most remarkable item, though, also by Williams, and certainly the most ambitious, was "DIOGENES OF SINOPE: Proto-Anarchist and First Citizen of the World," a narrative poem produced as a large (12.75″x16.5″) eight-page folio with illustrations and footnotes. Printed on Canson Dore paper for the cover and Saunders Demy Laid paper for the interior, the poem begins . . .
I dreamed I saw Diogenes
In a world reduced to rubble,
And the founder of the Cynics grinned
Through his stench and unkempt stubble.

The end of the world resembled the dump
Where he'd lived in a barrel amongst dogs —
Scavenging scraps on the outskirts of Athens
And making fun of both men and the Gods.

Plato described the wild philosopher
As a maddened version of Socrates.
"It's not that I'm mad," Diogenes replied,
"My head's just different from yours."
"The Saunders I have lugged around with me for the last 40 years or so," Bellaart tells me. "The English painter Peter Blake gave me two reams in the early '70s. Precious stuff! And that's Heathcote in the barrel." Put there like Diogenes, it should be noted, by the illustrator Elena Caldera's digital magic.
(Click the images below to enlarge them for a closer look.)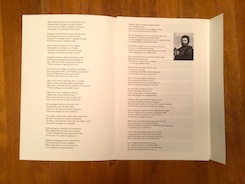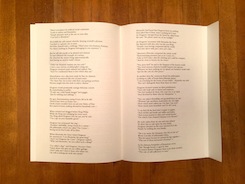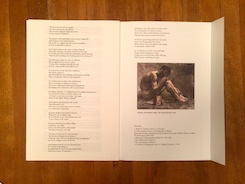 Full disclosure: I've been a beneficiary of Bellaart's publishing program. We collaborated on two projects together: Carl Weissner's Le Regard d'Autrui, brought out as a posthumous chapbook in 2012, the year he died; and Norman O. Mustill's Cuisine Rapide, a portfolio of collages, in 2013, not long before he died. Bellaart also put two chapbooks of my own on his roster: Ticket to New Jersey: A Portrait of Nelson Algren (2014) and Portraits: Williams S. Burroughs, Godfrey Reggio, Norman Mailer (2015), along with a portfolio of poems, Errato (2015).

Finally, it should also be noted that Bellaart is an enemy of perfection. His Cold Turkey productions are idiosyncratic artifacts. In look and feel they may tempt perfection, but imperfection is a value he cherishes with the same intensity that he cherishes taking risks.

The computer screen has become a substitute for reality, dominating us not just by way of social media but — old news — by making artifacts like books on paper seem obsolete. I plead seriously guilty, witness this blogpost with its images and descriptions. A package that came in the mail with several new items from Cold Turkey Press got me to thinking more than usually about this. Issued in minuscule editions, Cold Turkey chapbooks, folios, and cards compose a rare yet necessary archive that subverts the ordinary in literary content and artistic quality. Their scarcity notwithstanding, they are essential cultural documents — scholarly without being academic, exotic but not obscure, their intelligence distinctive. To be truly appreciated, however, these hand-made manifestations of the publisher's mind must be experienced in the material world and not as digital simulacrums in cyberspace. I once asked Cold Turkey's creator,