I haven't seen much theater lately, for reasons I may already have mentioned — so much is dull dull dull — but the dramatization of Heathcote Williams's epic poem, "Sacred Elephant," has got my attention as nothing has in years. The show, not yet officially announced, is coming in September to La MaMa's First Floor Theatre on Manhattan's Lower East Side. It is to star Jeremy Crutchley, reprising an acclaimed solo performance, which originated last year in Cape Town, South Africa.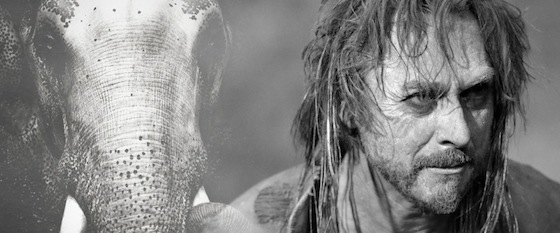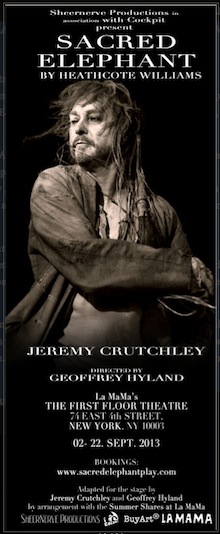 "Sacred Elephant" is the second of four epic poems that Williams wrote, drawing serious attention to the slaughter of several species of mammals more than two decades ago.
Published in 1989 by Jonathan Cape
and recorded as a
Naxos Audiobook
by Williams himself, "Sacred Elephant" spotlights both the subjugation of elephants as slave labor and their slaughter for ivory. It was preceded by
"Whale Nation"
(1988), which is credited with helping to launch the worldwide movement to save the whales, and was followed by
"Falling for a Dolphin"
(1990) and
"Autogeddon"
(1991), an attack on car culture.
Have a look at the video (below). In addition to excerpts from the production, Crutchley points out in an interview that while the "essential subject" of the production "is of course the elephant" and "by implication … man's relationship with the elephant," there is much more to it than that. "There might be a misconception that this is only for those who are conservation-minded and conscientious that way," he says.
Yes, it addresses so many of those pertinent issues that are cutting edge and relevant and vital today. But as a work of theater that is going to touch people on a much broader and universal note, it transcends being merely a conscientious piece into a profoundly human piece of work.

It's as much about our own journey […] life and death, the big stuff. Elephants bury their dead. They have their rituals. As far as we can understand, they feel things at least [as we feel] and probably greater than we feel, and express it. This is an exploration of this extraordinary borderland beyond what we know as human. I think that's part of its tension, its mystery, and beauty.
"Sacred Elephant" is to run Sept. 2-23. LaMaMa's First Floor Theatre is at 74 E. 4th Street.