Douglas McLennan: August 2009 Archives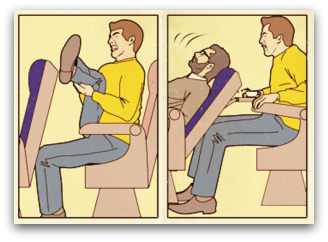 I've been on a lot of airplanes recently. Flying isn't much fun, but I like being in other places. So in the process of travel I tend to see those around me as either obstacles to my getting where I need to go, or neutral (other passengers) or helpful (hopefully, airline personnel).
Airlines have been having a bad year, and they've cut back flights and amenities, so traveling this summer has been more difficult. But there's something else that's made it worse. One gets the feeling that some airlines are working against their passengers having a good experience. That's not true, of course. But it often seems so.
Want to check a bag? There's an extra fee. Want a seat with decent leg room? Another fee. A window or aisle seat? Fee. Hungry? Now you pay for the bad snacks.
I'm not opposed to paying for extra service. If you told me that the price of a ticket from Seattle to LA was established at $300, then gave me the opportunity to upgrade various services, I'd be fine with it. But there are no set fares. Every time I go, the price is different. Sometimes it's $469. Sometimes $269. And then you want me to pay extra fees for checking a bag or getting a decent amount of leg room? It feels more like a penalty fee than an upgrade. And charging for checking bags now ensures that the aisles and bins are jammed with passenger luggage that ought to have been stowed below. So the bag fee results in degrading every passenger's experience.
While many airlines now impose these fees, United seems to be the most aggressive. Riding United is now an unpleasant experience not because their service is so much worse than other airlines, but because you feel that their fee policies are punitive and designed to make your experience more arduous, not less.
Something similar has happened to frequent flier programs. It's obvious that airlines want to make it more difficult to take advantage of the rewards. For example, technically it's possible to track every passenger and add their frequent flier numer automatically when they book. But they don't. And if for some reason your number didn't get added to your ticket, it's difficult to get it added after the fact. Let's leave aside that the number of available award seats on flights is tiny. But on Northwest, there's a hefty "booking" fee (it can be $150 a ticket) that bears no relationship to the cost of processing the booking and that hardly makes the award travel free. What ought to feel like a reward for being a loyal customer is turned into a hard-won rebate you had to work/fight for.
Then there are the expensive hotels that charge you for every little thing. Internet is $14.95. Bottle of water on the nightstand is $8. Why is it that good basic budget hotels provide free wi-fi, free water and breakfast but the hotels charging premium freight consider it a license to gouge you for more?
Upgrades and premium services are great ways to incentivize customers, but airlines have neutralized their incentive programs. In fact, these policies incentivize customers to feel resentful about the service they are not receiving or now have to pay for.
Last year I was given membership in a premium VIP ticket holders' club at a local theatre in return for a talk a gave. VIPers get a private entrance to the theatre (very cool), a club room that offers food, and special premium seats in the first balcony. All of this for a considerable premium over the ticket price.
Here's how it was implemented, though. The private club room was a dark converted storage room in the basement. There were a few grapes and a slab of cheese from Costco spread out on a table, and the (cheap) wine was overpriced. The seats were two distant floors away, so there was a breathless dash before the curtain went up. The seats were completely unremarkable, indistinguishable from regularly-priced seats. Rather than feeling like we were treated special because we were part of this "premium" club, we left feeling like the theatre had used the "club" as a way to wring more revenue out of us. And the theatre staff wonders why it doesn't have more takers.
So what is really the point of these programs? Companies spend lots of money to try to convince you they have your comfort/interests at heart. Then they penalize/inconvenience you all the while trying to convince you they're rewarding you in some way. Uh huh.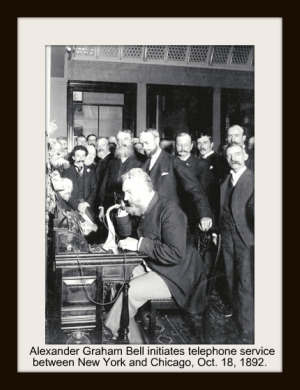 Ken Brecher tells this story about Alexander Graham Bell. The inventor of the telephone apparently spent the last part of his life railing against the way people were using his invention. When greeting someone on the phone, he insisted, the proper protocol was to exclaim "ahoy!" Saying "hello" was a misuse of his work.
You can't predict how people will use things, and you can't force people to use them in the ways in which you've conceived of them, even if you're the inventor.
Actually, you can force them. But you forfeit the potential that what you made could be something bigger or more interesting. Bigger and more interesting is when you release software in the wild (open source) and thousands of developers think of things to do with it that the original author never dreamed of. More interesting is when you give up some control of what you made and let others make things around it. TV ended up being something entirely different than what its inventors initially thought it would be because it was a tool others could be creative with, not an end product with one defined way of using it.
The corollary is trying to impose expectations on things that weren't intended to address those expectations. After a flurry of media attention, Twitter has recently come under attack for things it doesn't do and never pretended to. Jon Friedman
in MarketWatch
: "I object to Twitter's idiosyncratic cap of 140 characters for writing messages and the inherent inability of its users to go into any real depth about any subject."
Depth is hardly the point. At its best, Twitter can be an incredibly efficient way to monitor a topic or see what stories are flashing into the public consciousness. Much better than blogs. As a news device, Twitter can function as a stream of link blogs that points followers to things they're interested in. It's like having a personal web of friends who work on your behalf in real time. No more waiting on traditional publishing schedules. As I wrote in a
recent post
after Twitter starred in coverage of the Iran election aftermath, short texts proved remarkably effective at organizing multimedia coverage.
So expectations can get in the way of your own potential, either to create something or to use it effectively. Sociologist Barry Shwartz says that with greater expectation can come less happiness, and that we're happier when expectations are exceeded. The telephone was an amazing thing that revolutionized communication. Imagine thinking it a failure because expectations for its etiquette were disappointed.