main: December 2005 Archives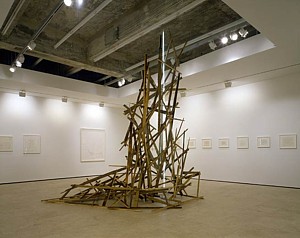 Tracey Emin: I Can Feel Your Smile
Hope for Art
I have been pondering the state of art and have become quite optimistic. As usual, many of the artworks I see are of no lasting value (or even of immediate interest), but on the whole art remains a worthwhile pursuit. Although some museum shows were particularly disappointing, an end of the year roundup would have to celebrate both the Robert Smithson and the Richard Tuttle exhibitions at the Whitney. And let's not forget Marina Abramovic's series of performances at the Guggenheim. For new readers or a refresher, scroll down for recent Artopia entries. Archives are on the upper right of the screen.

Nevertheless, just this month, in terms of gallery exhibitions, I was moved by Tracey Emin's "I Can Feel Your Smile" at Lehmann Maupin (540 W. 26th St., toDec. 17): embroidered "love notes" and two sculptures made of recycled splinters of lumber and white-light neon. Although Roni Horn's photographs of Isabelle Huppert reminded me how little I am enamored of that competent actress (she is not Jeanne Moreau!), the artist's two cast-glass sculptures, also at Matthew Marks (522 West 22nd Street, to Dec. 24), are, as others she has produced in this vein, instant classics of postminimal minimalism. She has negotiated what I like to think of as the curse of glass by producing solid blocks of light. And Nancy Spero's "Cri du Coeur" -- a baseboard-height, memorializing "frieze" -- was really moving, since one could not help referencing her husband Leon Golub's recent death and the horrors of Iraq.
I am also unusually cheerful about art because of a dated, ill-informed and mean-spirited attack on contemporary art, even if it was only in the New York Times Book Review (Dec. 11), by someone we've never heard of. The ill-written screed, misleadingly called "State of the Art," means there's still some life left in art. Art is not totally acceptable!
Billed as "an editor of the Book Review," the author cherry-picks all the art world blood and self-mutilation that's always good for a laugh, but is hardly typical of advanced art.
But what really got me going was his fairly accurate catalogue of negativity expressed within the art world itself by the likes of Donald Kuspit and Rosalind Krauss and that even reaches back to Harold Rosenberg and Clement Greenberg, both of whom had anti-Pop, economic axes to grind. Itappears that currently the only critic not negative about art and the art world is philosopher Arthur Danto, but then our Times hitman gives him the knife by totally misunderstanding his position, which is actually quite sophisticated.
Let me note right here, I am not saying that we should lie and say art has nothing to do with money. But we can hope for a bit more decorum, or at least a long-required reemphasis upon values other than cash-value. We must, however, be careful to distinguish a genuine critique of a marketplace gone wild from "my art, my artists, my truths did not win." We must learn to take comfort in the fact that the art market is fickle and hope that art criticism, and thereafter art history, will be less so. It is true that Rosenberg was disturbed that the second generation of abstract expressionist were, for all practical purposes, wiped out by proto-Pop (Johns and Rauschenberg) and, worst of all pure, Pop (Warhol). But although we may yet be surprised, show me one Gen-Two Ab-Ex painter whohas been rediscovered as a great genius. It used to be said that in America there are no second acts, but now in art we can safely say there are no second generations.
Because the best minds of my generation have more or less abandoned contemporary art for even more arcane pursuits or academic careers, there has of late been a pronounced poverty of critical discourse. The old gatekeepers, promoters and pontificators have gone stale and become jaded, or - dare I say it? - been bought off. Even art critics have to eat. Theywork outright for galleries or museums or, because of their own income needs, are beholden to the investors. New talent stays away. If you want to make money, go directly to the trough.
Now, it is safe to say that art has always required some sort of financial underpinning. Could my great-great-great uncle Vincent have had the space to make his paintings without that money coming in from his brother Theo? What would de Kooning, Pollock, and Alice Neel have done without the WPA to tide them over? We need not tax you here with the numbers of artists who began rich or had wives willing to work while they stayed home and slung the paint around. Currently, my theory is that is better to work for Mary Boone or Larry Gagosian than some pope or king. No current art dealer can hold a candle to Betty Parsons in her heyday, but, hey, she really didn't do so well at selling paintings and everyone except Ad Reinhardt finally left her for greener pastures.
* * *
Finally, after meandering all over the place, our Know-Nothing New York Times editor ends with what sounds like praise for Christo's Central Park Gates, yet cannot resist the kicker: But why is this art?
Why is it art? What a question. The assumption here, at least, is that the object in question is art or is considered art by someone. But this fools no one; it's a hostile question, a dare. As such it probably only deserves an equally hostile answer. As Louis Armstrong said when asked to define jazz, if you have to ask you'll never know.
Having already dismissed Andy Warhol's thought that art is art because an artist made it and an artist is someone who makes art, our trusty Book Review editor leaves usin the slough of despair. Again.
Oh, just close down all the museums and galleries and art schools and send all the artists and art critics packing. Is that what we want?
I have had enough of the "death of art," when what is really meant and probably wanted (although I don't know what would replace it) is "the demise of the art world." The Artopia stance, although related, is quite different: Art is dead; long live art. If the truth be known, art is actually an ancient fertility cult. Each fall it has to die and then each spring be born again. If it doesn't die, it can't go on living.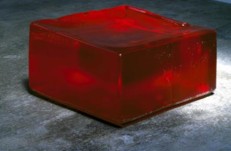 Roni Horn, Untitled (For Aretha)
Why Is It Art? Or What Is Art?
1. The real question here may be, why do we want to know? So you know where to put your money? So you won't step on it? So you won't laugh at or throw stones at some future Gauguin or van Gogh? So you know what stuff you foolishly thought was art to throw out or hide under the sofa?
2. Making art is always about redefining art.
3. Art is anything - good, bad, or indifferent - that is considered as art, treated as art, made as art, shown as art, bought and sold as art, saved as art, thought about as art, seen as art. This is basically a social definition of art and it allows us to look at the objects in question without value judgments and preconceptions. Then perhaps we can decide if we want to keep the stuff around for awhile.
4. Art is anything informed artists, critics, curator, collectors treat as art. This is the consensus theory of art. This is another social, and therefore descriptive, definition of art -- perhaps merely a refinement of the previous definition.
5. Art is anything an artist makes. See the reference to Warhol above, or,as more than one Dadaist must have said, art is anything the artist spits out. This works as a definition only if we revere artists as antennae of the race, as fallen angels, as visionaries.
6. Art is whatever looks like other art, through a family resemblance of one sort or another. To use another figure of speech, the "Chinese menu" mode sometimes used by psychologists to diagnosis mental illness, can come inhandy. Anything that has five traits from column A and five from column B is art.
7. Or, if we are talking about Artopia-type art (which, of course, is the highest and the finest of all art), it looks as little like other art as possible. In fact, as the founder of Artopia used to preach to his students: if you come across something in the street and you don't know what it is, it's probably art.
8. Art is research, a search for understanding and consciousness and/or a technique for attaining such. It is not about feeling safe and comfy; it is not about harmony. Important art doesn't at first look quite like art; it redefines art.
9. How can you define a practice that is in the process of constantly defining itself, other than by saying that art is never how it is currently defined.
10. Art is a metaphysical game. Each move creates a whole new set of rules.
11. Art is a discourse. Art is the dialectic between the intertextual and intratextual. In other words, although an artwork might materially be about relationships among its parts, it is more significantly about its relationship to other artworks, art history, the world. It is not about form unless form is a motif or a symbol. It is not about self-expression unless self-expression is a motif or a symbol.
12. In Artopia - which according to its founder is about "art as it should be" - art is disturbing, disconcerting, bracing, and calculated to wake you up and make you see.
FORNOTIFICATION OF NEW ARTOPIA ENTRIES PLEASECONTACT:perreault@aol.com