Artopia: December 2008 Archives

The Sins of Synchronicity?
Frantisek Vizner, Blue Bowl, 1996
Sometimes subjects and themes just fall into place. I was invited by American Craft Magazine to write a review of the work of Frantisek Vizner (Czech, b.1936), on exhibit at the Corning Museum of Glass in upstate New York. I had been impressed with Vizner's work, and seeing a goodly collection of it I was not disappointed. His severe cast-glass art - vessels in name and form only - are minimalist concentrations of light and color. Although the juxtaposition was not intended, two much larger exhibitions were complementary: "Glass of the Alchemists" (to Jan. 4), because the history of glass and alchemy are intertwined; and a selection of recent acquisitions accompanied by the publication "Contemporary Glass Sculptures and Panels: Selections from the Corning Museum of Glass", because, oddly enough, most of the works represented what Vizner's work is not. As glass abandons the intimate and moves further from the utilitarian, it acts like sculpture, feels like sculpture, and, in some cases, actually is sculpture, turning away from the ambiguity that Vizner's suave work presents.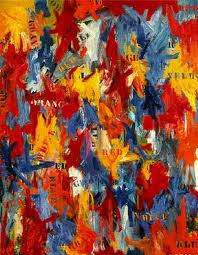 H. P. Lovecraft
Cthulhu or Chihuly?
A few weeks later, on our way back from our winter trip to Provincetown, we stopped at Providence, Rhode Island, not to offer our usual homage to boyhood favorite H. P. Lovecraft's beloved native city -- which nowadays doesn't look particularly possessed by ancient visitors from other galaxies or particularly spooky or eldritch, but to see Beth Lipman's installation at the Art Museum of the Rhode Island School of Design.
Lipman's installation is topnotch. But before we go there, some general considerations are in order.
Harvey Littleton is usually credited with jump-starting the studio glass movement, but it was Dale Chihuly at RISD (and then in Seattle) who pushed it over the top. RISD has a new exhibition space inaugurated by a so-so Chihuly show and a related exhibition of works by those many artists he taught or influenced.
Otherwise, the Museum of Art secretly ambles along behind the facades of several historic buildings. Nice for the preservationist in all of us, but difficult for pedestrians to picture what lurks behind the charming facades: Lovecraft's domains of Cthulhu? His realms of Azathoth?
Here I cannot resist the revelation that Lovecraft's Cthulhu prose cycle - concerning the malevolent presence of an ancient, horrific race from another world, hidden among us, in places like Providence, Red Hook (in Brooklyn, New York), or secluded New England forests further north - begins, it would seem, with the feverish "dreams" of young Henry Anthony Wilcox, a sculpture student at the Rhode Island School of Design. The story is called "The Call of Cthulhu," and the "dreams" it turns out are worldwide and seem to be offered selectively, turning sundry dreamers -- not just art students -- raving mad.
Note here that Lovecraft once escaped from Rhode Island and lived for two years in Brooklyn Heights in demonic New York City, where one of his pals was the great American poet Hart Crane. Returning to Providence, parents both in the madhouse, he spent the rest of his life living with two maiden aunts.
Note also how after reading a volume of Lovecraft even a modernist/postmodernist like myself begins to employ longer and longer sentences under the influence of this pulp pioneer who was truly one of the greatest 19th-century writers of tales of terror, second only to Edgar Allan Poe, although he composed his horrific, horror ouevre in the 20th.
I can report, however, that as of my visit two weeks ago, RISD is not currently the entrance to K'n-yan, Yoth, or N'Kar. In the immortal words of H.P., in Providence there can be no "hellish tracks of the living fungi from Yuggoth." I guess. I will also wager that no library in Providence has a copy of the dreaded, madness-inducing Arabic Necronomicon, so central to H.P.'s literary output.
If you want to get a glimpse of this oddball from Rhode Island, check out YouTube HERE for a WPA snippet filmed in 1937, the year of his death.
Reading the Icebox
What really surprised me was one particular display of permanent-collection items housed elsewhere in the museum. Mid-20th-century objects from RISD's extensive permanent collection are now deployed in several rooms with none of the usual department store divisions. Furniture, fashion, jewelry, dinnerware are offered in conjunction with and placed to demand the same level of attention as, for instance, a painting by Jackson Pollock or Mark Rothko. And it all works. Dare we posit something as backward-looking as a "period style" or a congruence of visual forms within particular time-frames? Is there a "trickle down" from painting to clothing? Or is everyone looking at and being influenced by the same things?
This kind of cross-discipline survey is a great setup for teaching, but even the uncoerced can deduce connections among items usually held far apart for fear of intra-categorical contamination or confusion of price-points. The array seems both charmingly old-fashioned and breathtakingly avant-garde: the former, because in ancient times the various arts were so displayed in academies and homes of the well-heeled; the latter, because separate and unequal is generally the rule.
So why the usual rigidity in most other museums? Retrieval devices for image repositories, like slide libraries, required hard categories before digitalization, but now we should be able to search over a multitude of fields. Yet fiefdoms everywhere have hardened. Is this because they are threatened? Try proposing to a museum an exhibition that will require cooperation among its various esoteric departments. It simply will not work. Professionals will risk their jobs rather than loosen territorial control or dilute the prestige of their uncontested expertise.
Another, but perhaps more amusing, theory is that art categories have to do with storage, preservation, and display. Particularly storage. Backstage, paintings need racks, and everything else needs shelves or specially reinforced floors. Fiber art and paintings have the same climate-control requirements. Metal sculpture probably shouldn't be stored next to glass. And metal, which may rust or oxidize, shouldn't be stored within the same humidity parameters required by cloth, paper, or canvas. But specialization has taken command, becoming a rule rather than a tool.
Although a period style is just as much a construct as anything else, it is also an art angle that could be nicely reinstated. I would like full-blown 20th-century "period rooms" like the "period rooms" in the RISD Art Museum's Pendleton House that provided the inspiration for Lipman's remarkable installation in another building, on another floor.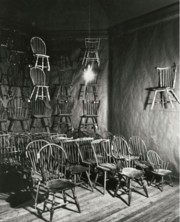 Installation of Windsor chairs, from "Raid the Icebox With Andy Warhol," exhibition at the Museum of Art, Rhode Island School of Design, April 23 - June 30, 1970
Andy's Icebox
Beth Lipman's After You've Gone reminded me of "Raid the Icebox With Andy Warhol," which I saw at Rice University in Houston in 1969. It was Andy at his best: a gigantic readymade consisting of old shoes amassed, chairs on the floor and chairs in the air; everything and nothing. Things broken, things that were fixed, real things and things that were fakes. Everything had been selected from RISD's collection of "decorative arts."
"Decorative arts"? This is a too-fancy and misleading category that some of us prefer to call material culture so that it may include the humble as well as emblems of wealth -- and not exclude meanings, both formal and social. Chairs and guitars, porridge bowls, hat boxes, and chamber pots often have more meanings and tell better stories than ruby-red goblets or paintings.
Hot Glass Comes in Out of the Cold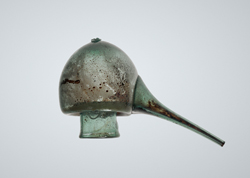 Alembic. Europe. 18th century? Corning Museum of Glass
There is something ghostly about glass. Something both scientific and weird. A smidgeon of research will turn up too many details about the alchemical pursuit of crystal clarity. I was entertained by "Glass of the Alchemist" at Corning, mentioned above. I learned that alchemy, might be seen as merely the mother of chemistry rather than as an occult discipline of personal/universal transformation. I learned how crystal-clear glass, ruby-red glass (achieved by a smidgeon of gold added to the "metal"), and milk glass were invented in the West; how glass discoveries spread throughout Europe and even to China and Jamestown in the New World. I confess I truly hated the profusion of ruby-glass goblets, but loved the few examples of alchemy instruments - an alembic, two retorts, and what is identified as an oil separator. And then there's the little matter of the glob of gold that was supposedly created by alchemist Johann Bottger in Dresden on March 20, 1713, in the presence of King Augustus II of Poland. Now that's exhibition gold!
As partial closure, here's a quote from the sumptuous catalog:
And hence the most ancient Commentators upon the Sacred Writings have told us, that the whole World, when it shall be destroyed by Fire at the general conflagration, will be turned into Glass." -- Herman Boerhaave, London, 1735.
Glass Today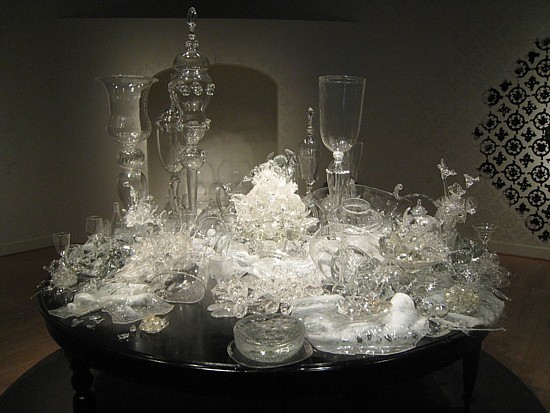 Beth Lipman: Laid Table (Still Life With Metal Pitcher) from 2007. Centerpiece of After You're Gone, 2008.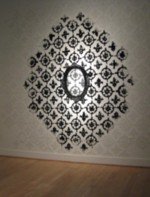 Beth Lipman's installation (through Jan. 18, at RISD Museum of Art) is primarily made up of clear glass -- blown and/or hot-sculpted with some monochromatic black and white glass here and there. Lipman is known for her blown-glass still lifes, usually inspired by or echoing real-life paintings. Returning the glassware in the paintings to their three-dimensional, glittery glory, paradoxically makes them less real, but also faintly scary.
Lipman: Wallpaper, blown, lampworked and kiln-formed glass. 2008
Glass like gold has an easy beauty, an unearned beauty. But Lipman transforms the glass act into a class act, offerings meanings as well as glitz.
Prediction: Lipman will be the next artist to leap from the glass world to the art world, like the very clever storyteller Josiah McElheny. Like McElheny, Lipman has not shielded herself from the curse of glass (as many have) by hiring artisans to make her work. The blown glass and instances of cast glass are all her own efforts, but they are in service of concepts far more complicated than what is usually found in glass art coming from the studio-craft movement. In any case, some now claim that Post-World War II phenomenon is over and done with.
Corning curator Tina Oldknow, in her catalog essay for her "Contemporary Glass Sculptures and Panels in The Corning Museum of Glass" has this to say:
In the 2000s glass has increasingly been used as a material for sculpture by artists from outside the glass world as well as by artists form whom glass is a primary material. Glass is intersecting with the world of design and contemporary art in multiple directions, and the American Studio Glass movement as it was defined from the 1960s through the 1980s no longer exists..
These statements, on top of rechristening the American Craft Museum the Museum of Arts and Design --do not bode well for art-world alternatives. But now that pricing will drop across the board for all artworks will there be any need for craft to turn its back on crafts? The craft cult will merely be further purified - having been purged of far too many High Art wannabees - and go underground, again.
In the meantime, we gotta have art, in no matter what form. Even if it is made of glass or grass or linoleum or body fluids. Or marble. Or even paint on canvas.
Beth Lipman's fresh work is a case in point.

Lipman: Settee (After Grinling Gibbons), 2008
.
Who's Going to Miss You?
The centerpiece of Lipman's installation, "After You've Gone," is Laid Table (Still Life With Metal Pitcher) from 2007, which is a profusion of vessels all made of blown glass including the "metal pitcher" of the title. But Lipman has added a jumping squirrel, a sitting squirrel, and lampworked snails on the periphery of vision. But then there are creations inspired directly by the RISD collection and made on site in the school hot-shop, beginning with glass wallpaper. I kid you not. And a glass settee. Meanings proliferate. The spectacular and dangerous double-chair-back settee is based on an early-20th century copy of a 19th-century reproduction of an 18th-century chair that collector/patron Mr. Charles Pendelton thought until his death was "the greatest 18th century English chair in this country."
Still-life paintings are often memento mori. In this case, a whole room is a memento mori. Lipman's After You've Gone is about what we leave behind: piles of drinking glasses, wallpaper, empty picture frames. Art! Ghosts! Glass is usually perceived as glitzy and celebratory; Lipman uncovers the emotions attached to loss and fragility. And of fakery, too.
Like Warhol's surprisingly forlorn "Raid the Icebox" so many decades ago, Lipman's installation points out the stuff - sometimes loveable, sometimes vulgar, always telling - that clutters up the world with fascinating but mostly unintended messages and meanings. Can we see through materialism, or are we possessed by our possessions and afterwards haunted by them? Are we determined by our decor? Isn't there a strange beauty in how we grasp for stability? And how we remember?
New artrwork by John Perreault on You-tube: THE NEW ORLEANS CIRCUMAMBULATION. K. K. PROJECTS. NOV. 1, 2008. THE BLOCK-LONG DINNER PARTY.
FOR AN AUTOMATIC ARTOPIA ALERT WITH EACH NEW ENTRY
PLEASE CONTACT perreault@aol.com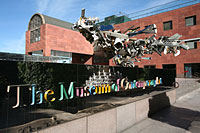 MOCA Grand Avenue
Museums for Sale
Tongues are wagging, heads are shaking. It appears that the highly regarded Museum of Contemporary Art, Los Angeles, is doomed. It has been running a deficit for six of the last eight years. It has been raiding its endowment. And now the plucked chickens, the headless fowls, have come home to roost. MOCA might not be able to go on.
What I want to know is where was the MOCA's board of trustees when those deficits were reported year after year? Why didn't the director raise hell? It is all well and good to say that art came before money, but without money the air-conditioning and the lights get turned off. If staff members do not get paid, they walk.
Some nonprofit board members or trustees agree to kinds of bad management they would never tolerate in their own companies; they like to think they are on holiday.
So what are we supposed to do? Cut costs, initiate a hiring freeze, reduce the number of exhibitions. Many museums are already doing this. And then there's prying loose more money from your board members, who are usually well-heeled and are profiting socially and sometimes financially from their positions. This is L.A. Times art critic Christopher Knight's solution. But even in good times, this is like getting blood out of turnips.


In the meantime, will anyone match collector Eli Broad's offer of $30 million toward saving MOCA? Don't think so. Will it be the end of the world if MOCA is absorbed by the L.A. County Museum? Will art stop if MOCA totally disappears?
Along with the strange idea that successful artists, art dealers, and small Obama campaign-type donations could save the day, Roberta Smith of the New York Times offers this odd reason to keep MOCA independent:
Imagine the effect on New York if MoMA or the Whitney Museum of American Art had been subsumed into the Metropolitan Museum of Art at the age of 30. For one thing, P.S. 1, which has been rejuvenated by its MoMA affiliation, might no longer exist.
And exactly what art space in L.A. will not be "rejuvenated" if MOCA is subsumed by LACMA?
In Artopia we have always looked at the bigger picture.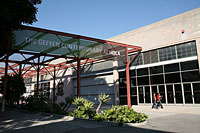 The Geffen Contemporary at MOCA
A Modest Proposal
In terms of arts institutions, I have not been able to find out or even deduce the cost to taxpayers of the wacky not-for-profit system that allows tax deductions for donations. And if we eliminated these deductions, would we thereby be able to afford better roads, bridges, and universal medical coverage?
But in Artopia we are visionary. Think how much more efficient it would be if museums and other art venues were totally government-funded. Or, on the other hand, if they were for-profit. In both cases, the savings would be enormous.
For instance, a large chunk of any museum budget is development. Development is artspeak for fundraising, begging, or whatever you want to call it. Not only are development officers and their staffs employed to get the money, but curators and, yes, even directors spend a lot of their time soliciting, a term I have chosen with great care.
Most readers understand that grants need to be written and that exhibitions and special projects have to be created to qualify for money from governments, corporations, and foundations. But do readers really know how much time is spent on what in artspeak is called "cultivation," i.e. just sucking up to potential patrons and donors? Even the amounts derived from membership fees call for the creation and the maintenance of endless perks and far too much face-time. Moving members up a notch to donors requires a mind-boggling array of inane lunches and stupifying gallery tours.
Hasn't anyone noticed that what donors want is love? I don't just mean tête-à-tête encounters with the director or access to the charisma and the sexiness of live artists at special openings and, best of all, intimate dinner parties. I don't mean exhibitions for relatives of board members or the artists they collect. I mean total, floor-scraping, fiendishly servile, always-on-tap, ever-expanding adoration.
MOCA Pacific Design Center
Plan A: The Bail-Out
Museums already pay for themselves. You just have to do the numbers right. And if you do, it might even turn out that they can bring in much more money than they burn up, particularly in big cities. Please figure out tourist dollars. What percent of cab fares, hotel rooms, restaurant dinners are generated by people going to museums? Even locals spend when they go to museums. Lunch? Of course. Not everyone leaves a museum empty-handed: catalogs, postcards, dolls, and all the other art junk on display in logoland migrate from the premises.
And then there is the nasty business of art sales. A particularly tasty exhibition increases the perceived value of all art. And when a living artist is shown, guess what happens to his or her prices in Chelsea? They don't sink, I'll tell you that.
The rising tide raises all chips.
There are, of course, other dividends that are incalculable by present methodologies. Museums not only peddle art, they also peddle hope. How many impoverished, sex-crazed, drug-addled adolescents have been saved from a life of crime by the hope engendered by a trip to an art museum? If this drunken bum can become a famous artist, then so can I. Those words are sweet to the ears of art educators everywhere. How many mass murderers have been nipped in he bud by the sight of an Andy Warhol Marilyn? How many addicts have been cured by Sol LeWitt? How many pill-popping housewives have been given a new lease on life by Alice Neel? How much child abuse has been eliminated by the hope conferred by the works and life stories of painters, sculptors, and conceptual artists?
Biltmore Estate
Plan B: Interest Rather Than Conflict of Interest
And now for something different: the for-profit museum.
The fiduciary transparency of for-profit museum drives people in the nonprofit museum world crazy. See, for instance, the current issue of Museum, the official magazine of the American Association of Museums, with its entirely predictable cover story. Oh, yes, for-profit museums (The Sports Museum of America, The International Spy Museum, The Biltmore Estate, etc.) are vulgar; and, by the way, they are not really museums.
And why not? Some even claim to maintain nonprofit museum standards.
But here's the problem: aura.
According to Artopia, without nonprofit status for-profits do not have the do-gooder aura or the aroma of artistic objectivity. So self-improvement should be for free? Excuse me, self-improvement is an important industry, and I don't mean only in Los Angeles -- where, believe it or not, my entrepreneurial niece is the owner of a "Zen" exercise studio/gym and bills herself as a celebrity trainer.
And the notion that art museums can be artistically objective is nonsense. We know how class, nationalism, economics, sexism, racism influence art history. If the art story is iffy, so are all its products and clients, which includes museums.
Ages ago I took a stab at the for-profit museum concept, but it was disguised as satire. Inspired by the Biltmore Estate in North Carolina, which now charges up to $59 for adults, I had indeed figured out that the non-profit art space I was running on Staten Island, without grants and subsidies of various kinds, would have required an admission fee of $28 per visitor to break even. Costing this out is simple; you divide your budget by the number of visitors. But here the Swiftian waters were muddied by my proposal for The Museum of Itself (MOI), an institution that would document only itself - budgets, minutes of board meetings, et alia - and create exhibitions of same, both temporary and permanent.
Although the idea that an art museum should be totally supported by paying customers may be too radical or even offensive for some, I say what was good enough for P. T. Barnum is good enough for us. We may have substituted dead sharks in tanks of formaldehyde for taxidermy mermaids, but we have not outgrown cabinets of wonders. It's just that now the wonders range from blank canvases to hypnosis by video art to digital murals and sculptures made of body fluids.
Yet I want to go further. In addition to charging the public the real cost of an exhibition, plus a modest profit for the owners, I propose that for-profit museums also sell shares. These, however, would not be merely shares in the business itself.
You could also buy shares in the output of artists featured at the museum. An exhibition would increase the value of that work, just as it does in a not-for-profit museum, where board members or trustees sometimes own examples of work by the artists whose works are on display. My approach is much more democratic. Anyone could come on board and get a piece of the action.
FOR AN AUTOMATIC ARTOPIA ALERT FOR EACH NEW POSTING
CONTACT: perreault@aol.com