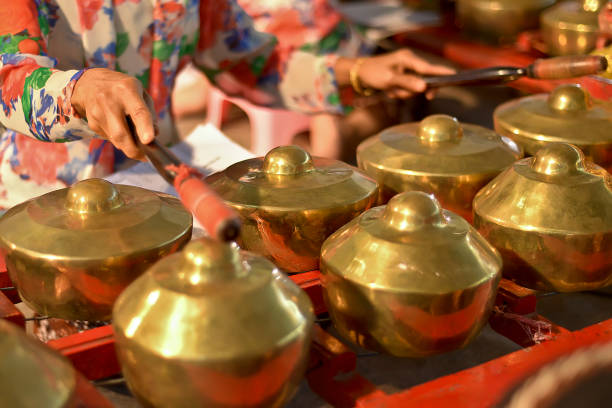 The South Dakota Symphony concert I last wrote about in this space has now come and gone. In every way, it fortified my impression that this is an orchestra that deserves to be a national model.
The program comprised Lou Harrison's Piano Concerto and Rimsky-Korsakov's Scheherazade. That is: it introduced to Sioux Falls an American masterpiece that is little known and little performed, and revisited an opulent symphonic favorite that interestingly contextualizes Harrison's genius for fusing Eastern and Western cultural practices. I served as an artistic advisor, scripting a 25-minute preamble with film. The result – I believe — was an object lesson in how to curate important American repertoire, and a showcase for the orchestra's singular esprit.
The evening began with the Princess of the Pagodas from Ravel's Mother Goose Suite. It served to introduce the 1889 Paris World's Fair, whose highlights included the Eiffel Tower and the Javanese Pavilion with its never-before-heard gamelan: an epiphany for Paris's musical community. Ravel attended as an impressionable teenager. Saint-Saens was duly impressed. Debussy experienced a veritable epiphany. All this was narrated and illustrated – and led to a consideration of Lou Harrison's absorption of gamelan practice. Here the film (by my colleague Peter Bogdanoff) showed gamelan scholar Bill Alves demonstrating how Javanese gamelan evokes "a cosmic hierarchy in sound." Then Emanuele Arciuli, our wonderful soloist, illustrated at the piano how Harrison's layered keyboard textures, with their "gongs" in the bass, lyrically re-process Javanese music. For the thirty-minute concerto – to my ears, the most formidable by any American — the Sioux Falls audience was rapt. There was a standing ovation. Arciuli and Delta David Gier repeated the entire Stampede movement – and a second standing ovation was ignited.
Gier's performance of Scheherazade, after intermission, was memorably expansive, subtly shaped, intensely felt. For his woodwind soloists, he seamlessly fashioned opportunities for personalized expression. They responded in turn. (The orchestra's principal oboist, Jeffrey Paul, is one of the most eloquent instrumentalists I have ever encountered. He also composes and conducts.) It is not irrelevant that these players do not perform concerts three and four times a week. More often, they perform as a full-time woodwind quintet. They regularly interact with Native American musicians on reservations throughout the state – the Lakota Music Project I have often written about. That is: their musical lives are varied and whole; their commitment to the South Dakota Symphony transcends rehearsing and performing. In New York, members of the Philharmonic are spared school visits – the orchestra has a separate roster of "educational" players for that. This arrangement circumscribes the roles musicians play. No one is well served, especially today when orchestras and communities no longer mesh – except in fortunate cities like Sioux Falls.
Ancillary to Saturday night's concert, Emanuele Arciuli – who performs more American music than any American pianist, and has even written a book (in Italian) about it – played an "American Fusion" program at South Dakota State University (which bussed students to the Harrison/Rimsky concert), and a Frederic Rzewski program at the University of South Dakota.
On April 27, Gier conducts Mahler's Third Symphony in celebration of his twentieth season as Music Director. I'll be there.
(My 7,000-word American Scholar manifesto, "Shostakovich and South Dakota," may be read here. My "Shostakovich and South Dakota NPR program may be heard here. The Lou Harrison documentary film that Peter Bogdanoff and I produced for Naxos may be purchased here.)